Tryfan in the Drizzle
It's been a while since I've been in the hills, and even longer since I've been there with other people. It was therefore nice to get out with the 'Aber Sport & Exercise Science' crew for a scramble up Tryfan on Wednesday.
It had been arranged for a while and I'd booked a day off as annual leave so decided to make the most of it. I drove up early so as to get there for 6:30am. This gave me time to park up, jump into my swimming kit and go for an early morning swim along a dark and choppy Llyn Ogwen. The water was actually pretty warm. The lake is shallow and it led to a lovely freshwater swim overlooked by mountains.
Trfyan
I sat around for a while and then started to meet the others. I called them the 'Aber Sport & Exercise Science' crew earlier but not many of them actually work here any more. There was myself and Rhys who do work there, Dan who is a PhD student. Simon who used to work with us but now works in the Psychology department. Laura who was a PhD student but has since left and works elsewhere. There was also Nick who was a PhD student here too but now works for Public Health Wales and his finacee Beth who never worked or studied with us but now works with Nick. Once assembled we set up to the base of Tryfan's North Ridge and began our climb.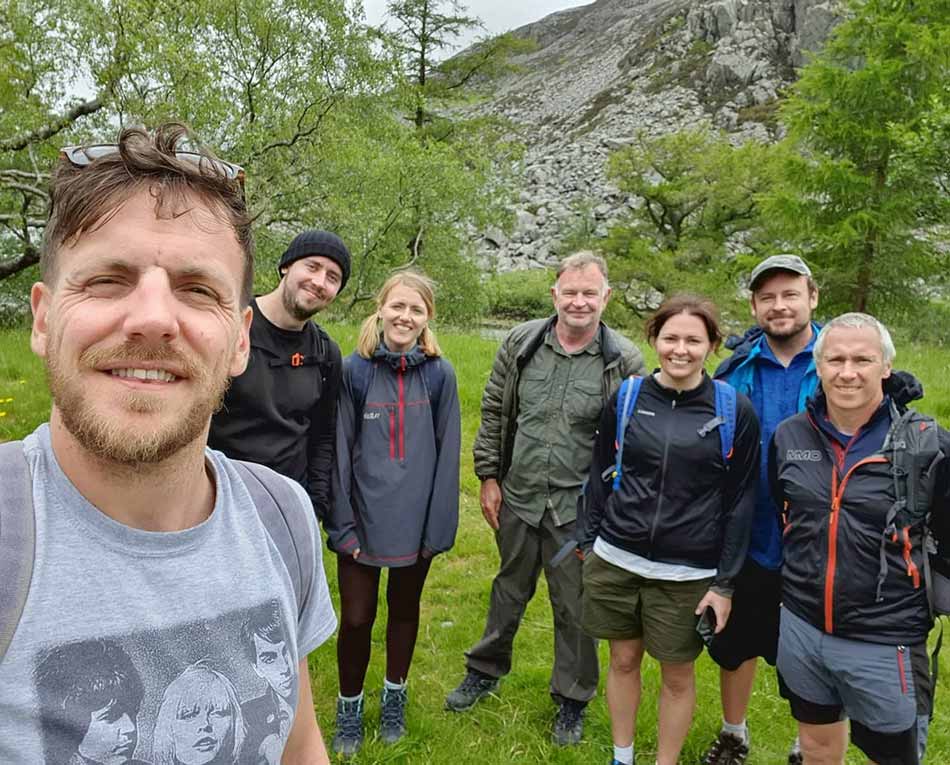 We made steady progress up the rocky steps using hands and feets to haul ourselves up the steep sides. There was the occasional use of knees and even the odd full body straddle now and then too. We pretty much followed the route we took last time but there are so many options to choose from that it was never exactly the same. We stopped now and then to regroup and have a drink. The highlight of one stop was seeing a pair of Ring Ouzel. I heard them first and thought to myself 'ooh, that's a Ring Ouzel' and then it appeared on a rock just above us and both Rhys and I pointed and said 'Ring Ouzel' at the same time. No one else seemed to know what we were talking about and I don't think some of them do even now!
Summiting
There were a few other groups following a similar route to us that we criss-crossed with now and then. We stopped at the Cannon Stone for some photos. Only Nick and Simon braved it's slippery surface.
The forecast had promised showers. Things started off dry and warmish but there was soon some very light drizzle that only increased in intensity as we climbed higher. The moisture made the rocks quite slippery in places. The wind increased as we climbed too with some pretty big gusts buffeting us here and there.
No one braved the Adam and Eve stones at the top.
We had planned to do Bristly Ridge and the Glyders before descending but the weather put a stop to that. Instead we scrambled a little way down the western slopes of the summit and then stopped for lunch under a rocky overhang.
Descent
After lunch we descended towards Llyn Bochlwyd and then made our way across to Llyn Idwal before emerging back at Ogwen Cottage Car Park.
We had dried out by now so had a coffee whilst sat on the wall chatting before heading off in our separate ways. Lets hope we get out for some more scrambling and walking in the hills soon. It may have been a little damp today but it wasn't too bad, and certainly nowhere near as bad as the first time I planned to climb Tryfan.