Tryfan and Bristly Ridge
We've scrambled up Tryfan's North Ridge a few times in the past and have also wanted to do Bristly Ridge. Various things have conspired against us though and we'd never quite done it. Last time we were up there was June 2021 where the weather closed in and we were forced to head back down. This was also a few days before I had a massive heart attack as well. Needless to say I hadn't really been out in the hills since.
A group of use were supposed to be doing it last month, exactly a year to the day since my heart attack. It would have been quite an anniversary to get Bristly Ridge done and to try to put the heart attack behind me as well. That didn't happen as people gradually pulled out. In the end Rhys and I rescheduled for yesterday and once again it was on.
No pfaffing
The good thing about it being just Rhys and I was that it involved minimal (none in fact) pfaffing. Rhys had suggested a 7am start. I knew he'd be there and would be on time. I assumed he knew that I'd be ready and waiting too. So when he arrived spot on time we jumped in the car and headed north.We then had a chilled drive through the hills of Wales with the clouds clearing as we did.
We pulled into the car park at Llyn Ogwen where the weather was good, there was no wind and thankfully it was actually quite cool. Once again there was no pfaffing. We got out of the car, grabbed our rucksacks and set off towards the trailhead.
Tryfan's North Ridge
After a bit of rock-hopping we reached the ladder style over the wall and headed onto Tryfan's North Ridge. We passed a couple who had been camping out overnight on a large boulder above Llyn Ogwen.
It's difficult to follow an exact route here so we just picked our way up the rockface passing familiar locations as we went. There were a few other groups on the hill this morning but it wasn't too busy. We stopped briefly here and there for photos or to take in the view but most of the time it was a steady scramble at a relaxed pace. Again, no pfaffing, no doubling back looking for easier routes, no messing about, we just headed up.
A couple of hours later and we merged out onto the top at the Adam and Eve Stones. There was no wind, the sun was shining and it was still the perfect temperature.
We paused for a bit at the top and then started our descent into the saddle.
Bristly Ridge
During the descent we had a perfect view of Bristly Ridge ahead of us and were able to pick out the two gulleys. We chose the one on the left called Sinister Gulley as it sounded like the better quality of the two – and it's called 'Sinister Gully'!
We followed the stone wall to the base of sinister gulley and then started the climb. It was good – fairly steep and sustained but with nice positive holds all the way.
We emerged out of the gulley and onto Bristly Ridge proper. We did catch another group up here and had a little bit of waiting. Not a bad place to hang about for a bit. There was a slight cooling breeze and views of Snowdonia all around.
Eventually after about 45 minutes scrambling up Bristly Ridge we emerged out onto the top of the Glyders. Time for a selfie and to head to the summits of Glyder Fach (994 m), Castell y Gwynt (972 m) and Glyder Fawr (1,001 m). We stopped at one for a lunch with a view.
We scrambled over the tops of the rock strewn summits and then started our descent over the slippery tracks to the small lake above The Devils Kitchen. By now our knees were sore and legs aching. We still had the steep descent through The Devil's Kitchen to do and then the walk around the lake in Cwm Idwal. The weather was still perfect though and the going good and the views down the Ogwen Valley were lovely. So on we went.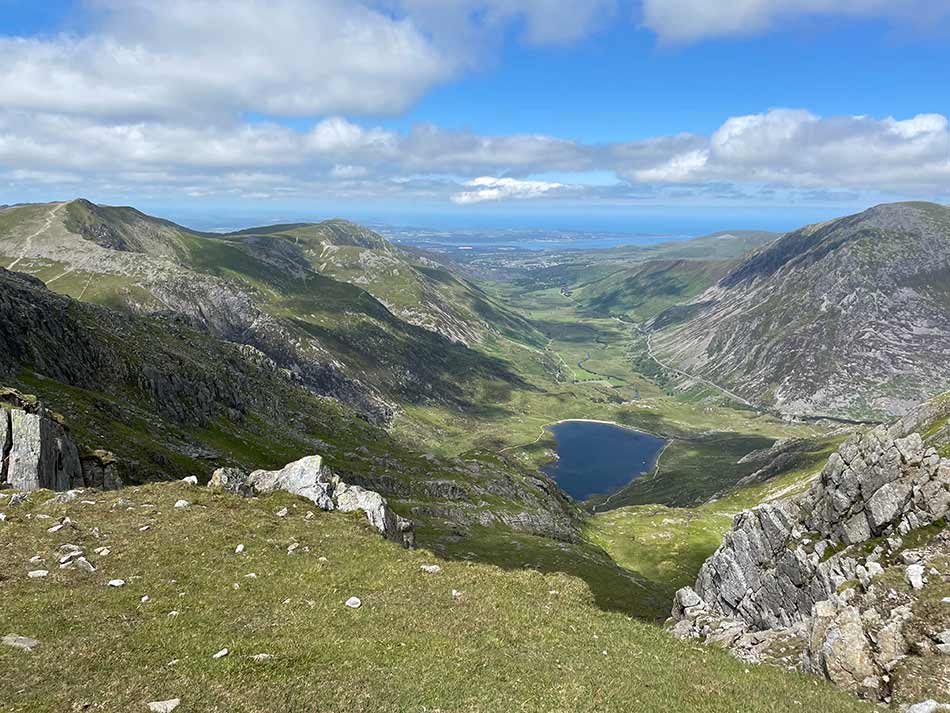 We finally made it to the Ogwen Cottage car park and shop. We bought some drinks and snacks, strolled back to the car and that was that. Bristly Ridge had been conquered.
Once we'd cleared a few slow cars through Betws y Coed the journey home was relaxed and straight forward too – again no pfaffing. I think we'll both be a bit sore the next couple of days after that but it was good to get out in the hills again and we couldn't have asked for a better day.