Wales Coast Path Run – Laugharne to Tenby
Here we go again, another day on the Wales Coast Path. This time it was coastal once again as I made my way from Carmathenshire into Pembrokeshire. I started at Laugharne and finished just over 18 miles later in Tenby.
The day started early. I was up at 3:30am and left the house before 5am for my drive the Tenby. I parked in the railway station car park (£4 for 24 hours) and caught the train from Tenby to Carmarthen (£10.60!!). Here I walked across the bridge to the bus station and caught a bus to Laugharne (£3.30). It was just gone 9am when I finally arrived in Laugharne ready to start todays Coast Path run.
As usual, I overlapped slightly with the end of last weeks Coast Path run and then continued along the path. As it had been so hot last week I had froze my camelpak overnight and it was still a solid block of ice. A good idea in some respects but it also meant that it felt like I had a boulder digging into my back. I stop and smashed it up a little and took a photo looking back to Laugharne Castle.
Laugharne to Pendine
After a little run along the end of the mud flats to the south of Laugharne the path took me steeply up into some woodland. There were benches here and there, each with lines from Dylan Thomas poems inscribed on them. There were also views out over the estuary sands and the various hills and peninsulas beyond. All of which I have run around on previous days.
There was a clearing that gave good views out over the channels that drained the mudflats towards Ginst Point and back to the village of Laugharne.
I then dropped down off the hill out out onto to flat paths around the edge of the saltmarsh. The land between here and Laugharne Burrows is drained by drainage ditches and reclaimed as farmland. I was sandwiched between this and steep cliffs covered in dene vegetation. After a while the path took me onto a road, up a steep hill and then left onto the edge of the main A4066. It was quiet today and fine to run along beside tall banks of large, round-leafed plants. The path descended for a while and then entered fields. Here I ran alongside the road, but separated from it by a tall hedge. The fields themselves were a little uneven underfoot with tall wet grass to make my feet soggy. Each field was separated by gates and little bridges over drainage ditches. Sometimes the paths were through the field, other times they were a little easier going when separated from the field with a fence.
I emerged back out ono the road for a while and ran through the village of Llanmiloe. The path took me through a parkland and playground and then alongside the fence that edged the MOD firing range. There were of course plenty of signs warning me not to enter. On I continued, following the road to Pendine where caravan sites and luxury chalets started to line the road. I soon made my way to the sea front where the tide was out and the huge expanse of flat sand that Pendine is known for was exposed.
Pendine to Amroth
Following the path out of Pendine, it started a steep climb up the cliffside where the view back over Pendine Sands continued to open out. You can see why they use the sands here for land speed record attempts. I was breaking no speed records today as I slowly made my way up the climb. There were many more climbs to come today so I had to pace myself.
At the top I followed a cliff top path around Gilman Point and then started the steep descent to the next secluded bay. This beach doesn't even seem to have a name on the map! There were people camping just behind the beach, and ahead of me a winding path up the next climb.
This was quite a climb but I was soon at the top and out onto more clifftop path. The sun was out now for a while as it had been quite cloudy earlier. It was warm and muggy though. Time for a quick clifftop selfie with Marros Sands in the distance before I got too sweaty!
The path was now a steady one along the tops of the cliffs, undulating as it went. I could see Tenby in the distance but there was the huge sweep of the bay ahead of me before getting there.
The path then dropped down for a while before another steep, unrelenting climb to Marros Beacon. Here it entered undulating woodland with muddy track up and down all the way to Top Castle Fort and then gradually downhill all the way to the beach at Amroth.
The groynes and sea wall led my way along the top of the beach where people were out walking dogs and enjoying the warm weather. There wasn't a huge amount in the way of sunshine but it was nice enough for a day out.
Amroth to Saundersfoot
At the end of the beach I ws once again climbing steep steps through a woodland and then running along clifftop paths with yet more ups and downs. After a while down become the dominant direction as I made my way into Wiseman's Bridge. There were loads of people here.
I was now in Pembrokeshire and it seems as though tourist season was in full flow. The pub garden was packed and there were plenty of people wandering around with ice creams and take-aways. I did contemplate stopping for an ice cream but just continued plodding on.
There was a another hill for me to climb and descend before finding myself on a flat promenade around Coppet Hall Point.
A dark tunnel appeared ahead of me and I disappeared into it.
I popped out the other side in Saundersfoot where tourism was once again the name of the game.
There were shops and cafés galore, watersports schools and people everywhere. Through town cafés and bars were bustling. If it weren't for the pandemic then maybe it would have seemed less busy as people would have been indoors rather than outdoors in makeshift al fresco areas.
I made my way through the town, through a couple more tunnels and up a steep hill above the harbour and then down a residential street lined with some exclusive looking houses.
Saundersfoot to Tenby
I descended into Rhode Wood and then started a series of steep stepped climbs and descents through the woods. There were some views through gaps in the trees back to Saundersfoot Bay.
People out walking were puffing and panting and resting by the side of the path. The path took me towards Monkstone Point and then onto the stretch of Coast towards Tenby. Here it was more steep climbs and descents through woodland and the odd detour around the edge of fields. The bottom of each descent was accompanied by a little bridge over a stream and another strenuous climb out of the valley. Little coves came and went. Monkstone Beach, Brownside Bay, Waterwynch Bay. They were all down there somewhere but mainly obscured by the trees.
At the tops of each climb there were often views out towards Tenby. Each time I saw it the colourful houses the make up its famous skyline seemed a little closer.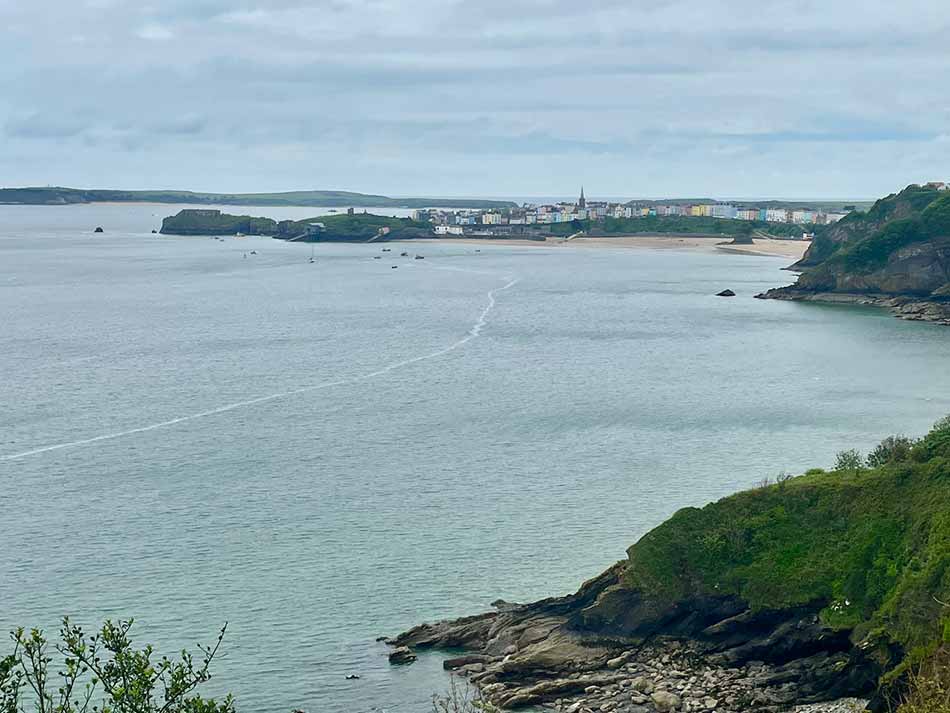 Waterwynch Bay was followed by a long climb over a strange corrugated concrete surface. I walked the first half behind a young couple but they soon stopped for a breather so I ran the rest of it. I passed a caravan park and then started the descent into Tenby. Once out onto the street of Tenby I had nice views down onto North Beach and Gosker Rock, with the lifeboat station slipways beyond.
I could also see all the way across the bay to Worms Head off Rhosilli. Looking along the coastline from here I could see the huge sweep of Carmarthen Bay that I have been running around over the past few weeks. Many of the long diversions inland to circumnavigate estuaries and cross rivers were hidden away. Even without these it seemed like a huge distance. It's amazing how far you can travel under your own steam if you put your mind to it.
I was soon into the toen centre of Tenby. It was packed! After a year or so of isolation and social distancing it felt a but weird to be surrounded by quite so many people and I'm not sure I liked it. I popped into a Tesco Express to buy some lunch and then made my way through the back streets of Tenby to find the railway station and my car.
All in all that had been just over 18 miles.
I'm not sure it does my feet any good though.
It was pretty slow thanks to all of the steep climbs but I guess now that I'm on the Pembrokehsire Coast path I should get used to that. Now I just have to work out the logisitcs for the next few stages as the buses and trains here are a little less frequent.