More Welsh 3000s
I finished my blog post about a walk in the Carneddau Hills with Rhys last Wednesday by saying:
I can't wait for the next adventure in the hills now. Summer is supposed to return for the weekend, so I'm half tempted to head back up to tick off a couple more of the Welsh 3000's.
Well, summer did indeed return for the weekend so after playing on the water on Saturday I decided another day in the mountains was needed on Sunday. My plan was to head up to Deiniolen in the hills between Bethesda and Llanberis and tick off the last two remaining 3000ft peaks. I would then have climbed them all.
It was a nice day for a drive up to North Wales with temperatures getting up towards 20ºC and the sky clearing. It didn't take too long and I was soon parked up at the end of the road and already at around 1200ft. As well as ticking off the Welsh 3000s this was also an opportunity to get some training in for the fast approaching OMM. I therefore had a rucksack full of the kit I'll be using for OMM, along with 1.5ltr of water. I also had my walking poles as I'm not sure if I'll use them or not. Before even setting off I decided that walking poles don't work with a thumb compass and map in your hand, so I put one of them away and set off up the hill.
Elidir Fawr
The first of the 3000ft peaks on my list today was Elidir Fawr (942m). Rather than follow any distinct path I decided to head up the quarry road a little and then strike out across country using my compass as my guide, heading in a beeline for the lower summit of Elidir Fach (721m) first. This inevitably led to quite a slog through rough ground covered with bilberry and heather and dotted with rocks. It did provide some nice views though.
To the north, I could see out to the Menai Straits and across to Anglesey. Once again Penmon Point and Puffin Island were obvious landmarks. To the west, I could see the other end of the Menai Straits and the wide expanse of sands at Newborough. The views to the SW were of Llanberis and Lyn Padarn and then on to the hills that stretched off towards the Llyn Peninsula.
It was still a little cloudy but the visibility was good. Despite the relatively high temperatures it was still a little chilly as the wind was howling up here once again. I continued my slog up the rough ground and soon emerged onto the barren summit of Elidir Fach where a tone shelter and a flag pole greeted me.
After a few adjustments and a check of my route I pushed on up a steep, but clearly marked trail towards Elidir Fawr. This was actually slightly easier despite being a steeper climb thanks to the fact that there was no undergrowth to forge through. From this vantage point, I could see south to Snowdon with the Llanberis path snaking towards its summit.
Looking in the other direction I could clearly see my route for the day laid out before me as it took me over a couple more summits before reaching the high point of the day at Y Garn.
Y Garn
I left Elidir Fawr behind and picked up the pace somewhat. So far the terrain had been too steep to run or trot, but once I'd descended off the rocky top of Elidir Fawr there was a nicer path that descended along a ridge that was slightly easier going. I trotted along with poles in one hand, adjusting my rucksack as I went. There were a few people about either going in the opposite direction or that I overtook as I was moving fairly fast now.
The route took me along a little ridge high above the reservoir of Marchlyn Mawr where gusts of wind could be seen racing across its dark waters. The wind was at my back which made life easier too. I then curved around to the south before heading up a steep zig-zag path of loose stone towards the summit of Foel Goch (831m). There was something of a drop to my left and with the wind blowing me that way I kept a healthy distance from the edge. I didn't run up the steep bits but didn't take it easy either so was soon at the top where the rocky Glyders stretched out before me.
I could also see down to Llyn Ogwen and over to the Carneddau where I had been last week. I ran down the grassy slopes from here, into a saddle and then started the steep climb up to Y Garn, the high point of the day at 947m. The views from here were spectacular with the Glyders, Llyn Ogwen and the the Carneddau all looking splendid.
The hills stretching out onto the Lleyn Peninsula looked nice too.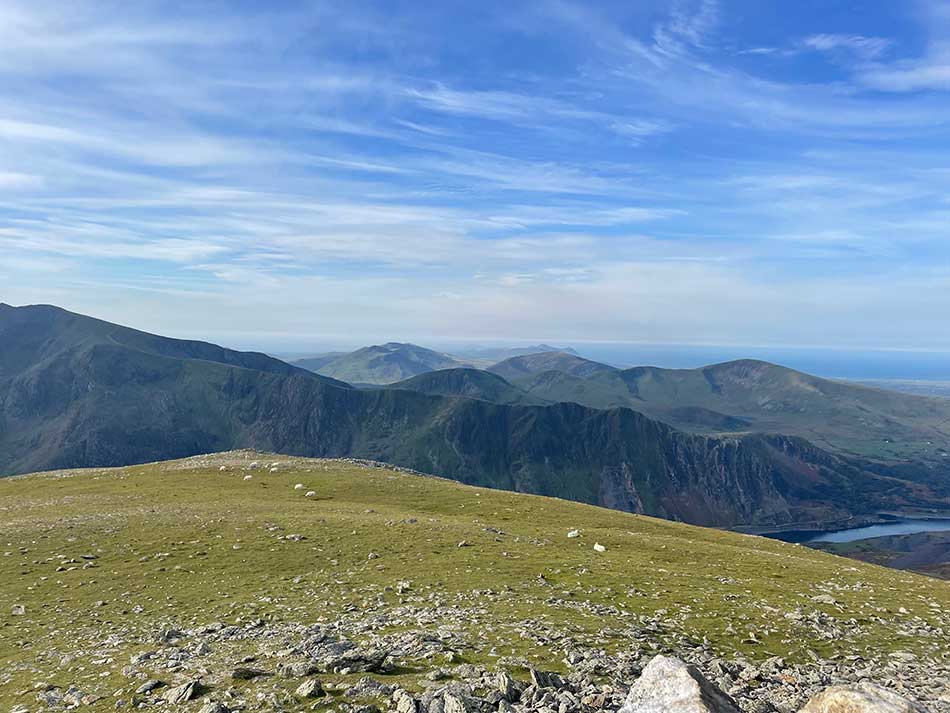 A Couple More Summits
I stopped at the summit of Y Garn for a banana and a few photos and then retraced my steps back down the steep scree-covered path into the saddle once more. Here I took a slightly different path around the flanks of Foel Goch then up the steep, grassy slopes to the summit of Mynydd Perfedd (813m). Here a well-constructed stone shelter greeted me. There were two other walkers in it so I had a quick chat before heading off once again, running across the rocky, fairly flat ridge-top to another summit at Carnedd Filiast (821m) It was quite rocky at this summit but would be downhill all the way now.
I picked my way through the rocks until I reached an easier trail back down towards Marchlyn Mawr. I passed a few more people who were also descending and then emerged out onto the road. It was now just a matter of following the road back to the car, passing loads of people heading up the road as I went.
A good day out in the hills, covering just over 9.5 miles in a little over 3 hours with a moving time of just 2 hrs 38 mins.
I'd also ticked off both Elidir Fawr and Y Garn from the list of Welsh 3000ft peaks which means I've now bagged all 15 of them. The only trouble is, that I did Crib Goch and Garnedd Ugain in the days before GPS. I've done them, so they still count but it would be kind of nice to have a GPS trace to prove it… You know what that means don't you? I'm going to have to put Crib Goch on my to-do list for next year.
The drive home was uneventful. The first 6 miles or so were all downhill. If only I could get 999 miles per kWh all the time!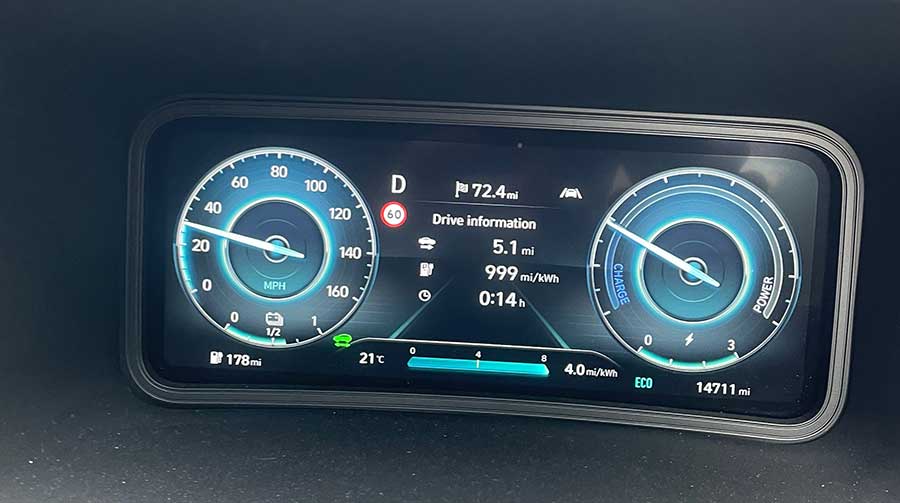 I stopped at Penrhyndeudreath, both to let the mountain railway steam train pass and then for lunch as was home in time for a surf in the afternoon. A good day!!