Wales Coast Path Run – Dale to Musselwick Bay
Coast Path Vital Stats
Dale to Musselwick Bay
Distance: 12.48 miles
Elevation Gain Today: 520m
Highest Elevation: 62m
Time: 2:25:47
Av. Pace: 11:41 mins/mile
Calories: 1430
Totals to Date
Total Distance: 968.64 miles
Total Time: 181:43:29
Total Elevation Gain: 29061m
Total Calories: 92092
Distance to go: 128 miles
Having had a couple of nice days driving to and walking in both the Carneddau and the Glyders in North Wales, I thought it was time to return to sea level and drive to South Wales instead for a Coast Path Run. As usual, considerable time had passed since my last leg of the journey around Wales. This was mainly due to not enough time for both Anna and I to go to Pembrokeshire. We did have a weekend there for Anna's birthday during which I had planned to do a couple of legs of the Coast Path, but I had been ill and therefore managed none of it.
I felt up to giving it a go on Tuesday though and this would be my first time back running along the coast path without Anna acting as support crew since my heart attack. I had a few options:
A short 6-mile or so circuit from Dale, around the Dale Peninsula to West Dale and then back across country to where I started. This seemed a little too short given the 2.5-hour drive to get there.
Follow the Coast Path from Dale to Musselwick Bay which would be around 12.5 miles and then walk/run back across country to Dale which would add another few miles to the trip. This seemed like quite a long way given the circumstances and the fact that I had a sore knee!
Find a bus/taxi to get me back from Marloes to Dale
Flecsi Bus
Anna put me onto the Fflecsi bus service that operates in Pembrokeshire. It's something of a taxi service really, but on buses! I downloaded the app on Monday evening and started to see what I could arrange. The app was a little clunky and I had to keep staring over if my location or time wasn't available. However, I said that I'd like to be picked up in Marloes and dropped off in Dales After a few attempts I had a journey booked for somewhere between 10:25 and 10:45 on Tuesday morning. A little earlier would have been better but I didn't want to start the process again so went with that.
Marloes
I of course arrived a little early in Marloes after a 2.5 hour drive from home so parked a little way out of the village next to the gate that I hoped I'd emerge from later in the day. I then strolled the 10 minutes or so into Marloes to find The Lobster Pot Inn where I'd asked to be collected from. It was now 10:15 am a little before my earliest likely collection time of 10:25. I had however received a text message to say that the "Flecsi Bus is scheduled to pick you up between 10:36 and 10:37 at The Lobster Pot", so my wait would be a little longer.
It was a little chilly in Marloes with a stiff breeze blowing. I was only wearing a pair of running shorts and a running top and it was October after all. I paced up and down as I waited for the bus to arrive.
I then had various text message updates to say that it was 20 minutes away, 10 minutes away and finally that it was there! It actually arrived at around 10:46 but that was close enough! I paid my fare (£2.50 I think) and jumped on the bus for the short trip along the country lanes to Dale. I was the only person on the bus.
Dale Peninsula
The bus dropped me off in Dale about 100m beyond where I'd finished my run last time. I therefore walked back to make sure I overlapped slightly and then started to jog along the seafront and out on a tarmac road towards Dale Fort. All was calm in Dale and conditions were perfect for running on the tree-lined road. Leaves covered the floor and the trees were in full autumnal browns.
Just before the fort, the Coast Path signs took me on a right-hand turn onto the familiar red-mud paths of the South Pembrokeshire coastline as the path took me along the edges of the fields. I had a slightly sore knee and was in two minds about running today. I was therefore taking things really easy in the hope that it would ease up as I ran. It didn't feel too bad now that I was going, but I knew it would probably get worse as the day progressed. I was trying to be as gentle on it as I could. I soon dropped down into a wooded valley and crossed a little stream leading to Castlebeach Bay.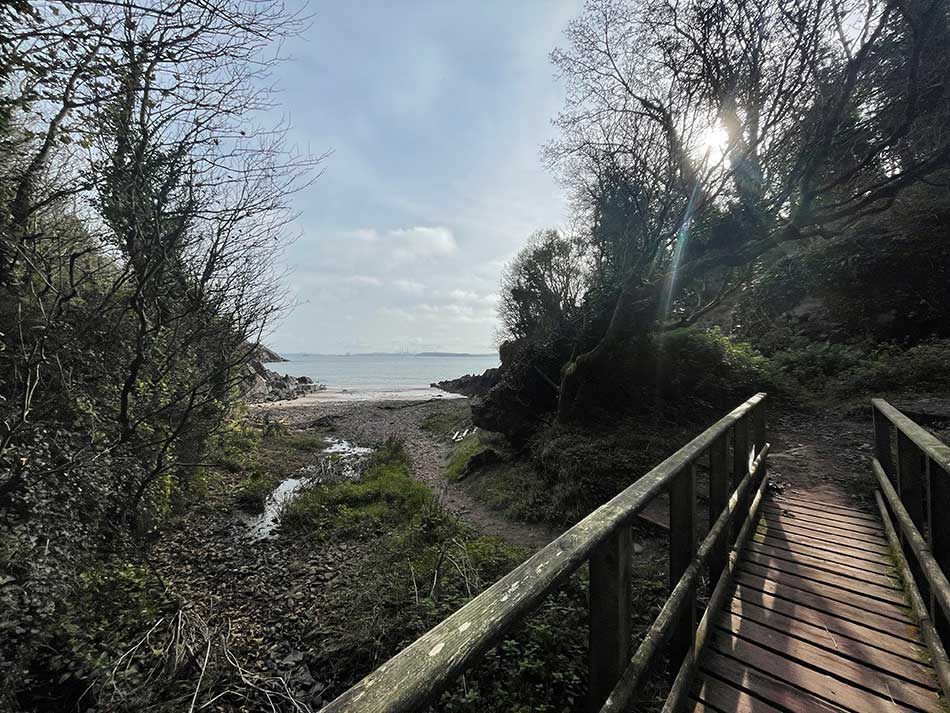 I then climbed back out the other side and was once more running around field margins on the narrow path. The inlet of Milford Haven could be seen complete with its oil industry infrastructure and huge oil tankers. There was a sailing boat heading out of its confines as I ran along the clifftop.
Across the other side, the Angle Peninsula was clearly visible along with the clifftop paths and beaches that I had run around on an earlier section of the Coast Path. Given the huge area of the Milford Haven inlet, it hadn't actually taken me too many runs to get around it. Really it had been one 10-mile run along its southern shores, another 12-mile run around its eastern flanks crossing the Cleddau Bridge to Milford Haven itself and then another 10-mile run along its northern shores to Dale. Today, I'd be leaving it behind. Not before I passed a few huge navigational aids for the ships located on the clifftop here on the Dale Peninsula. These included a gigantic beacon at Watwick Point, some large signs and a fort at West Blockhouse, and St Ann's Head Lighthouse. There were also some interesting 'Old Coastguard Cottages' along the way.
The sands of Watwick Bay were now bathed in sunshine as I ran past them on towards the signs at West Blockhouse that you can see on the hilltop in the photo below.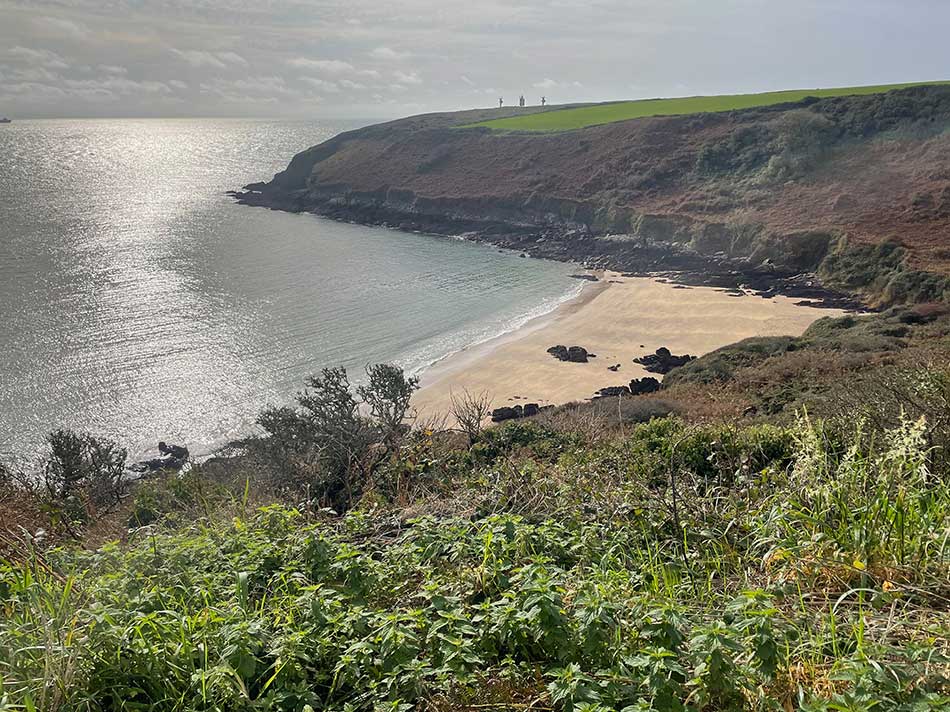 I was now high up on the cliffs of St Ann's Head where the rugged coastline plunged to the sea below. Thankfully the path remained at this elevation for the most part. There were of course plenty of twists and turns as it hugged the coast but not too many ups and downs. Soon, the islands of Skokholm and Skomer came into view as I rounded the point and started heading in a northerly direction.
The path was easy to follow as it hugged the coastline just beyond the field boundaries. The ferns and brackens were brown and dying back for winter which contrasted with the vivid greens of the grass and the bright yellow of gorse flowers. The latter produced occasional sweet wafts of scent as I ran past. Fungi were emerging along the sides of the path too.
After about 6 miles of running, I approached Westdale Bay. From here it was about 500m across to where I had started from about an hour ago. The spot where the bus had dropped me could be seen in Dale as I dropped down the steep path towards the beach. There were quite a few people about here and I had passed a number of people on the path too. Presumably, the 6-mile loop around the Dale Peninsula is quite a popular walk. There was someone doing yoga on the beach.
Towards Skomer
There was no shortcut back to Dale or stretching on the beach for me though. I climbed back up onto the clifftop and continued on my way for more of the same. The path continued to hug the coastline, sometimes in an evil fashion whilst there were obvious shortcuts to cut off the corners. I stuck to the actual Coast Path taking the long route and dropping down into small valleys and short climbs even when there were shorter, flatter routes just a short distance away. I passed what looked like a nice holiday cottage painted pink.
I rounded Dale Airfield and then the vast swathe of sand at Marloes Bay spread out before me.
The path took me along the top of the cliffs, twisting and turning and rising and falling as it went with the distinctive outline of Gateholm Island getting ever closer. Gateholm Island is a tidal island, only cut off at high tide. I could have gone out onto it, but decided against it today. I wasn't sure what the tide was doing for a start, not to mention the extra distance it would add to my run.
From here it was ever onwards with Skomer Island now dominating the view. Skomer Island is the largest of the Pembrokeshire Islands and a National Nature Reserve important for its seabird colonies. The island has more than 300,000 pairs of Manx Shearwaters, the largest colony in the world and is also home to puffins, guillemots, fulmars, razorbills, kittiwakes and gulls. It's possible to visit either for the day or for overnight stays in its sustainably run hostel.
I wouldn;t be visiting today and the coast path didn't even take me out to Wooltack Point and Deer Park. Instead, just for a change, it cut off the corner and took me to the Skomer Island Visitor Centre at Martin's Haven.
I stopped briefly on the grass before getting there to eat a snack and sit down for two minutes. I even took my shoes off for a minute or two to ease my feet.
To Musselwick Bay
Back up and running, I passed the visitor centre and ran down to the small beach and jetty at Martin's Haven. Here a Morrisons Delivery van was unloading a huge shopping list that was being checked off my Skomer Island Staff and loaded onto a boat. Island supplies for a week or so I guess.
I ran back up onto the clifftop from where I could see a seal in the waters below. The path once more led me along the clifftop with fields to my right as it weaved its way eastwards along the southern edge of St Brides Bay. I stopped to take a photo of the sands at Musselwick Bay but for some reason, it came out a little blurry. Maybe I'd smeared my banana on the lens by mistake!
I was now nearing the end of my run for today, just a short detour off the Coast Path and up a small climb to the road where my car was waiting for me. I changed by the roadside having completed another 12 miles of Coast Path.
Amazingly my knee felt better than when I had started. My feet were a little sore though. All that was left to do now was stop off for a late lunch and drive the 2.5 hours home, not to mention the 128 miles or so of remaining coast path that I need to do to finally close the ring.