Birthday Surprises
A Birthday Twist
It's always nice to get some birthday surprises. Mine started a day early this year with a twisted ankle on a run in the woods. Not the sort of surprise I was hoping for and it meant no training for a few days. Not ideal as I'd planned on doing a fair bit of exercise to compensate for the cake!!
There was another surprise when I got home that evening. The dining room had been transformed into some sort of birthday grotto.
Balloons, bunting and a 'Happy Birthday' banner to remind me that I was 50. That in itself is quite a surprise, how can I possibly be 50?!
Birthday Presents
My birthday proper started with some nice presents, all of which were surprises too. I didn't have any idea what I was getting. Amongst other things there was a giant, and very posh barometric weather clock by Bramwell Brown. Calling it a 'barometric weather clock' doesn't really do it justice as It's more a piece of art than a clock.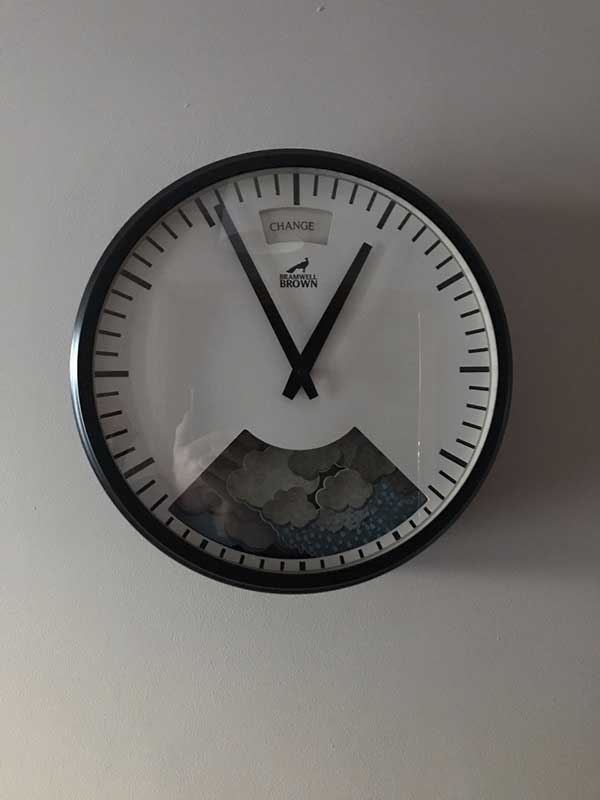 Typically, once it had settled down it was pretty much displaying 'Fair' all day on Friday and Saturday. However, as I write this on Sunday it's a wet and windy day, no surprises there, and the clock is indeed forecasting rain.
There was also a 3d wooden world map . This was something I'd been eyeing up for a while. Now I had one! There was also a nice big cheque, some of which I've already spent on a new pair of walking poles. The ones I had were a little worse for wear after my hair-raising, rapid descent of Kilimanjaro. The new ones have already arrived thanks to Amazon's speedy delivery service. They are a little lighter than the old ones, and a little easier to adjust. They are course brand new too and don't have a missing tip or any dents in them! Surprisingly for me I didn't go for the all singing, all dancing, super lightweight carbon poles though. The aluminium ones tend to be a little more robust and they aren't the sort of thing you want to be too precious about so I prefer some durability over weight in this case.
There were of course chocolates too!!
Time for Cake Surprises
I then had to work which was slightly bad planning but I was at least able to work from home. Anna was up to something though and had to go out. She soon returned with a very nice looking 50th birthday cake. Mmm mmm.
The Art of Surprises
There was another surprise later in the afternoon. I could tell that my parents along with Anna and Morgan were up to something but I didn't know what. Someone then arrived at the house, but it was getting dark outside so I couldn't quite work out who it was waving at me. I answered the door and found Carly and Martin arrived at the house. It had me a little confused, and they appeared to be bearing a gift. We know Carly and Martin, but not well enough for them to be bringing me a present. Even more of a surprise was when they both burst into song singing 'Happy Birthday' to me. It has to be said that they didn't look completely at ease doing so! It did however give me time to work out what was going on…
Carly is an artist and often posts her work on Facebook. Much of her artwork focusses on the sea and surfers. I'd commented on one of her paintings ages ago, liking it and suggesting she did one of a windsurfer. I even included a suitable photo of me windsurfing.
My Mum had seen this and had since been in touch with Carly and commissioned the painting as a birthday present for me. Carly was now delivering it.
It turns out that my Mum and Carly have been chatting back and forth for ages and seem to know more about each other than I do. The original plan had been for my Mum to collect the painting and then give it to me for my birthday. The coronavirus restrictions prevented that so Carly (and Martin) delivered it on my Mum & Dads behalf. Carly had somewhat by mistake agreed to sing to me, but that was when she had expected my parents to be delivering the painting. As it turns out, Carly ended up delivering it and she did indeed sing as promised!!
Nice surprises all round.
All change in the Hall
All of these things mean it's been all change in the hall. Some older paintings and photos have been removed and will be positioned elsewhere. I did have to get some filler and paint out to cover some holes as well! The re-decorating of the hall seems to have gone on for years. First there was a fresh coat of paint and new LED lighting back in 2018. Then there was a new floor earlier in the year. Now there are new wall hangings everywhere.
The weather clock went straight on the wall and was soon telling the time and forecasting the weather. The painting soon joined it and looks perfect above the cupboard.
I've started installing the world map too but so far have only done the easier bits. The islands and the continents of Australia and Antarctica have yet to be added. Free-lying land masses such as these are a little more difficult to position. The fact that they have no points of contact with other land masses means that I may need to devise a way of measuring their exact positioning. I may however decide to just add them by eye but I'm not sure yet, it's looking good so far though,
Adding the rest of the world shold keep me busy for a while so I'll post the finished article once it's done.
Thanks everyone! 🙂