Kilimanjaro Trek Day 7 – The Descent
Kilimanjaro Trek Vital Stats
Barafu Camp to Mweka Gate
Distance: 9.92 miles
Starting Elevation: 4565m
Ending Elevation: 1822
Total Climbing: 3m
Total Descent: 2759m
Highest Elevation: 5895m
Total Time: 3:26:24
Moving Time: 3:14:48
Calories: 1186
Summit to Barafu Camp
What goes up must come down, so after a little while at the summit, it was time to don my cramp-ons and start the trek back down. I don't think the cramp ons were really needed, but they had been recommended before we set off, and they had been carried all the way up here, so I thought I may as well give them a go. Others managed without but it did mean I had good traction for the trek around the crater rim back to Stella Point. Other groups of trekkers were still making their way towards the summit as we headed back so words of encouragement and "it's not far now" were exchanged as we passed them.
From Stella Point we virtually retraced our steps back down over the steep mountain side towards Barafu Camp where we had started many hours before. We actually kept a little left of the main zig-zag path we had taken on the way up which gave us a slightly more direct route down. The soft gravel wasn't as treacherous as I was expecting so it was an easy descent that was fairly easy on the knees as well. Boots could sink into the gravel which provided both traction and some shock absorption from the jarring that is usually an issue for me on descents. The only photo I have seems to suggest that it was much rockier than it was. I don't remember it being like that!
Hugh had been suffering a little and after a while was just too exhausted so ended up (much to our amusement) being helped down by two porters. With arms around their shoulders they practically carried him down. Other porters from our team had come up a certain distance from Barafu camp to meet with us too.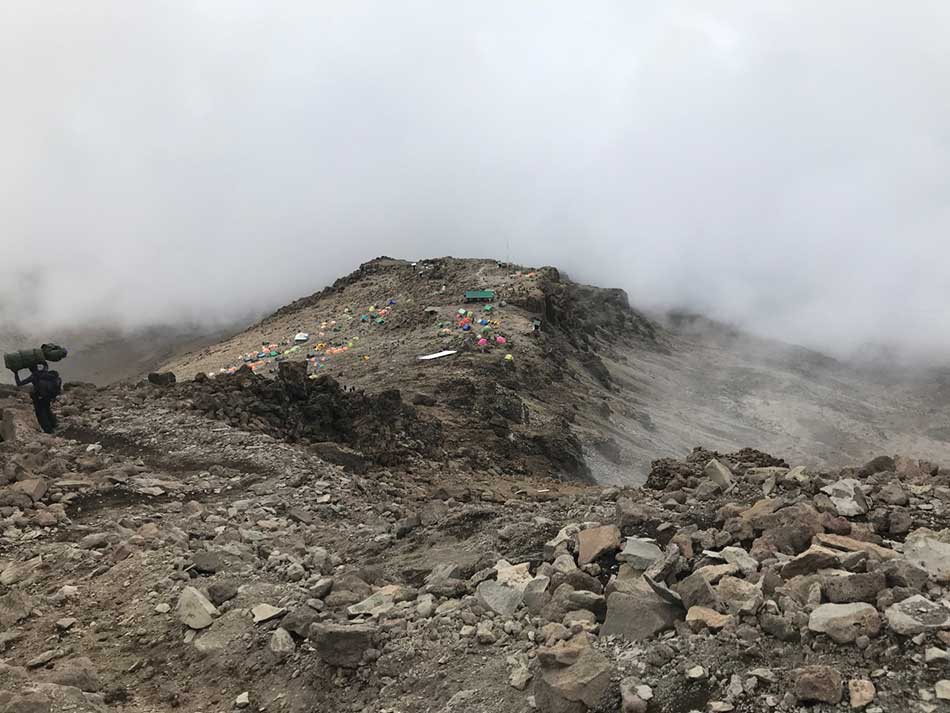 We wandered through Kosovo camp and then up a little incline before the welcome sight of Barafu Camp. We negotiated our way on weary legs through the camp to our tents where we were due a rest.
Note: The stats above don't include the descent from the summit to Barafu Camp as this was included in the stats of summit night. By now we had been on our feet for over 10 hours and it was still only around 11am.
Simran and Richard had been talking about carrying on and trying to make it to the gate at the bottom so that they could 'get off the mountain' and 'have a shower'. I headed off to my tent for a rest as planned. As I dossed I could hear the others leaving in an attempt to make it to the bottom. I thought about joining them but just lay there instead. After a couple of hours I decided it was time to get out of the tent and start making my way to Mweka Camp. This was the planned camp for the night which was still 3 hours descent from Barafu Huts. We were then to make the final 3 hour trek from Mweka Camp to the gate the following morning.
Barafu Camp to Mweka Camp
As I unzipped my tent I was surprised to see that everything had been packed up around me. Everyone's tents had gone as had most of the people. All that was left was my tent, the mess tent and – thoughtfully – the toilet tent. I headed to the mess tent where everything had gone except for a few essentials. The ever present David (our waiter) was there along with Nelson (head guide). They told me to eat some lunch. I wasn't hungry but made a token effort and then used the toilet that they had left for me. Things were then packed away in double quick time as I got my boots on and started following Nelson down the hill towards Mweka Gate. He informed me that the others had left hours ago and that Sim and Richard were going to try to make it to the bottom. Hugh and the girls were moving slower and Hugh was still suffering so they were going to Mweka Camp for the night and we should be able to catch them.
With that I think Nelson decided that we needed to make up some time so broke into a trot. I dutifully followed and started jogging along with him. Before long I realised just how much better this was making me feel. After a week of painfully slow 'pole pole' walking up the mountain this change in pace was just what I needed 'Haraka, Haraka!'. I felt invigorated (the extra oxygen available to me as the altitude fell away may have helped too). I told Nelson that I was enjoying this and so the pace increased a little more. Faster and faster we went until the rocks and shrubs were but a blur. Had I known we were going to do this I would have brought some trail shoes instead of clumpy walking boots. And I would have shed yet more layers of clothing too. I wasn't about to complain though, as this was fun!
We soon caught Hugh and the girls along with an entourage of guides and porters. Nelson decided to leave me here and stay with them and instead passed the baton on to Emmanuel telling me that Emmanuel would continue with me at the same pace we had been going. On we continued heading ever further down the mountain. It took Emmanuel a while to realise that I was quite happy running but we were soon back up to pace as we left the alpine desert behind and flew through the heather zone. As we entered cloud forest Emmanuel pointed out High Camp nestled amongst the trees ahead of us. On we went, slowing here and there for particularly tricky, slippery rocky sections. Other guides and groups that we overtook seemed to be chastising Emmanuel for 'making' me go so fast and were telling us to be careful. We ignored them and continued plunging headlong down the trail.
We passed someone being lowered down the hill on one of the one-wheeled stretchers that lay dotted along the route here and there. Clearly she wasn't having a good time of it. We stopped briefly at High camp where I took a few layers of clothing off. The effort of running for several hours was generating heat and the ambient temperature was rising as we lost elevation too. Emmanuel offered to carry my bag for me here as it was now a little heavier with the extra clothes in it. I allowed him to do so and off we went. Quite how he ran with his rucksack on his back and mine on his front I'll never know. For a start he couldn't see where he was putting his feet with a rucksack on his front, not to mention the extra weight. I guess the porters do this all the time though and it didn't seem to hinder him as he carried on down the mountain as sure-footed as ever. If I stumbled or slipped he'd immediately look back to make sure I was OK and he stopped every half an hour or so to make me take a 'sippy sippy' of water.
At Mweka camp we stopped. The signs said that it was 10km to the gate and that would take 3-5 hours to descend to the gate from here. If we could do it in 2½ we should catch Sim and Richard and be able to get on the bus back to the hotel with them. We decided we could do it, but first Emmanuel had to head off to get some paperwork so I waited around as our porters set up camp ready for the girls and Hugh.
Mweka Camp to Mweka Gate
When Emmanuel returned we headed off once again, this time into the rain forest on slippery, muddy, root infested trails. After a few hundred yards Emmanuel realised that he had something that he was supposed to leave at camp so left me alone with our rucksacks in the rainforest as he sprinted back with it. I had a lovely 5 minutes of complete peace and quiet stood there in the forest watching birds flit from branch to branch. It was the first time I had been completely alone for days. It was lovely. Emmanuel soon returned though and I was dragged from my solitude back into a headlong run down the mountain. The forest trail soon became a never ending series of slippery steps that plunged through the forest. On we went, overtaking people now and then but mainly just watching our footing and continuing at a safe but fast pace. It felt like the longest 10km ever, but it was 10km of downhill muddy steps and I had been on my feet over 13 hours, with the last 3 of those running downhill! My toenails were beginning to hurt as well as walking boots aren't the best of things to be running in for hours on end. I was half expecting to lose my big toenails but it would be worth it. They have turned black, but have yet to drop off!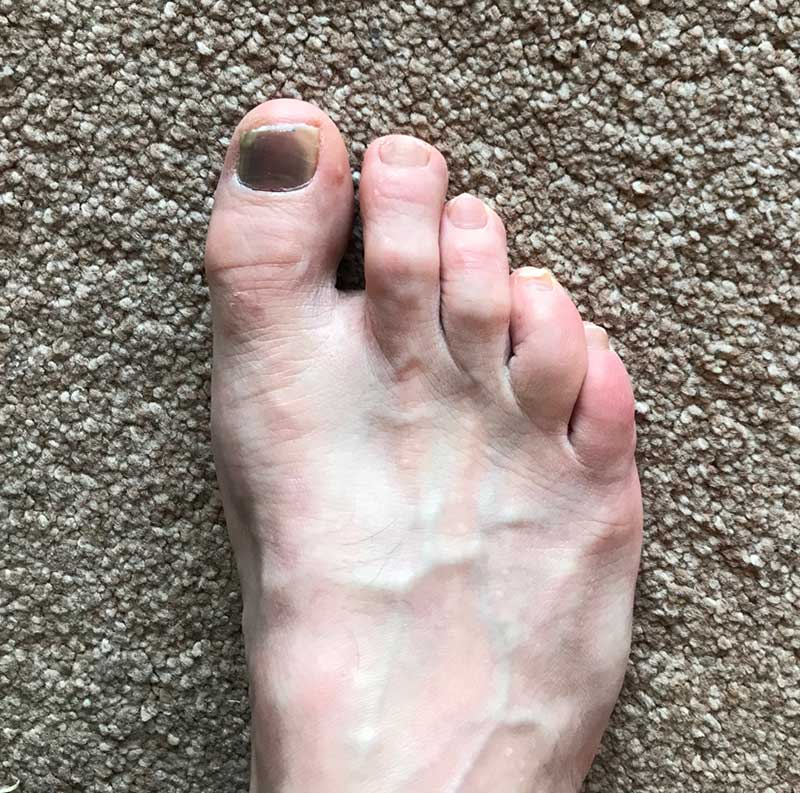 The pace was fast for the terrain, but not fast as far as a normal run would be concerned so the miles ticked by slowly. We stopped briefly to look at a little family of colobus monkeys high in the trees above and eventually got to the gate with time to spare.
Emmanuel had been telling me several times that I was 'a strong man' as I think he was surprised that I was still happy to run along side him. Maybe I was, but what about him, he'd been carrying two rucksacks for most of the run. I guess he is half my age as well which helps. The section from Mweka Camp to Mweka Gate had taken us less than 2 hours and I think Emmanuel was quite pleased with that. Richard, Sim and Hussein seemed quite surprised to see us as well. I even managed to gain some Strava Trophies in the process.
I signed in at the gate where I was presented with a certificate and then we sat around for a while as the minibus was loaded up ready to take us home.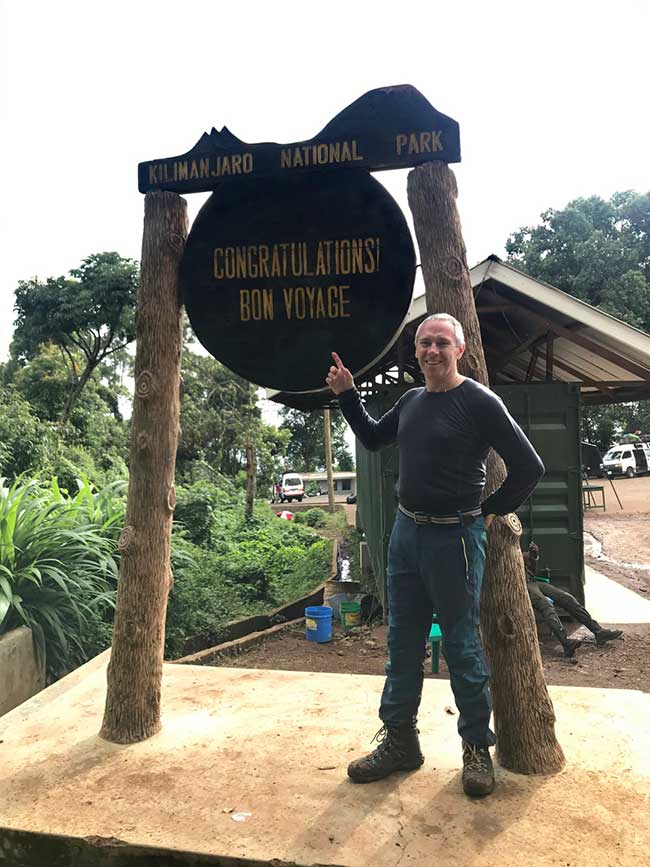 Back to Moshi
Amazingly word had been communicated back up the mountain that I was 'going all the way to the gate at pace' so porters had frantically been trying to get my duffle bag to the gate as well. There really was no need as I could have lived without it until the next day, but it sounds as though there had been something of a relay team of porters ferrying it down the mountainside trying to catch me up. Hats off to then as they nearly did it. Within about half an hour of arriving at the gate a porter arrived with my heavy duffle bag on his shoulders so that it was ready to head back to the hotel with me. Impressive stuff as it was the correct bag as well!
The drive back to the hotel past coffee plantations, a huge hospital and the burgeoning trade in coffin manufacturers that had developed around the hospital was the usual Tanzanian affair that I loved. Women in flowing colourful dresses with bananas and other fruit on their heads, lads lounging on motorcycles at the side of the road. Tuk Tuks, car horns and that African chaos that seems to pervade everything. Vibrant and lively doesn't do it justice but it makes for exciting travelling even if on a cramped, uncomfortable minibus.
Back at the hotel, the shower was delightful, Wifi meant that I could see how Anna and Morgan were and then it was time to chill. I ordered dinner but once it arrived didn't feel too hungry so amazingly for me didn't eat much of it.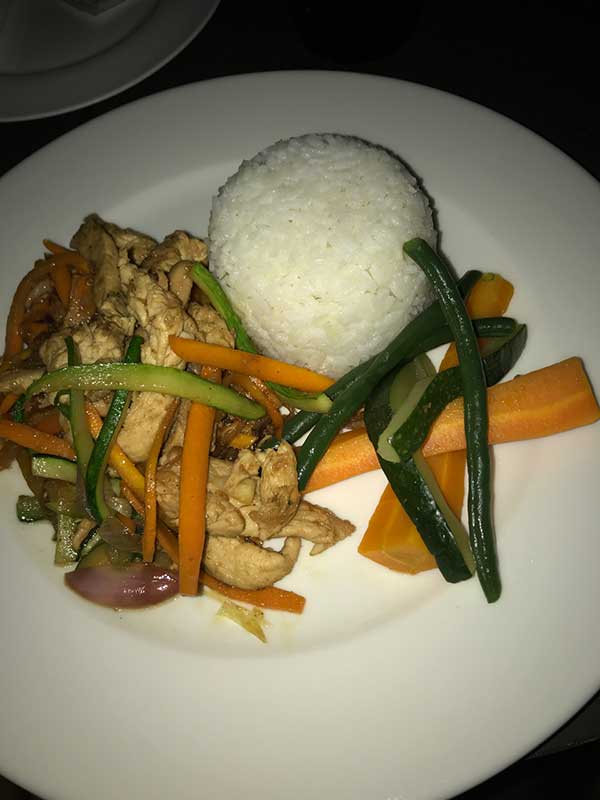 We had to head back to the Mweka gate the following day to meet the others and then off to the Trek2Kili offices to hand back hire kit, do the tipping ceremony and say our goodbyes. The guides and porters had one last song for us and then we were done.
Kilimanjaro conquered, new friends, new memories and after the crazy dash downhill at speed for 3½ hours, slightly achy quads too. We had a nice 'celebratory' meal in the evening with the guides where we exchanged social media details and then we were off on our separate ways. My legs were pretty sore the following day so I sat by the pool until it started to rain yet again. The Kilimanjaro Wonders Hotel was clean, well-equipped, welcoming and comfortable.
The long journey home started off badly. First the toilets at Kilimanjaro Airport check in were out of order (just when I desperately needed them and the imodium seemed to be failing me!). Then there was a massive queue at passport control. It took 1½ hours to get through by which time things were getting desperate. I made it through only to find that the toilets were downstairs and my quads weren't really capable of stairs! I hobbled down and finally found relief, only to find out that my first flight to Nairobi had been delayed for 2 hours. That would mean making the connection in Nairobi would be something like the toilet situation – touch and go. I bought some souvenirs and had hoped to find somewhere to buy some imodium and ibuprofen. I was sure I had some with me but couldn't find it. I did find out once I got all the way home the following day that it was in my bag all along.
The flight to Nairobi was fine and I did make the connection OK. I was now in Dubai and once again the connection was easy and I had 3 hours to wait. I did at least find a pharmacy where I bought huge boxes of Ibuprofen and Rennie (I only really needed a couple of tablets of each). The flight to Manchester was a long one but I made it and we were only about 20 minutes late by the time we touched down. I was pretty tired, but after a long wait for my luggage (which did appear), the usual immigration and customs malarky I was outside and waiting for a transfer to my car. The caffeine from a couple of bottles of coke kept me awake for the three hour drive home and by the time I was there I felt quite revived. Morgan had just got home from school and Anna wasn't far behind.
What a trip that had been!
It couldn't have been done without the hard work, dedication and organisational skills of the Trek2Kili team. The guides were great, the porters were amazing and the logistics and itinerary were exactly as billed. Obviously there was nothing they could do about the weather.
I actually booked through Much Better Adventures which meant that I had a UK company running the show and did have to contact them during the flight delays on the way out. They communicated with the Trek2Kili team on my behalf so as to rearrange pickup times from the airport. Much Better Adventures don't seem to add too much onto the price either so it's a good way of organising things. They also offer loads of other experiences around the world, so there is bound to be something that takes your fancy. Use my Referral code ALANC6099 for money off your next adventure. I'm not sure where my next one will be yet? I wouldn't mind going back to Tanzania again at some point as it seems like a lovely country full of friendly characters and secrets to explore. I hope you've enjoyed this series of blog posts and that it has inspired you to get out there and embark on a big adventure of your own.