A Day Trip to Bath
Day 2 of our short Break in the South West and we had a day trip to Bath planned. Once again we had a treasure hunt to follow and would be searching for Pokémon too. I went for my usual early morning stroll around the local lanes and then headed back to my parents house for breakfast. It was set to be another gorgeous sunny day with high temperatures so bags were packed with sun cream, battery chargers and summer clothes and off we headed. We had decided to Park and Ride into Bath so parked in Lansdown, jumped on the waiting bus and were soon in Bath. The Park & Ride system was perfect for us and there was even Wi-Fi on the bus so we were soon catching Pokémon. Although our bizarrely named Wi-Fi dongle did confuse other bus passengers as they tried to connect to the Wi-Fi. We could hear them saying "Alibongi Wongle Dongle-  what is that??!!"
Bath Treasure Hunting
Once in Bath we spent a bit of time strolling aimlessly around the streets taking a look at some of the sights and soaking in the atmosphere of the historic city.
We then headed to the Tourist Information Centre where our treasure hunt began. Once again we weren't too concerned with the actual clues, the back story to the hunt or the answers to the clues, we were just using it as an excuse for a walk and for it to take us to some places in Bath that we might not have gone. It took us across Pulteney Bridge and then into some lovely parks and gardens where a multitude of little bridges crossed the railway and the river.
We then headed back towards the Abbey and the main shopping areas for lunch – bagels and then some shopping for sports kit ready for Morgan to return to school.
Pokémon in Bath
It was then time for coffee and cakes, all the while hunting for Pokémon. The Pokémoin had been going OK but it wasn't until we left the coffee shop that we finally found a new one. it was apparently a very rare one too so we have now added an Aerodactyl to our Pokédex.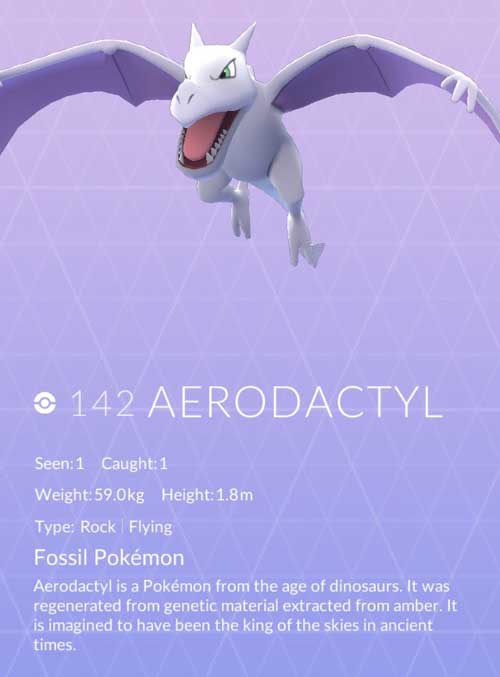 It was then time to head back to the car on the very hot bus that was waiting there for us and then back to my parents for dinner. I then headed out for a mountain bike ride in the evening.
MTB Riding in The Cotswolds
I'd found a MTB Club called Edge Mtb that were riding that night. They seem to meet in various pubs around the South Cotswolds on a Wednesday evening for a night ride so I decided to join them on my new bike. I was surprised to find more people there than I had expected. as we set off on what was quite a strange Mtb ride for me. I'm used to the hills and trails of West Wales – lots of rock, lots of wetness and lots of climbing and descending. This was a little different – no climbing or descending whatsoever and lots of dry dusty trails interspersed with rides along the edge of grassy fields. It was nice to be out in the fresh air taking in the scenery though and a all at a very easy, steady pace so nothing too taxing.
It didn't end well for me though as we were riding through a grassy field as darkness fell and all of a sudden my rear wheel sized up and I skidded to a halt.
Inspection showed that my rear derailleur was embedded in my wheel and wrapped half way around the bike. The derailleur hanger (I didnl't have a spare) was bent beyond repair and the derailleur itself was completely mangled too. A couple of spoke in the rear wheel were damaged as well. There was no option but to snap off the mech hanger, remove the rear derailleur, shorten the chain and single-speed it home. Everyone from EDGE MTB turned around with me and headed back along the roads to the cars.
I still have no idea how it happened on such an innocuous bit of riding. After thousands of miles on a MTB in all sorts of conditions and terrain I had to abort my first ever ride early whilst riding across a simple grassy field in the Cotswolds. Worse still, it was on a brand new bike out on it's 3rd ever ride. It's done less than 30 miles and now has a couple of hundred pounds worth of damage to fix. I made it back safely though, as did everyone else and I shall fix my bike ASAP. I guess if nothing else it'll be an excuse for a slight rear derailleur upgrade.