Garmin Fenix 6X Setup
My hand was forced last weekend when my trusty Garmin Fenix 3 finally stopped working. One of the buttons fell off and soon after it failed to start up. So, I had no choice but to upgrade to the Garmin Fenix 6X. I had been hoping to hang on for the release of the Garmin Fenix 7. I could then have either gone with the 7 and whatever new features it had (ECG, solar charging maybe). Or, I could have hopefully got a good deal on a Fenix 6X. I couldn't wait that long without a watch so had to get the Fenix 6X.
Which Model Fenix 6?
There are quite a few models in the Fenix 6 range. It comes in three different sizes, the smallest 6S, the middle 6 and the larger 6X. You can choose a screen material in each size, standard, sapphire or solar charging. You can have the Pro or non-Pro versions in some of these too. Not to mention a number of different colour choices and strap materials.
One of the more practical reasons for wanting the upgrade for me was a simple one. I'm not getting any younger and my eyesight is getting worse. The larger Fenix 6X has virtually the same external dimensions as my previous Fenix 3 but possesses a screen that is quite a bit larger. A large screen means larger text which make it easier to read. I was therefore only looking at the 6X model.
As far as screen material was concerned, I had been REALLY impressed with the Sapphire edition of my Fenix 3. I'd scraped it along walls, fallen off bikes, and generally given it a hard life, but there wasn't a single scratch on it. You do pay a bit of a premium for the sapphire glass but I thought it was worth it. I would have liked solar charging but you can't get solar charging and sapphire glass. I therefore went for the Fenix 6X Sapphire which is only available in the Pro version.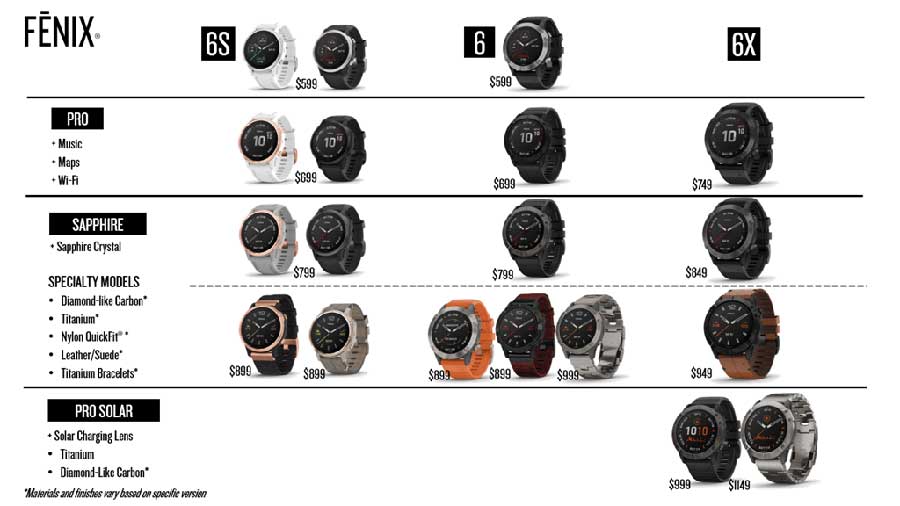 RRP was £749 but I managed to get it for £574. That's still a lot of money to spend on a watch, but I think I can justify it.
It's my daily timepiece so is used all day every day.
I use it for training at least once a day.
I use it for recreation such as windsurfing and surfing too.
It's my 'smart watch' providing me with notifications from my phone.
I use it for navigation when out in the hills etc.
It tracks my sleep and now has 24/7 heart rate monitoring and other health related features too.
I do literally use it all day and all night, 365 days of the year.
So, it may be expensive but when you consider the number of things it does, the features it has and the amount I use it I think it's worth it.
Fenix 6X Set Up
With previous models I have blogged about the set up process. I've even listed the various data screens and settings I use for each activity type. I usually spend hours clicking through the menus and getting things just the way I want them. The situation has improved somewhat in this respect so I can hopefully keep it short and sweet this time around.
Last time around my Fenix 3 was actually a replacement for a previous Fenix 3. I therefore had to replicate the set up. It would be nice if there was a way to copy all of the settings from one device to another via Garmin Connect. That isn't the case so it had to be done manually. Before that I was updating from a Forerunner 910XT to the Fenix 3. Previous to that it was the Forerunner 305 to the Forerunner 910XT.
Familiarity
This time around certain things made the upgrade process easier. For a start the buttons and menus are almost the same between the Fenix 3 and the Fenix 6X. There are of course some new features and therefore some additional menus but most things were familiar. The learning curve was an easy one and most things were exactly where I expected them to be.
Syncing Data
Secondly, some settings were indeed copied over from Garmin Connect. Things such as my height, weight and some unit preferences. My records, measurements such as VO2 Max and my training history were all automatically synced over too. What doesn't get synced over are any custom watch faces, apps or widgets that you have installed. I can see why as you are likely to want different apps on different devices. I therefore had to add my favourite watch face, and a few apps. The Surf Tracker app and the tides app were the only ones I added for now. Connecting to my Wi-Fi and to my phone was simple so this didn't take long
Default Settings
Finally, the default settings for data screens seem to be quite useful. Previously I would have spent ages making sure that the correct data was displayed in the correct places for each type of activity. This time around, I decided to keep things simple and in many cases just go with the default screens. Garmin seem to have picked sensible defaults for the Fenix 6X so this wasn't an issue. I have changed a few things of course but no where near as much as usual. This might change over time. As I do more focused training I might afterall want to see specific metrics while I work out. For the most part I don't want to be concentrating too much on such data whilst training so usually only the basics are needed anyway.
The default screens for following workouts have been improved quite a bit too. I followed a custom workout on a run yesterday and the data displayed was just what I needed. No need for any adjustments to the setup there.
Fenix 6X – New Features
With the setup process being quick and easy I was soon able to start exploring some of the new features of the Fenix 6X. Everything that I had on the Fenix 3 is still there so in many respects it feels very similar. I don't use all of the features all of the time but I do use quite a few of them. The basics are the same. Once I'd added my familiar 'Gear Min' watch face it felt like an old familar friend. I did think about going with a new watch face just to make it feel 'new'. I like the features of GearMin though so would have installed that eventually, so stuck with what I know.
Screen
The large screen is indeed an improvement. I can see it without my glasses on. With my glasses on the smaller details of the watch face are clear. The screen itself is also sharper and brighter. Larger, sharper and brighter all make it easier to read the data on it.
The larger screen does also allow for more data fields to be displayed on each screen too. This is useful, but I don't think I'll take advantage of this too much. I might do on some of the deeper screens but for my standard screens I will try to keep things simple. Adding more fields to a screen will only make the text in each field smaller which will negate the benefits are far as my eyesight is concerned.
Optical Heart Rate Monitor
My Fenix 3 was the version without the optical heart rate monitor built in. I therefore had to wear a HRM strap to record heart rate. This wasn't an issue, but the Fenix 6X has a built in heart rate monitor. So far it seems quite accurate and works well. It probably won't be as accurate as a HRM strap but it does have some advantages. First up is that I don't have to remember to but a stinky old chest strap on when training. Nor does it matter of I forget to take the strap with me. The built in Optical HRM will always be there and will just work.
Secondly, having the HRM built in means that the watch can do 24/7 heart rate recording. This means that it can track my heart rate when I'm resting as well as when I'm training. It can record my resting heart rate and even track my heart rate while I'm asleep. This gives me a better overall view of my recovery status. It is used in new features such as the Body Battery feature which tells you how well rested you are.
Talking of the heart rate, there are also new heart rate alert features. These sound an alarm if your heart rate is too high or too low. I may have to turn off the low alert though. I have it set at the lowest setting so will sound an alarm if my heart rate drops below 40bpm. It's already done that a couple of times so it could get annoying! I can of course easily turn it off.
Another advantage is that I can monitor heart rate whilst swimming which wasn't possible with a chest strap. I've yet to do this but it will be interesting to see what my heart rate is whilst swimming.
The only disadvantage is the fact that certain 'advanced run metrics' recorded by my HRM strap can't be recorded from the watch. These weren't Heart Rate related but took advantage of accelerometers in the strap itself to measure things such as vertical oscillation, ground contact time and such like. These can't be measured from a device on your wrist due to the way that your arms move whilst running so without wearing a chest strap I will lose those metrics. It's not a massive loss as there wasn't really much I could do with such metrics. It might be nice to see how long your feet are in contact with the ground for, or the amount of vertical oscillation in each stride but to what end? I would find it difficult to consciously change such things. It would be almost impossible to 'improve' them. I'm also of the opinion that trying to alter your biomechanics too much is just asking for trouble the form of injuries anyway. Maybe it's better just not to know. I can still always wear the HRM Run strap if I want such metrics. The footpod that I have might track thee for me as well.
Pulse Oximetry and Altitude Acclimation
Pulse Oximetry is a new feature to me. It would have been nice to have whilst I was climbing Kilimanjaro. It wouldn't have helped with anything as I couldn't change the plans of the trek based on it's readings. However, tracking my oxygen saturation 24/7 in relation to altitude would have been interesting. I was of course checking it using a fingertip pulse oximeter every morning and evening, but having it on my watch recording all the time would have been nice.
The pulse oximeter is also used for the new altitude acclimation feature. Unfortunately the various travel restrictions in place at the moment, and the fact that I live at sea level, means that I'm unlikely to be taking advantage of this feature any time soon. I will have to plan a high altitude mountain expedition as soon as I can though!
I guess that the pulse oximeter may be useful as a general health feature in these times of a Coronavirus pandemic too.
Performance Tracking with the Fenix 6X
The new performance tracking screens are nice. Seeing how my training is progressing and which energy systems I've been working on is both interesting and useful. I don't know how much I'll change my training program based on it yet but I might do from time to time.
The watch also uses the performance tracking algorithms to recommend workout to you. Again, I'll probably stick to the training program I know and love but the suggestions actually seem quite sensible so I could use them just to mix things up.
Sleep Tracking and Stress
The sleep tracking has been improved. Coupled with the 24/7 heart rate monitoring there are now new widgets and data based on the amount of stress you have accumulated. These are nice and tie in with the body battery algorithms. This gives you an idea of how hard you've been training and how well you have been recovering. The are all presented in new widgets and also recorded and displayed in Garmin Connect. It's useful information even if not something I'll look at every day.
Fenix 6X Widgets
Talking of widget, the new way that widgets are displayed and the quick access to them via 'glances' is great. The new combined widgets are good too allowing me to see all the data I need in a quick easy fashion.
Incident Detection
Incident detection is new too. I've had this on my Garmin Edge 530 but now it's on my watch too. I have Anna as my emergency contact should the watch detect an incident. She has however been warned that I don't know if it will report false positives. I don't want her worrying that I've crashed or fallen off a cliff when all I've done is stop for a snack!
Music
I can now upload music to my watch and play it to Bluetooth earphones from my watch whenever I want. There's not much to say about that. It's like having an iPod (other MP3 players are available) on my wrist.
Garmin Pay
Apparently I can use my watch to pay for things just like a contactless credit card too. It won't work with my particular credit card provider though so I can't try this out yet.
Maps and Navigation
One of the biggest new features is that of maps. Again, there isn't a huge amount to say about this other than the fact that I can see exactly where I am on an OS style map right on my wrist. The maps are clear and accurate and seem to work well. They can be used for turn by turn directions too.
I obviously don't need mapping whilst on my usual bike rides and runs from home, nor when I'm out windsurfing or kayaking. They will however be invaluable when I'm out running in unfamiliar areas or walking in the hills. They'll also be really good when I'm following a set route that I have uploaded to the watch.
Previously my Fenix 3 would allow me to do this and would tell me when I was off route but with no base map below the my GPS track on the screen finding out how to get back on route wasn't always easy. With a sensible map showing where I am, where I've been and where I am supposed to be that should now be easy. I'll try it out properly on my next Coast Path Run. I'll still take a map and compass with me when in the hills of course but they'll probably end up staying in my bag most, if not all, of the time now.
Fenix 6X Round Up
All in all, the Fenix 6X Sapphire is looking like the perfect upgrade from the Fenix 3 for me. It has enough similarity to make it easy to use, the larger, clearer screen is helpful for my aging eyes and the plethora of new features makes it feel like an substantial upgrade. There are plenty of new toys to play with and all of the old essentials are still there. Now I just need to plan some proper adventures, some proper training and some racing in order to make proper use of it all.