Week 2 of the Giro
Stage 10: Amatrice to Castelluccio
After a rest day on Tuesday, it was straight back into the mountains on Wednesday with a long, steep climb up the Rifugio Calvanico. We were at least eased back into it a little with a shallow descent for the first 12 miles.
At nearly 25 miles in length and with over 1000m of climbing it was always going to be a long hard stage. I started well and tried to hang with the front group. My plan was to stay with a group until the bottom of the climb so as to benefit as much as possible from the draft on the first 12 miles. Staying with the front group wasn't going to be possible but a second little group formed on the road so I stayed with them all the way to the bottom of the climb. Here, we all settled into our own pace. The benefit of the draft was lost and we soon spread out across the mountain. I was feeling OK and kept up a decent pace all the way up. I did get overtaken at one point but wasn't tempted to try to go with him so just kept to my preferred effort level of around 3-3.5w/kg. This did drop off very gradually towards the top as I started to tire but I kept pushing and finally made it over the top.
From here it was a quick descent to the finish line and that was another stage completed. My official time was 1:38:18 which I was pretty happy with and my back and knee had coped OK too. Both were of course a little sore but nothing too bad.
Stage 11: Trevi to Cesena
Finally, a slightly less brutal stage. At 'only' just over 15 miles long and with only 447m of elevation gain it was almost flat compared to recent stages. It also had most of the climbing in the first half and more descending than climbing for a change too.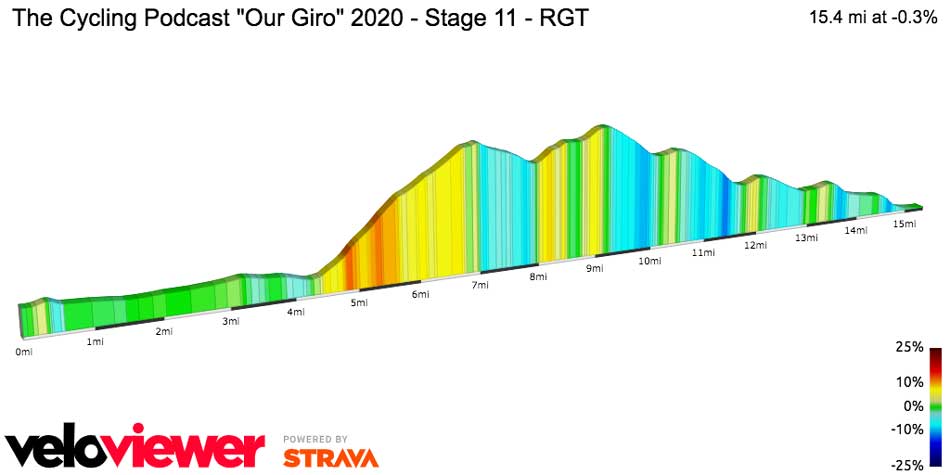 As before, my plan was to benefit from any drafting possibilities early on in the stage and then settle into my own rhythm on the climb and see where that got me. I started well once again and this time managed to stay with the front group for the short 4 mile run in to the climb. Here I dropped back once the gradients steepened and ended up riding with another guy called Adam. Halfway up the climb someone called Marc caught us both and I managed to stay with him to the top, dropping Adam as we went.
Marc then dropped me on the descent. I'm not really sure of the best way to descend in the virtual world – funnily enough, that's the same as in the real worked where I'm rubbish at descending too. At least in the virtual world it's not due to speed wobbles and fear, but somehow, even though the screen is showing that I'm producing more W/kg than those around me, I still seem to get dropped. That was the case here. Marc seemed to be putting in little and at times no effort with his W/kg sometimes showing as 0.00w/kg. I on the other hand kept pedalling but still got dropped. I'm assuming the speed on the descent is controlled largely by your weight. I'm certainly not a slim-jim racing snake at the moment but I'm not very tall and therefore don't weigh as much as many so presumably that means I descend slower in the virtual world. As I say, it reflects what happens in the real world fairly well so it's not a massive issue. I just don't know if it's better for me to coast more or keep the power on.
I managed to close the gap again on the next little climb and then stayed with Marc most of the way to the finish. He however pulled away from me again on the steep descent about 2 miles from the finish and as it was downhill all the way from here so I was unable to catch him again. I had however been opening up the gap to the people behind me and was pretty pleased with my time. Today's stage only took 53 minutes as well so it was nowhere near the long slog of the past few stages.
Time for a quick shower and then off to work. My run could wait until later in the day. I've just taken a look at tomorrows stage and it doesn't look too bad. It's a little longer at just over 21 miles but doesn't have too much climbing again.
Stage 12: Cesenatico to Cesenatico
Back at it again at 7am in the morning and this time it was riding along some roads that I have actually ridden in real life! Today's stage started with a climb for a few miles and then was essentially downhill from there.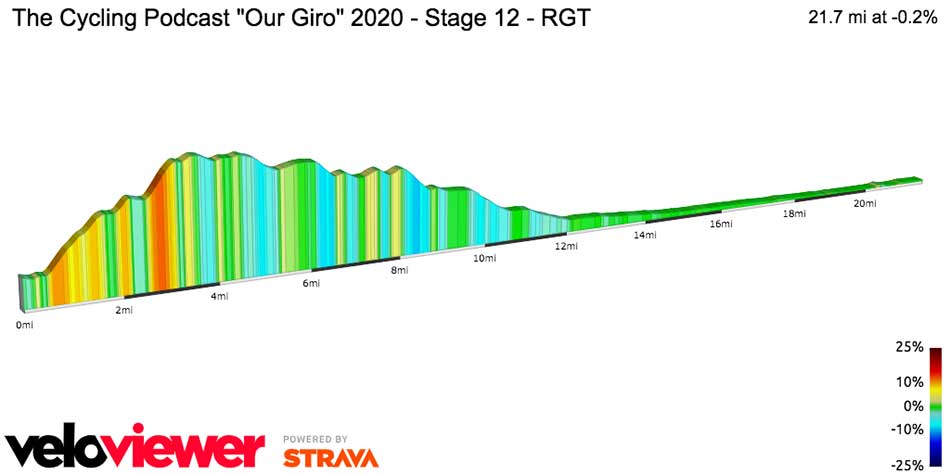 My plan therefore was to go hard to start with so as to try to stay with a group of faster riders and then try to hang on to the end! That's exactly what I tried to do. I couldn't stay with the lead group on the climb though so soon ended up on my own. A couple of people were catching me from behind so I kept pushing hard but gauged my effort so that they would catch me at the top of the climb. They did so and my plan now as to try to hang on with them
As it happened the rest of the ride was at a fairly steady pace so I didn't have any issue hanging on. I think they must have gone hard to catch me on the initial climb as well. We ended up riding in a good group of 4, all working together at a steady pace. It wasn't easy of course and I couldn't ease up too much for fear of getting dropped but I wasn't maxed out either.
We had about 16 miles to ride from the top of the climb. Most of it was downhill, but there were a few little undulations here and there to keep us on our toes. About 3 or 4 miles from the end it was clear that everyone was starting to ease up a little. The power to weight readings were dropping from close to 3w/kg for the majority of the ride to more like 2-2.5w/kg. It wasn't due to the fact that people were tiring though, it was more to conserve some energy for what was clearly going to be a sprint finish. I was feeling OK so with 2 miles to go I toyed with the idea of making a break but held back as slowly the power and pace began to ramp back up. I thought about it again at 1.5 miles to go and at 1 mile to go but played it cool remaining patient and settled in as the power was now back up as everyone was getting twitchy. With ½ a mile to go we were up above 4w/kg and flying along. I stayed patient and then with just 0.2 of a mile left until the finish gantry I started my sprint. I was out of the saddle and going hard. My power spiked at just over 650w which is around 9w/kg. Miles was on my wheel though and just nudged ahead. I dug deep for just a little longer and crossed the line, it was going to be a photo finish but the results showed that I had just about edged it and beat him by just 1/100th of a second. It was a hard won sprint and not even for first place as others had finished ahead of us, but it was all good fun anyway. Paul and Georgia who had been with us the whole way didn't quite have the sprint finish so rolled in just a couple of seconds behind.
I had thought today would be an easier ride but it wasn't and tomorrow is going to be a long hard one so I guess I should get some rest.
Stage 13: Ravenna to Padova
Back into the mountains today for a long stage through the Parco Regionale dei Colli Euganei in North West Italy. Two big climbs and third smaller one just for luck to finish off the day.
I was feeling quite tired before it even started so had planned on 'just getting through it' today. There was quite a fast start as usual, but the two little bumps at the beginning of the stage were enough to string everyone out, with me dropping towards the back of the field. Georgia who I had ridden with yesterday caught me up on the second one and we rode together for a while. She left me behind on the slopes of the first big climb though. Meanwhile, I caught and overtook Dougie and then closed back in on Georgia. It took a while to really got back on her wheel properly. I just about managed to ride with her again for a mile or so before the next big climb but as soon as the slopes increased, and they increased significantly, she dropped me and gradually pulled away. She was getting me back for the day before! Meanwhile, Dougie was dropping back behind me and up ahead the gap to Miles and Paul who I had also ridden with yesterday was remaining pretty consistent. I wasn't going to catch them and Dougie wasn't going to catch me so it was just a case of plodding my way up the hill on my own.
Over the top and the descent was a welcome relief. I kept pushing at a decent pace towards the final climb of the day. Thankfully this wasn't too steep and I was able to keep up a nice pace. I was aiming to come in under the 1hr30 mark and just made it in a time of 1:28:58
That's another stage ticked off and time to prepare for the monstrous day tomorrow as we climb over 1600m into the Italian Alps. It's going to be a long day in the saddle tomorrow.
Stage 14: Treviso to Feltre
This stage looked like a killer. 16 miles, almost all of it uphill and a large percentage of it was steep as you like. The write up on the RGT User site said:
There is no getting around the fact… no matter how good you are.. today, you are going to hit the hurt button more than you have so far…. this climb is a monster… and make sure you look at the amount of red bits in that climb… those red bits are super steep 20-25%+ that's not made up for effect… that's what is on those roads in real life… so buckle up and tell everyone to get out of the house today… because you might be swearing.. a lot
And the profile looked like this.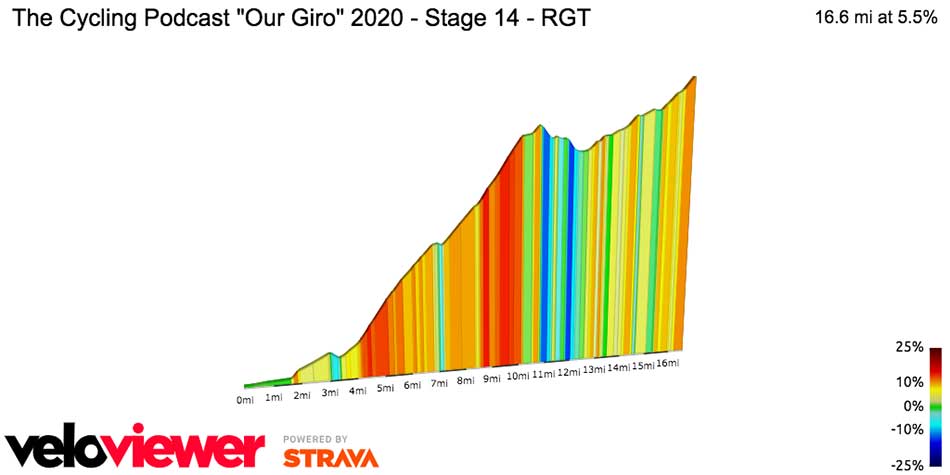 It was going to be a tough one.
Things didn't start out well either. I've been holding just over 200w averages for most of the previous races which isn't great and puts me in the 2.5-3w/kg range. That's about right for my level of fitness / fatness at the moment and had proved to be a good workout. I've been trying to race a little tactically so that I can benefit from any draft effect for as long as possible on the flats and descents. I felt pretty tired right from the start today though and was soon dropped off the back and struggling to muster 150 watts let along the 200 that I've been averaging. There was nothing for it though than to settle in for a long day, start eating and drinking to keep the energy levels up and do my best to get through it.
The first little rise was tough and I dropped back even further so that there was just one or two people behind me. Power output was still low and there was a very long way to go. The only saving grace was that once the gradients steepened and I ran out of gears I had no option but to grind out higher power outputs just to keep moving forwards. The cadence was low, I was out of the saddle and grinding my way up the hill. Had it been the real world I would probably have been weaving from one side of the road to the other just to lessen the gradient a little. I did soon start to get into a good rhythm and was very gradually closing the gap on someone ahead of me. I was an hour into the ride by now and beginning to feel a little better, but I was only halfway through so had to monitor my effort and pace myself too.
There was now a mile or so of super steep slopes but then things descended for a while and the following slopes were less steep. I caught Steffen on the steep slopes and we rode over the top together. The descent was soon over with and it was back to a slow climb towards the end. I settled into a nice pace and with the less steep gradients was able to tap out a nice pace in a low gear in the saddle. I was feeling better all the time now and felt as though I still had something in the tank. My wattages had been gradually creeping up rather than falling off and it was turning into an OK ride. I put in some extra effort of the last mile or so, dropping Steffen and opening out quite a gap to finish a few minutes ahead of him. It had been a hard day in the saddle though and we'd have to do it all over again tomorrow.
I had planned to go for a run in the afternoon but decided that maybe my legs would prefer some rest so just had a little walk around the dunes instead.
Stage 15: Belluno to Corvara in Badia
Stage 15, the last stage before the much needed second rest day of Our Giro. Once again we we in the mountains with one of the legendary Dolomite climbs, the Passo di Fedaia.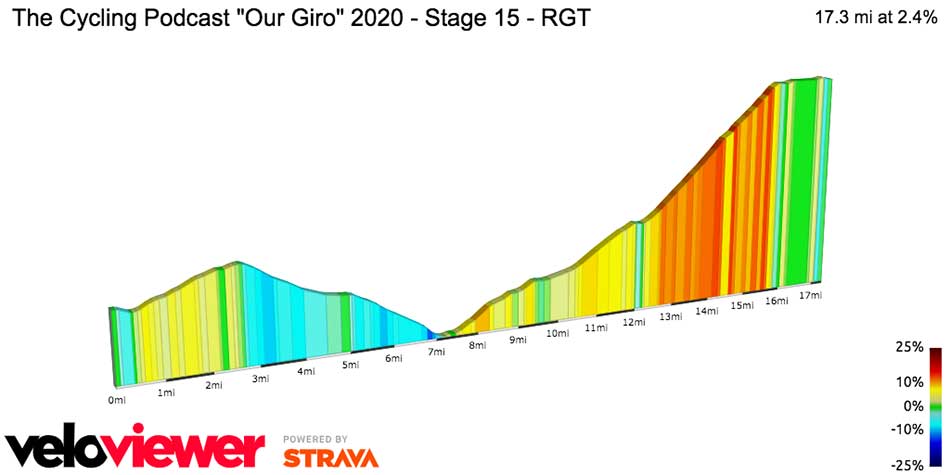 Things started OK today. As usual I couldn't stick with the front group on the first little climb but I soon teamed up with someone else for what was a lovely long descent to the 7 mile mark. From here things pointed upwards once again and we all settled into our own paces. There wasn't much in the way of racing for me today. The person in front of me was gradually pulling away from me while the people behind were gradually falling back so it was a case of monitoring my effort and keeping things that way. I had a decent climb though and the 1½ hour ride was soon over and done with.
Time at last for a rest day before we head into the 3rd week of the tour. No doubt they have some horrible climbs in store for us next week.