The Giro Continues
As a follow up to my recent post about riding sections of the Giro virtually using RGT Cycling, here's an update with progress so far. (Updated daily as I rode the stage)
Stage 5: Agrigento to Modica
This was a 34km fairly flat stage for a change with just a few rollers here and there. Although, as seems to be the general pattern so far, the second half was mainly uphill!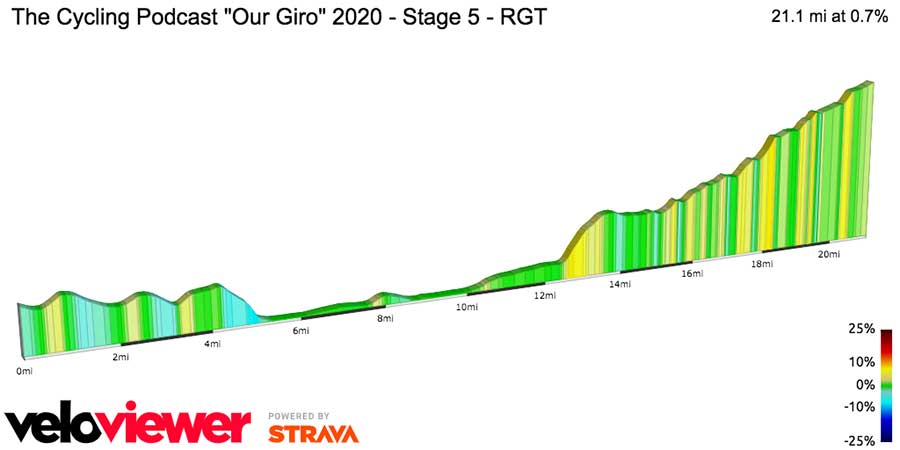 Once again I joined the small group of riders setting off at 7am. There were about 12 of us in total and I managed to have a decent ride. I stayed with the front group all the way until about the 16 mile mark. It was here that a few of the faster guys put the hammer down for the final climbs and a few of us were dropped. I hung on well though and after a while joined up with someone else who himself had been dropped from the front group and we rode together for a while.
I then managed to drop my chain about a mile from the end so had to jump off, put it back on and try to play catch up. There was no catching him though so I rolled over the finish line on my own with a few people trailing further behind on the course.
Not a bad early morning session for me. I'm not looking forward to tomorrow's stage though which is a big Hill Climb up Mount Etna! It will take me at least a couple of hours to complete and will be hard going. It won't be helped by the fact that I'm planning to run later today and surf ski as well. I might even mow the lawn as well so won't exactly be going into it rested!
Stage 6: Ragusa to Etna
The first proper HC stage of the race and what a killer that was. Here's the profile – in 3D today as it gives a better perspective of the climb that faced us!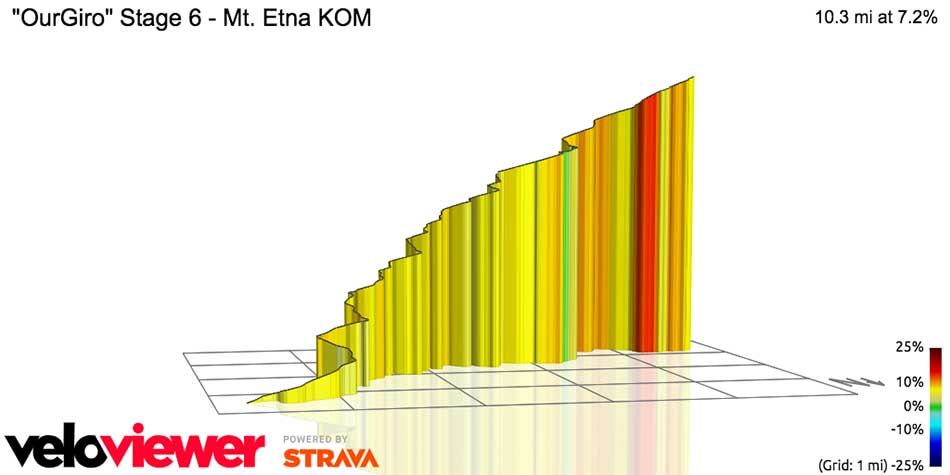 With my trainer intensity set to 100% the whole way it turned out to be quite a slog. I was doing OK for a while and even picked off a few people on the early slopes, but that kicker about 2 miles from the end finished me off. I was down to about 3mph and they reeled me back in, overtook me and left me to struggle up the last 2 miles on my own. Those two miles seemed to last forever.
Flapjacks and flaking out on the sofa should be the order of the day after that, but I've got work to do and a lawn to mow. The pro's don't have to do that in the middle of a Grand Tour!
Stage 7: Tropea to Praia a Mare
After the lofty climb up Etna yesterday I was hoping for a slightly easier day today. That is what we got, but it still wasn't easy and still had a fair bit of climbing.
After a few miles on the flat it was back into the hills again for a steady climb for the best part of 9 miles. It wasn't ever too steep though and there were a few little undulations here and there. I managed to stay with the main pack until the base of the climb and then, as in the real world everyone started to spread out as they settled into their own pace.
I did OK today and then jumped off the bike and went out for a quick run in the early morning sunshine. Training done for the day so time to relax in the garden (which does now have a freshly mowed lawn!). Tomorrows stage doesn't look too bad at all. It's relatively short at just over 15 miles and 'only' has 503m of elevation gain. No doubt it will be fast and furious! Mind you, after that there is nothing flat on the horizon for a while by the looks of it.
Stage 9: 1279m.
Stage 10: 1060m.
Stage 11: 946m.
Stage 12: 1388m.
I think I might need some more gears!
Stage 8: Castrovillara to Matera
Not a bad stage today. A little shorter and no huge climbs, but it still felt lumpier than I was expecting.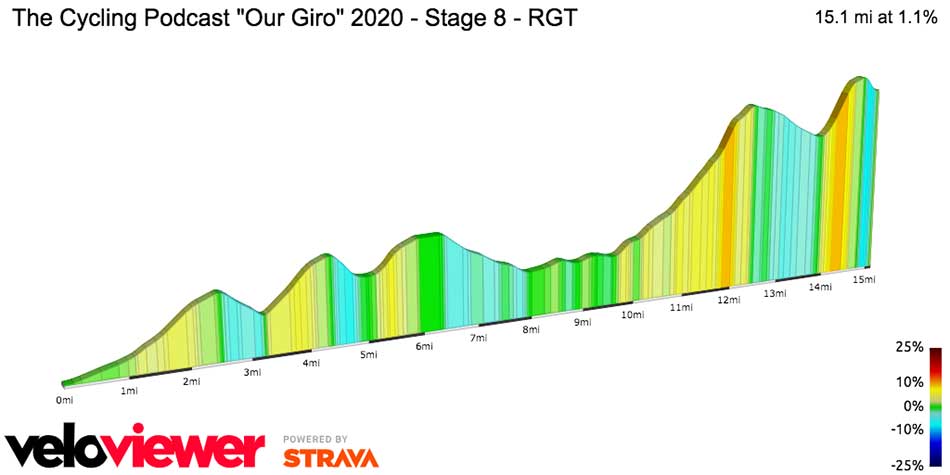 My legs didn't have much to give either so it wasn't the fastest, and I ended up riding much of it on my own in no-mans land again. Not right at the back but unable to hang with any of the faster groups. I got through it and then headed out for a run afterwards.
Tomorrow's stage is going to be a killer though.
Stage 9: Altamura to Rifugio Calvanico
Stage 9 had been looming large on the radar for a number of days now. It was the big mountain stage prior to a rest day with a mountain-top finish and some brutally steep slopes to get there. Most people seem to ride the course on the day it is released, I however have been joining the 7am ride the following day. Today there wasn't one of these scheduled. Thankfully someone else did set up a 7am ride so I was still able to do it before work. Unfortunately it was just the two of us and as he is currently up towards the pointy end of the GC so there was no way I was going to be able to stay with him, and no way he would want to hold back. It therefore ended up being a solo ride for both of us.
I had a terrible ride anyway so don't think it would have helped much had there been other people to draft as it was likely I would have been dropped pretty quickly once onto the climbs anyway. I just had no oomph today and could barely get my heart rate up above 125bpm. It therefore turned into a very long and very slow slog. Ther first climb was OK but I was out of the saddle all the way. There was a little bit of a rest on the descent but the second climb was as steep as it looked on paper and ended up being pretty tough. It even steepened up a little towards the end as well!
I'm glad that I did it though. I stuck with it and slogged it out til the end so can have a rest day tomorrow before the next few stages come along. I'm not really sure why I'm even doing it, it's not exactly good training, it's not that exciting and I'm not even doing very well. But now that I've started I feel as though I should keep going. I am just about managing to stay within the top 100 in the GC so maybe that should be my goal.

The first two stages haven't helped my overall placing. I rode them solo which was a mistake and I was new to RGT 'magic Roads' so it was a bit of an experiment. Placing 281th and 221st wasn't the best of starts.
Stages 10 through to 15 have been published now and it doesn't look to be getting any easier. Stage 12 does take me along some roads that I've ridden in real life though!