Riding the 'Giro' on RGT Cycling
The current lockdown situation has meant that I've been doing all of my cycle training indoors. This isn't a huge issue for me as I quite often train indoors anyway and use TrainerRoad to give me a structured training plan full of structured indoor workouts. Now and then a nice easy scenic ride is called for though and as I mentioned in a recent post I have been using some of the other virtual cycling platforms to ride some of the classics.
RGT Cycling is completely free during the lockdown so I have been using that more than the others and have ridden Cape Formentor in Mallorca, Mount Ventoux, the Stelvio Pass and a few other places too. I then spotted that in conjunction with the Cycling Podcast they were organising a virtual stage race that would consist of sections of all 21 stages of the Giro. It wouldn't be the full stage of course so the sections would be around 30 kilometres each day.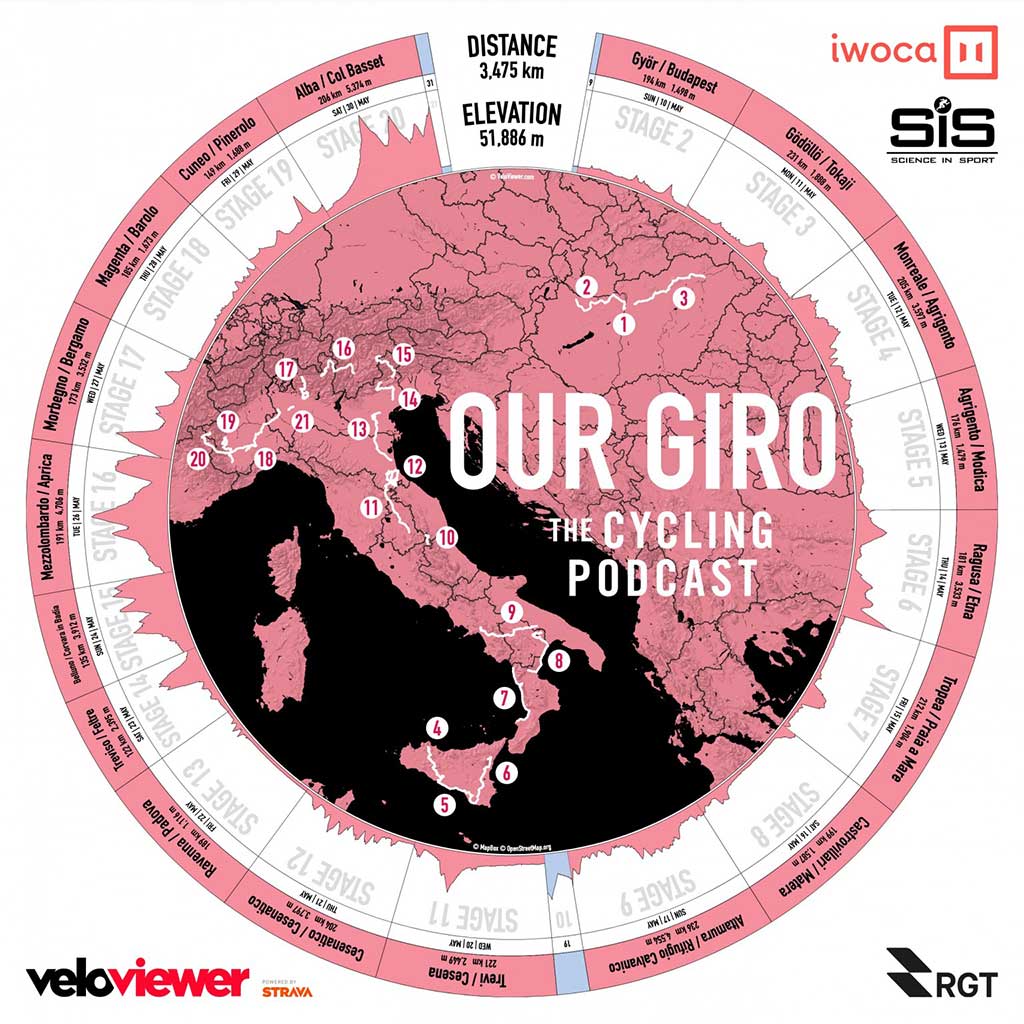 With no races planned and not much to aim for this season I thought it might be fun to try out. They had a few teething problems to start with but once things were sorted I was able to access the courses each day and start riding them. It did mean that I wouldn't be able to do any of my usual structured training, and the type of riding I would be doing might not be the most productive in terms of training and improvement but something a little different is always fun.
Stage 1: Budapest Time Trial
The 'race' started with a 8.4km Time Trial around Budapest. This was my first time riding a 'Magic Road' on RGT Cycling so something of an experiment. I had completed a hard 65 minute Over-Under TrainerRoad workout first but decided that while I was in my cycling kit I would give the 'Our Giro' thing a go. It was only 5 miles or so, how hard could it be?
So, I just jumped on, loaded it up and went for it. What I failed to do was take much notice of the course or the profile. The course itself is fine, you can't go the wrong way as the computer controls that. The profile however was a different matter as there was quite a nasty hill at the end which came as something of a surprise to me!
I rode this as an actual Time Trial all on my own as well which means that I didn't benefit from any virtual drafting effect. What I didn't realise when I started were that other people and soon RGT Cycling themselves were organising Group Rides or 'Races' at certain times of the day. These mean that a group of riders all set off together and can therefore benefit from drafting. Personally, as this was an Individual Time Trial I think the drafting effect should have been turned off for this course but I don't think that's possible within RGT. I at least did it without any drafting!
I went quite hard all the way and put in a decent time over the 5 miles or so which turned out to be quite a good workout. The hills did make it tough though.
Stage 2: Györ to Budapest
Stage 2 was a 19.5 mile stage. This time I tried to ride it as part of a group but couldn't get it to work due to some teething problems that RGT Cycling was having. I therefore ended up riding a different route on the Alp D'Huez that day. Fortunately the Giro stages are available for 3 days so I was able to try again the next day. I was tired anyway and struggled on the Alp D-Huez route so it probably wasn't a bad thing. The following day I managed to load the route OK but was now riding it on my own once again (and was also lagging a day behind many peoples scehdules). I did at least look at the profile and knew that it started off easily with some downhill had a fair bit of flat riding and then had a long climb to finish.
There were other people on the course at the same time as me but I was in a no mans land with a little group about 2.5 miles ahead of me and another group about 2.5 miles behind me. It was therefore a long hard slog and not particularly fast.
Stage 3: Gödöllö to Tokaji
Stage 3 was a 38.8km ride again in Hungary. This time I managed to join a 7am 'Race' so had other people to ride with. I'd also taken a look at the profile once again and it was basically just one long climb with a short descent to finish. Originally there was more of a descent but there had been an issue the day before with some people's rides so the organisers decided to cut the stage short (due to a virtual landslide!) so that those that had the issues could still put in a qualifying time.
I started well and settled in with the front group for quite a way. Once things steepened a few people broke away and I ended up riding along in a small group which soon became just two of us who worked together for a while. After a bit I could see someone else approaching from behind so when he went past I picked up the effort a little to go with him and them kept it up for long enough to produce something of a gap between me and the other person I had been riding with. I couldn't keep it up for too long though so soon ended up on my own but now there was a gap between me and those behind that I managed to maintain to the end.
The benefit of drafting and the motivation of an actual race meant that I fared quite a bit better today. My finish time on Stages 1 and 2 put me pretty much in the middle of the pack. At the time of writing I'm showing as having finished in 213th place in both of them (out of 424 riders so far). I say at the time of writing as Stage 2 is still open for people to ride so that may change. Stage 3 however with the benefit of drafting had me in 83rd position at the moment.
Despite the drafting it wasn't any easier of course, just a little faster than it might otherwise have been.
Stage 4: Monreale to Agrigento
Stage 4 saw us in Sicily for another hilly 33.9km race. I joined the 7am Race group again but there was only about 10 of us. I was feeling tired after the previous stages and also a 2¼ hour trail run the day before. (I don't think the pros do that!). I therefore soon found myself trailing at the back. I did manage to draft the main group for a while but once the terrain started heading upwards which it did for most of the ride I was soon dropped.
There were a couple of people behind me, but they were working on their own as well. I was actually feeling pretty tired by the midway point, but stuck it out to the finish despite the hard climbing. Again, it's probably not what my body needed or particularly good training but now that I've started I feel that I should try to do as many stages as I can. I'm not sure if I can do all of them though. I'm already exhausted and it's only day 4!
Needless to say my time wasn't great on this stage.
So far, as I write this only 180 people have ridden this stage and my time puts me 121st. Not my best performance but I've never considered myself a 'cyclist' so I guess it's not too bad. I guess I'm not a spring chicken either so would never be able to compete with those at the top. Just trying to finish will be enough of a challenge for me. To be honest, I'm not sure if I'll be able to do so. Tomorrow's stage doesn't look too bad, but stages 6 and 7 look terrible with huge mountain climbs. Stage 8 is still uphill but not quite as bad but stage 9 looks like a killer. Day 10 is at least a rest day, but I don't think I'll make it that far!