Final Kilimanjaro Preparations
My Kilimanjaro trip is almost upon us and with a day at work tomorrow today was my last full day for some final preparations.
Old Aches and Pains
Things haven't been going quite to plan though. I had hoped to be training up until the big day so should have been biking, running, swimming and kayaking every day as usual and had hoped to be walking in the hills quite a bit as well.
However, first I had a sore knee a month or so back. I eased up on my training, and stopped walking in the hills altogether to try to give it time to heal. Thankfully after about 5 weeks it started to feel OK. Now, although it feels a little weak it is no longer painful. If anything it was a warning to remind me to look after my knees and take it easy on the trek. I can use trekking poles the whole way. to take some pressure off my knees. I also need to remember that it's not a race so being careful will be the name of the game. I should be conscious of not putting too much pressure on my knees whenever I can. No over-stretching, no movements with too much force and I should be fine. Or at least I thought I would be until I woke up last week with a sore back.
I've had various back issues in the past and went through a phase of regular bouts of lumbar spine and sciatic pain quite a few years ago. Scans highlighted a couple of prolapsed disks and apparently a piece of chipped bone floating around in my back. I've never had any intervention other than strong pain-killers and anti-inflammatories and over the years had learned to manage it. So much so in fact that it has rarely been an issue lately and all has been well. That was until last week where a sudden bout of back pain had me struggling to get up and about and unable to sleep at night.
Anti-inflammatories, painkillers and a couple of easy days with nothing more strenuous than a gentle stroll have allowed it to ease up somewhat. It is no longer painful but it is still a little sore and achy. I don't know how it will cope with long hikes on the mountain with a fully-laden backpack. I still have a few days until I'm actually on Kilimanjaro so I can only hope that it improves in that time.
I have a day at work tomorrow, a day driving to Manchester on Thursday and then 24 hours of flights etc on Friday into Saturday as I travel to Tanzania via Dubai. I then have a whole day in the town of Moshi in Northern Tanzania on Saturday before starting the trek up Kilimanjaro on Sunday. Fingers crossed that will be enough time for my aching bones to get better rather than worse.
Organised Packing
I've actually been pretty much packed for over a week now, but there's nothing like being organised! Everything on my packing list is neatly stored in dry bags and each of these are labelled so that I know what is in them. I even have some Kendal Mint cake that was a Christmas present in my 'snacks' bag!
Keeping Things Dry
Things will stay in dry bags throughout the trip to protect them from the elements. Looking at the forecast for the first few days that I'll be on the mountain it looks as though it could be quite wet. Here's the forecast for the base of the mountain where it looks like light rain most days and a temperature in the region of 17ºC.
Whilst at the summit we're looking at snow and temperatures around minus 6ºC to minus 12ºC
Most of the trek is spent at around 3000 – 4000m in altitude though where again the forecast at the moment is for rain and temperatures around 5ºC
It looks as though my dry-bags will come in handy as will my waterproofs!
Having the dry bags labelled will hopefully help me find things easily whilst on the trail or at camp, but no doubt there will still be plenty of pfaffing about trying to keep things organised.
Bags inside Bags
Once on the trek some of these dry bags will be in my day sack and the rest will be in a big duffle bag that the porters will carry. This duffle bag is in itself somewhat waterproof and from what I've seen the porters but them into a further giant dry bag anyway so hopefully everything will remain dry and cosy whatever the weather.
At the moment I have opted to put my duffle bag and all of my dry bags into a suitcase as well. It's all neatly packed ready to go and at 18kg is well within my 25kg baggage allowance.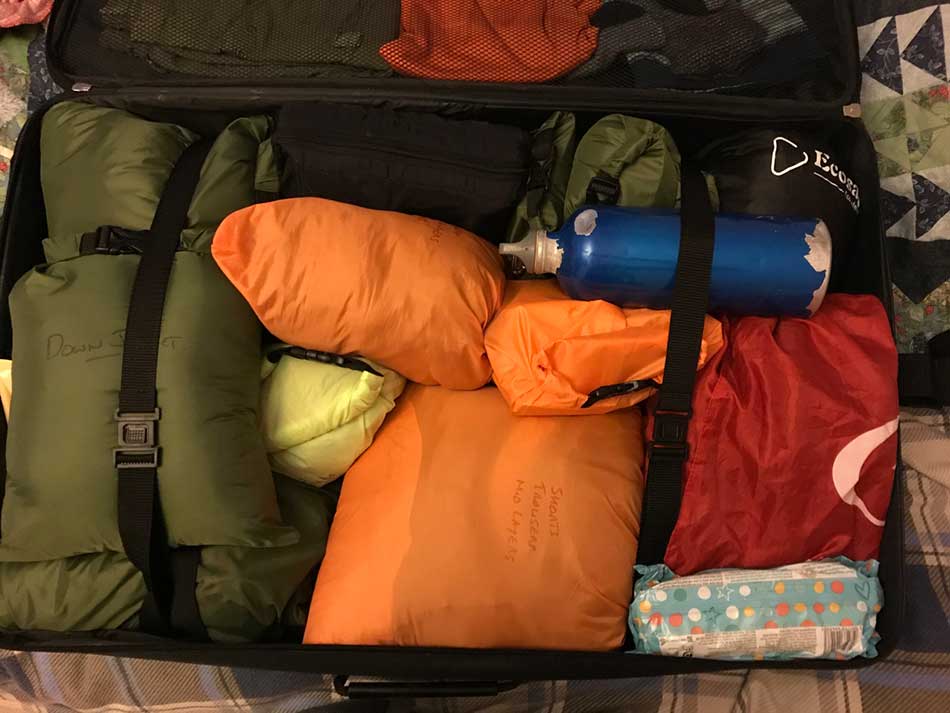 Don't worry, the suitcase won't be coming up the mountain with me! The main reason for putting everything in it is that it has wheels so should be easier for me to man-handle around airports with a dodgy back. I should be able to leave it in the hotel in Moshi along with a change of clothes for when I return from the trek. I'm sure by then a nice shower and some clean clothes will be just what I (and anyone downwind of me) will need.
I'm ready to go, my bags are ready to go, Anna and Morgan are ready for some peace and quiet. Now I just need my body to stop falling apart so that it is ready to go as well.