Kilimanjaro Trek Day 4 – Baranco Camp to Karanga Camp
Kilimanjaro Trek Vital Stats
Baranco Camp to Karanga Camp
Distance: 3.73 miles
Starting Elevation: 3975m
Ending Elevation: 4033m
Total Climbing: 450m
Total Descent: 390m
Highest Elevation: 4213m
Total Time: 4:09:29
Moving Time: 1:57:189
Calories: 1271
Oxygen Saturation at end of day: 80%
The main event today was the Baranco Wall. This for many is the most dreaded and feared part of the Kilimanjaro climb. Apparently it hangs over the camp like a dark, sheer, impenetrable wall. Imposing cliffs with no obvious way to scale them. We had none of this because it was completely shrouded in the mist and murk when we arrived in camp. We knew it was there somewhere but it couldn't be seen.
I wasn't fearing it though as I had seen clips of people scaling it on YouTube and it didn't look too bad. If anything I was looking forward to clambering around on it's rocks and getting stuck in to something a little more challenging than we had seen so far. The guides had reassured us last night as well, as usually people have some trepidation about it. We were all raring to go though. Bring on the Baranco Wall!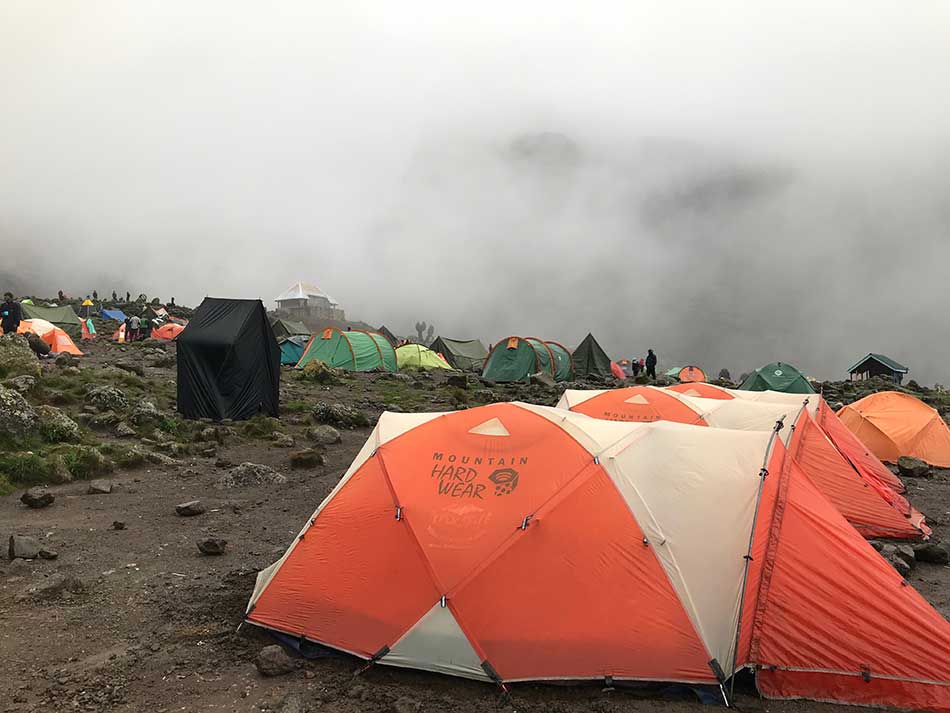 Drying Out
After a damp and fairly sleepless night (once again) I was up and hanging around camp early. Amazingly, the inside of my sleeping bag was now almost dry, as were most of the clothes that I had stuffed into it last night. The outside of my sleeping bag was still soaking wet as were any clothes I hadn't put into it but there was a definite improvement and I did at least have some dry underwear to put on. The powers of human body heat to dry clothing had worked well.
As the dawn broke, there was also a glimmer of sunshine. Not only could I now make out the Baranco Wall looming over us, but I had some views up towards the summit of Kibo and managed to lay a few more items of wet kit out to dry in the early morning sunshine.
I had an hour or so sat in relative solitude waiting for the sun to rise whilst things were quiet in camp. I spotted a few bits of wildlife during this time. Turtle Doves were common in camp and very tolerant of humans so allowed me to approach quite closely.
I also spotted a lovely little Siskin like finch that I think was a Southern Citril perched atop a Giant Lobelia.
Around the edge of camp amongst the boulders and scrubby vegetation were Six-striped mice. These are little gerbil like rodents with lovely striped markings on their backs. They move pretty quickly though and I couldn't get close to them so photos were hard to come by.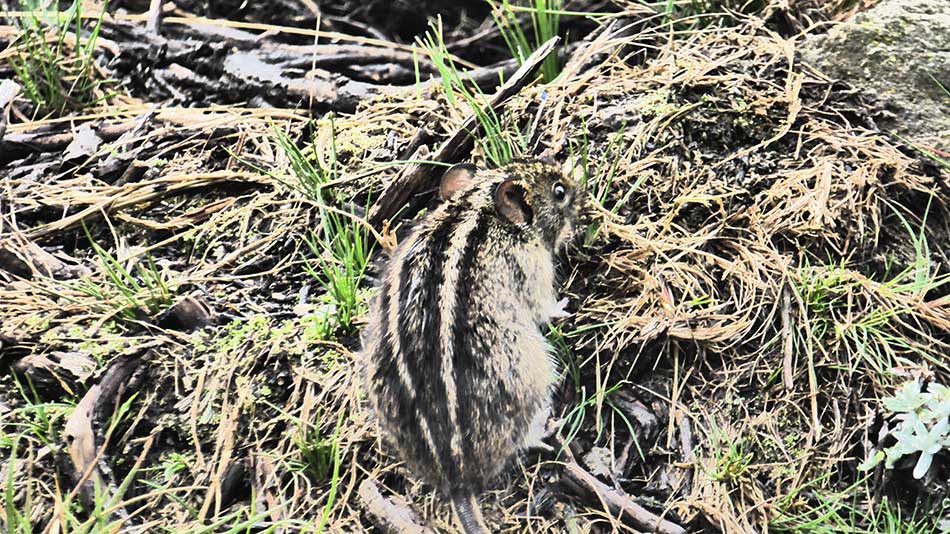 There was also another rodent that was a little larger, probably the size of a small guinea pig, but I'm not sure what it was.
The views down the valley looked promising too but the mist here never quite lifted enough to see too far. The vegetation of low heathers and giant Groundsel was spectacular in their own right though and gave the whole place an other-worldly feel.
Soon, the camp started to come to life as everyone else got up and breakfast was served. As usual this was a hearty affair with plenty for everyone, cooked by King and served by the enigmatic David. As we prepared to leave camp, clouds spilled over the top of the Baranco Wall with the sun shining through them in spectacular fashion.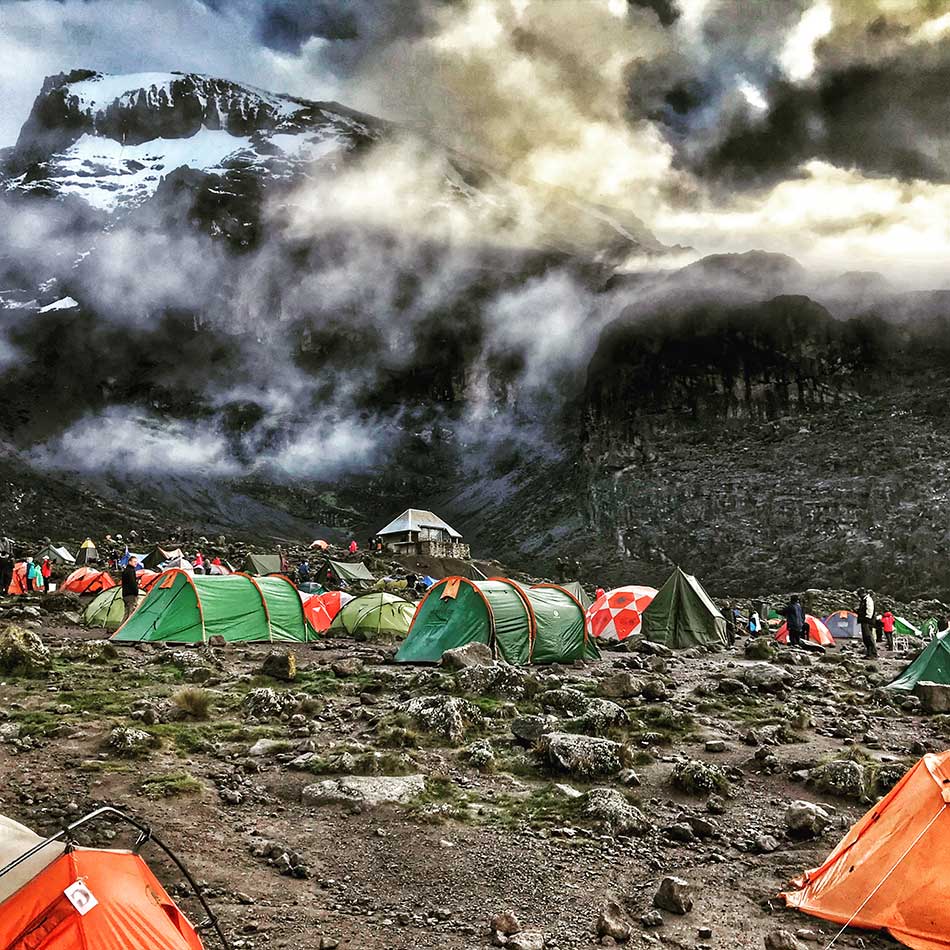 On the Baranco Wall itself we could now just about pick out a steady stream of trekkers, porters and guides zig-zagging their way up it's seemingly sheer face.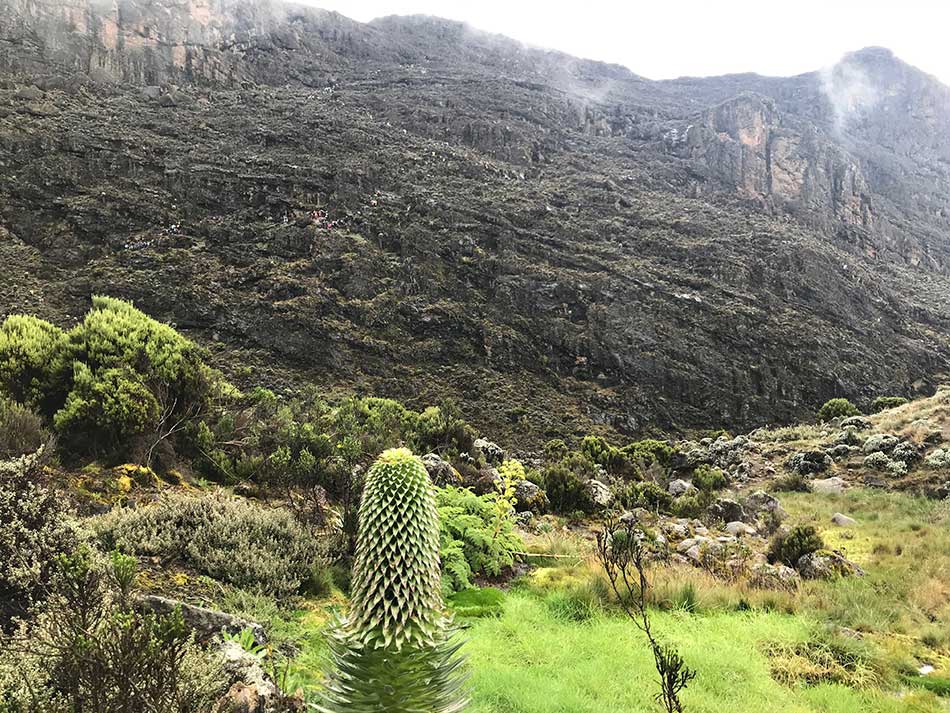 We were soon ready to start tackling it ourselves and headed off single file through camp towards the dark looming wall. We crossed a small stream and its base, walked past a huge fallen boulder the size of a house and then started the climb.
The Baranco Wall.
It wasn't long before we were clambering up the Baranco Wall. It was pretty easy the whole way. There were a few places where hands were needed and it became a scramble but the lack of exposure and the good hand and footholds on very grippy volcanic rock meant that it felt safe and secure the whole way. It was of course nice to be scrambling at last as it made a nice change from the days of 'pole pole' walking over easy terrain.
The whole wall which is just over 250m high took a while to scale thanks to the number of people on it and the fact that as always we were taking things 'pole pole'. Our Trek2Kili guides, Nelson, Hussein and Conrad were of course attentive throughout. They were helping those who needed it but were quite happy to allow me to clamber up unaided as I probably made it farily obvious that I didn't want or need any help. It took almost 90 minutes to complete and as we climbed ever higher, the clouds became thicker until at the top where we emerged onto a rocky plateau we were once again shrouded in a white foggy blanket. Apparently the views back down to the Baranco Camp from here are good, but we could see nothing.
The Karanga Valley
We had a short break at the top and then started making our way towards the Karanga Valley. The first part of this was a steady stroll down into a little gulley where a small stream was crossed. We then walked along side the stream on a gravel path for a while before crossing a few more little gulleys cut into the soft rocks here. There was then a little climb to crest the top of the steep sided Karanga Valley. We were still shrouded in mist and murk and there was the occasional bit of drizzle too so the views weren't great but the Karanga Valley cut deep into the rock with impressive eroded cliffs all around. The valley was full of Lobelias, heather and other greenery along with interesting rock formations. We made our way down a steep muddy path, across the stream at the bottom and then back up a similarly steep path on the other side.
At the top we emerged straight out into the Karanga Camp at just over 4000m in elevation. Apparently Karanga means 'peanut' in Swahili but no one seems to know why the valley or the camp has this name.
Some people continue on from here to Barafu Camp on the same day. This for us was the end of today's walk though and we would have a short walk to Barafu tomorrow before attempting the summit in the early hours of the following morning. This gave us an extra day of accilimitisation at around 4000m and meant that the day before Summit night was a short one. I still wasn't sure how the altitude would affect me. So far the physical aspect had been easy as it was simply a series of rather sedate walks. I did have a headache now and then, and occasionally felt a little hungover but that could just as easily have been down to lack of sleep as to the altitude. I did however notice that if I made my way up the slight incline to the toilet tent at anything other than a very slow pace that I was out of breath by the time I got there. That could only be put down to the altitude and explained why the guides were at pains to keep us at our 'pole pole' pace.
As we walked into camp, one of the guides informed me that the girls had taken a disliking to the tent they had been in so had asked if they could swap with me. I therefore found myself in a new tent tonight. It was a little smaller than my previous tent and didn't have quite so many features in the way of storage pockets and such like but I'm sure it would do. It was just as I was getting to enjoy all of the pockets of the other tent but as usual I just got on with it and decided that no doubt I would soon find a positive side to the change.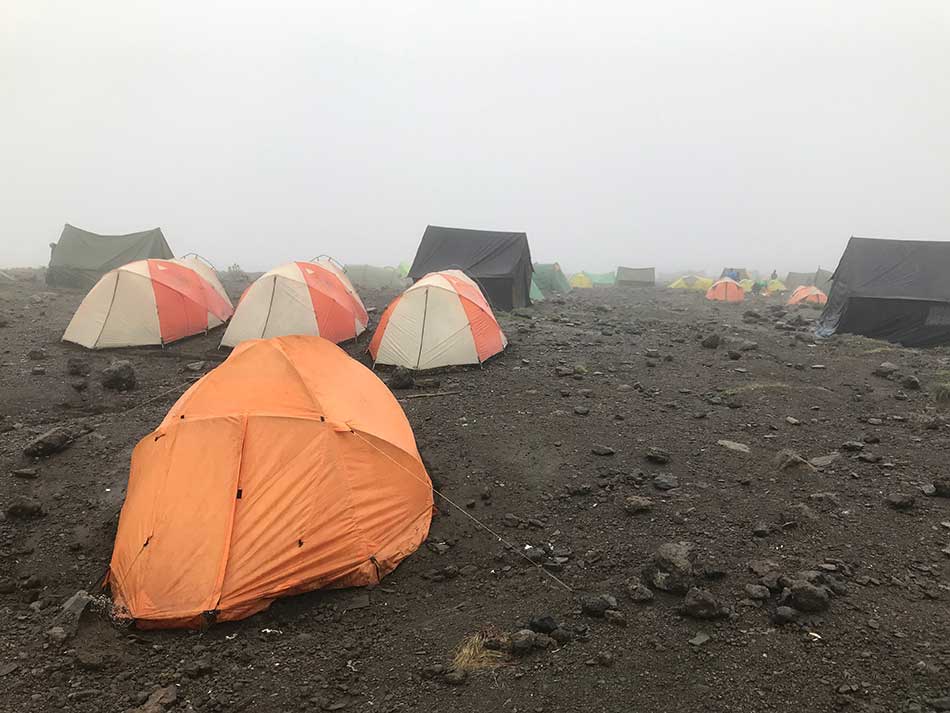 As is to be expected, after spending more than a few days in forced confinement with other people I was beginning to get a little fed up. I needed some time to myself before the people I was with started to annoy me so didn't spend much time in the mess tent that afternoon. I had a slight loss of appetite at lunch anyway and it was now pouring with rain once again so rather than hanging out in the mess tent I took myself off to my tent and tried to dry a few remaining clothes at the bottom of my sleeping bag whilst reading a book and charging some batteries
The fact that I can't put up with people for more than a few days is a testament to how special Anna is. I hadn't seen her for the best part of a week now and they say that absence makes the heart grow fonder. I was once again beginning to realise that she may be the only person in the World that I can put up with for more than a few days at a time! Maybe not the only thing to base a marriage on, but it helps!
Dinner was OK and my appetite had returned a little but after that and the briefing it was off to bed for the night after what had been quite a varied day.