Welsh Cyclocross 2018 – Round 10 Pembrey Final
After a few weeks off it was time for the final round of this years Cyclocross Series. With the best 5 results from the series to count there was still the possibility for some improvement for me as I'd had a few finishes around 20th position earlier in the season. Since the middle of the season my finishes had been closer to the top 10 so if I could repeat that I'd have a chance of gaining a few extra points. It was unlikely to make much difference in the overall standings but there may have been a small amount of re-jiggling still to confirm. As we went into the final race I was in 14th place with 292 points.
We'd been away for the weekend and had stayed at my parents house on Saturday night. We therefore set off early heading first to Swansea so that I could drop my Surf Ski off at 'Design Composites' where it would have it's recent crack repaired. We crossed the Severn Bridge as one of the last people ever to pay a toll! From Swansea it was half an hour to Pembrey Country Park which was a little grey, cold and windy.
The new Gantry looked good at the start/finish line though and the PA system was blasting out rock anthems to get us in the mood.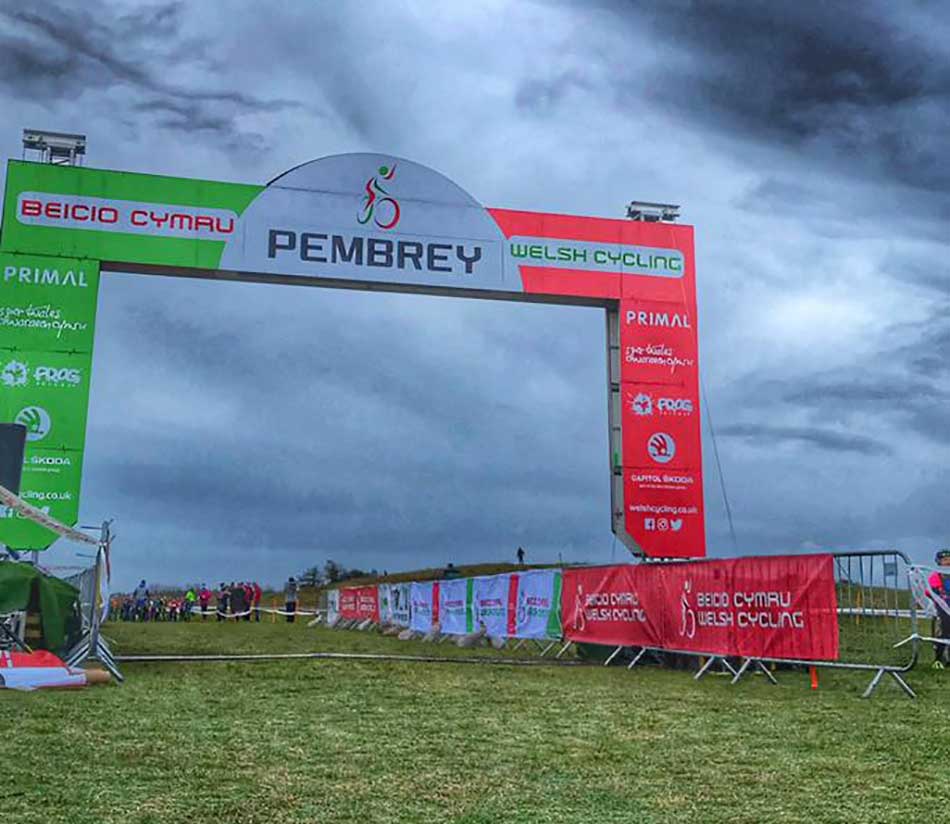 Anna and Morgan stayed in the warmth of the van while I signed on, got changed and then headed out to do a few practice laps.
This was the third time we'd been to Pembrey for Cyclocross this season but yet again it was in a different area of the Country Park and a very different course. No single-track through the trees today, just flat out, hard efforts around the grass with a few steep little rises thrown in for good measure. There was a good dose of bends through the main arena area, a couple of fast descents, some tight turns through some trees and a couple of hurdles. Nothing technical, nothing to surprise us but lots of work for the legs and lungs.
The Race
It was soon time to line up ready for the start. Anna and Morgan opted to stay in the van as it was pretty chilly. This was something that didn't go missed by me as I took off layers of Scimitar kit and gathered at the start line in shorts and a thin lycra race top. I was soon shivering and wondering if maybe I should have kept an extra layer on.
We lined up for the last time this year ready for the race. Will was a few places down the line from me as he was ahead of me in the overall standings by about 12 points. Chris was next to me and Stafford in the row behind. It was good to see Richie racing again as well after missing a few races due to illness this year. The same for Paul who was coming back from a broken collar bone. Elsewhere there were plenty of familiar faces and new friends.
We were soon off, racing along the straight. I didn't have the best of starts but held on as best I could. I don't think the mountain bike was necessarily the best option off the line but I soon settled in and went hard for the first lap. It took a bit for me to get going though. My legs had gotten cold, I was still shivering and I couldn't breathe as freely as I would have liked. Maybe more of a proper warm up is needed in conditions like these.
There was little of note really as it was just all one hard effort with no respite. There weren't any sections where my mountain bike excelled over the Cyclocross bike, but also none where it was a hindrance either. I could see Will a few places ahead of me on the first few laps but I'd gone out hard and had to ease off the gas a little once onto lap 3. I couldn't catch him however hard I tried and Chris immediately ahead of me was opening out a gap now too. I was at least opening out a gap of my own on Simon behind me.
That's how it stayed for the entire race as I rode round pretty much on my own with the gaps in front and behind of me widening all the time. The fast V50's passed me and I was soon lapping back-markers but within my race the positions didn't change after the first couple of laps.
The short climbs gradually became harder, the hurdles gradually became more of a chore. With two laps to go I once again picked up the pace a little and did start to close in on Chris but there was too much to do so I crossed the line in 13th place having had a good but very hard race.
My lap times pretty much reflect how I felt throughout the race.
Lap 1: 5:20
Lap 2: 5:22
Lap 3: 5:26
Lap 4: 5:28
Lap 5: 5:30
Lap 6: 5:22
Lap 7: 5:19
As you can see, I was gradually slowing until the last two laps when I finally felt Ok and managed to pick the pace back up!
The Results
13th place gave me 58 points for this race and therefore increased my overall score by 8 taking me to a nice round 300 points. As I said earlier it was unlikely to make much difference in my overall position and it looks as though I finished 14th overall in the series. The 8 points gained today did keep me in that position though as I would have dropped down to about 16th without them.
That's a definite improvement on last year where I finished 23rd overall. Maybe I'll have to train properly for Cyclocross one year as I still consider myself a 'multi-sport athlete' rather than a cyclist. Not that 'athlete' is quite the right term these days!
As always, the event was well organised and the course well laid out. The marshalling was good and there was plenty of support from the sidelines too. The whole series appears to have run very smoothly. It's a great series with a very professional yet welcoming feel. The racing is hot at the front, as proven today with the top 3 in our race circulating for the whole race with just fractions of a second between them. The PA system was good today as well as it meant that we could hear what was happening as we raced. Further down the field there are always races within races and newcomers are always welcomed and encouraged too.
The kids races are always well attended so that there is a packed programme of races throughout the day. There are also opportunities to get some practise in on the course before your race. All in all it's a brilliant series and well worth doing. Not only have I gained new skills, kept up some fitness and improved somewhat on my race craft but I've made plenty of new friends too. I'm looking forward to a bit of rest now though and the chance to have my Sunday's back for a while but no doubt after a couple of weeks off I'll be looking forward to the end of Next September so that I can do it all again – who knows, this time around I might just lose a bit of weight first, do some proper training and race for real – just like I've been promising myself for several years now!
Presentations
It started raining as we finished and was really cold so most people packed up before the end of the senior races. A shame as it would be nice to see a whole crowd of people at the prize-giving ceremonies, especially as this was the final event of the series.
However, people have things to do, places to be and bodies to warm up so it's understandable as well. It did become a bit of a topic of conversation on Facebook today. I'm not sure what the organisers can do to make a bit more of an event of the prize-giving and I'm often as guilty of others of heading off before they happen at the cyclo-cross races. I'm not sure why I don't hang around for the presentations at Cyclocross. Maybe it's because I've never been in the prizes myself? I don't think so as I do usually hang around for prize-givings at other events even if I haven't won. Maybe it's because I have a long drive home and want to get back in time for dinner?
I think that maybe a little more info on when the prizes will be presented might help, but even then it's likely that only those who will be receiving a prize will have a real reason to hang around. Maybe there should be a spot prize from a sponsor for each category, with numbers drawn at random from those that finished. If you have to be there at the prize-giving to collect your prize it might make people hang around.
I don't know what the answer is but I'm sure the organisers will think of something. They seem to have everything else sorted and they can't really stop people from wanting to get home after a hard day of racing.