Wondrous West Wales Weekend
I know I usually try to have an action packed weekend making the most of what Wondrous West Wales has to offer but this weekend was particularly good.
It started on Friday with my usual early morning walk around the dunes and then a trip into town. Anna had a few chores and some shopping to do in town so Morgan and I got dropped off up on campus and then walked into town playing Pokémon Go. We even made a trip to Coffee #1 for coffee and cake before meeting Anna for lunch. We did do some shopping ourselves as well. We haven't been quite so full on with the Pokémon hunting this week, but we've still found quite a few new ones. Here are the new additions to our Pokédex:
Windsurfing
Back at home and the wind had picked up so it was straight over to the beach for me for a nice windsurf session. It wasn't blowing a hoolie so I rigged my 5.7m sail and 85 ltr wave board. That was a little marginal to start with so I put a larger fin on which was perfect for a while. The wind continued to fill in though so I changed back to the smaller fin as the big one was was becoming a handful. As the wind increased I should really have changed down to my 5m sail but by now had been out for over an hour and was getting tired so decided to just hang on to the bigger sail for just one more run. Oh, go on then, just another, and another!
Saturday
Saturday was supposed to be a lovely sunny calm day, but it was still a little breezy and grey on my early morning stroll around the dunes. We had decided that the wind would drop though so had a day out on Lake Bala planned.
Geocaching Souvenir
We stopped off en route to Lake Bala to find a multi-cache. This was the mission for stage two of the summer geocache series called Mission GC. Anna and Morgan had solved the puzzle and discovered that we had to find a multi-cache this weekend to qualify for the digital souvenir. We stopped off overlooking the River Dyfi where we found a fairly easy cache and subsequently gained the 'One cache is not enough' souvenir.
Canoeing on Lake Bala
Morgan was being grumpy all the way to Lake Bala though as he didn't want to go out as usual. His new tactic for delaying us today was saying that he was going to be sick every 1o minutes. It kind of worked as I didn't really fancy risking a car full of vomit so had to keep pulling over. We got to the lake eventually though where there were lots of people in the car park and on the water. Canoeing, Kayaking, Fishing, Stand-up-Paddleboarding, paddling, swimming and just wandering around the lake-shore.
We paid £2.50 for parking and £3.50 for our canoe and were soon unloaded, wearing life-jackets and on the water. It's just so nice to be out in a canoe that we built ourselves. We've used it a number of times now but it's still quite satisfying each time we do and we still get admiring comments from people who see it. People just comment on what a nice canoe it is and when we tell them we built it ourselves they are even more impressed. It always turns heads and draws attention which is nice.
We headed off across the lake to the northern shore and followed the tree linesdshoreline looking for a suitable place to stop for a picnic. It was still a little grey overhead and the dark inky waters of Lake Bala didn't do much to brighten things up, but the wind wasn't too bad and the sun did try to break through on occasion. We hauled the canoe up onto a pebbly little beach and sat there watching the world go by as we ate our picnic. Morgan and I even tried our hand at some bushcraft, whittling some sticks into slightly smaller sticks!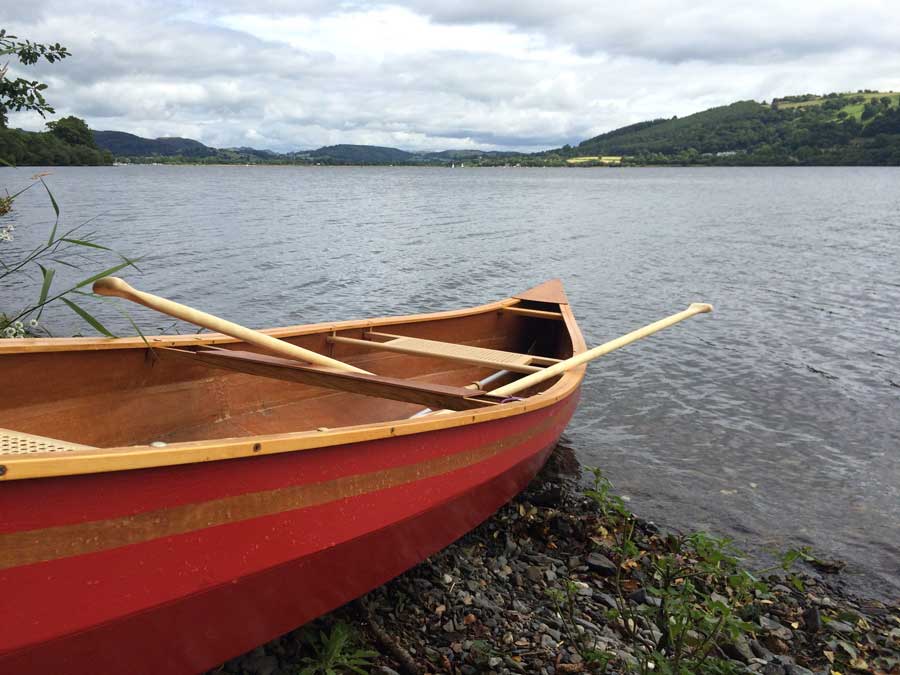 After lunch we headed across to the far shore of the lake and then followed this back towards the car. It was a little longer this way and we did some exploring. The sun even came out for a while but Lake Bala still look dark and ominous below us as we glided across its waters. Morgan's mood was just as dark as the waters too so I think next time we'll go canoeing on our own.
Back at the car after a nice afternoon on the water we packed up and headed into Bala for an ice cream before heading home. Another nice outing in our canoe.
Swimming in Aberystwyth
Sunday was planned to be a full on day. I had suggested to lots of people that we do a bit of a Trail Fest at Nant yr Arian, repeating my mountain bike ride and trail run that I had done on my own last weekend. It had been such a good morning out that I thought I'd try to share it with others. As usual though, those that had planned to join me all dropped out by Saturday evening so other than Federico who was keen to do it all but hadn't managed to get a bike, I was on my own. I did lend Federico a wetsuit so that he could at least join me for a swim in Aberystwyth before heading onto the trails.
Federico is a really good swimmer – faster than me and I'm not too shabby. However, despite having done plenty of open water swimming before he had only done so in the warm waters of the Med. The water here is warm for us at the moment, but not for Federico. This 'cold water shock' led to a bit of a panic attack as he tried to control his breathing for the first half of the swim. He was OK, but had to swim backstroke as his brain just wouldn't allow him to put his face in the water. I was of course staying with him and keeping an eye on him and he was fine, but he wasn't comfortable in what he saw as freezing water. He wasn't cold and was amazed at how well the wetsuit worked. He did eventually calm down and was then able to swim freestyle which meant I had trouble keeping up. We only swam from South Beach to the Bandstand though and then walked back along the prom.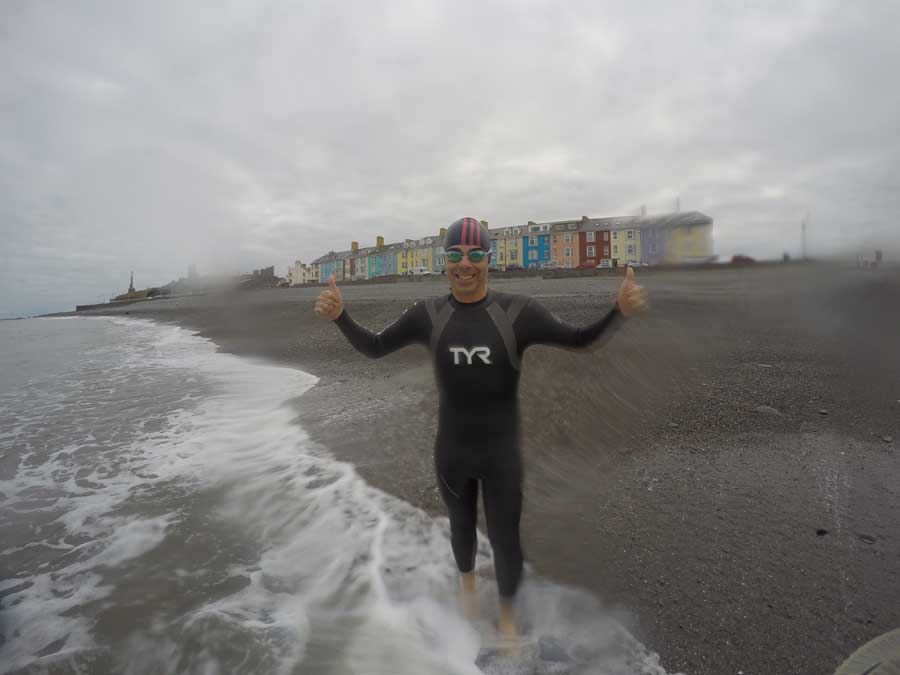 Despite the panic attack Federico loved it and said he learnt something from it and that it was an experience – a good one he assured me!
He was buzzing about the experience all day long though and even bought himself a wetsuit later so that he can repeat it sometime soon. I dropped Federico off at the Uni and then headed up to Nant yr Arian on my own.
Mountain biking
I had planned to meet others here but as no one was coming I was able to head off at my leisure for a nice steady ride around the Summit Trail.
Everyone else that I saw on the trails seemed to be on these new fangled electric bikes though – cheating if you ask me! I can see what they like about them though, with masses of suspension and lots of weight down low they have a really low centre of gravity, loads of travel and therefore descend really well. Then on the uphills they have a motor that makes the climbs easy too. The best of both worlds really, but it is a little annoying when you're grinding up a long slog at a fairly decent pace and then some guy who is clearly less fit than you and was last seen smoking a cigarette and the bottom of the hill comes flying past you at twice the speed barely pedaling.
Oh well, best to just pretend they aren't there and get on with my task at hand – mind you, I do hope they aren't getting all of the Strava Segment KOM's on their cheat bikes?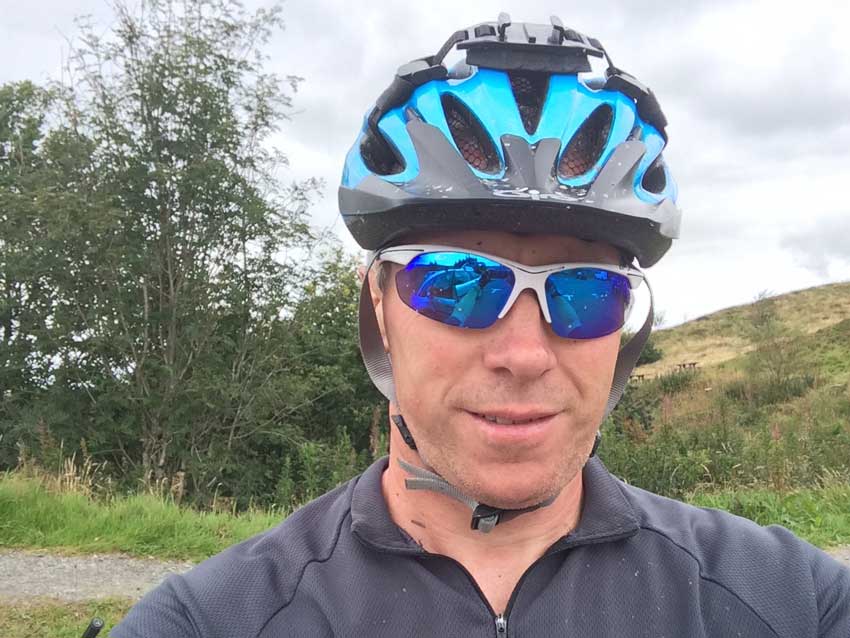 The forecast wall to wall sunshine hadn't materialised yet and it was still grey and overcast. It was warm and still though so fairly muggy conditions for biking. After my ride it was straight into my running shoes and off for a trail run.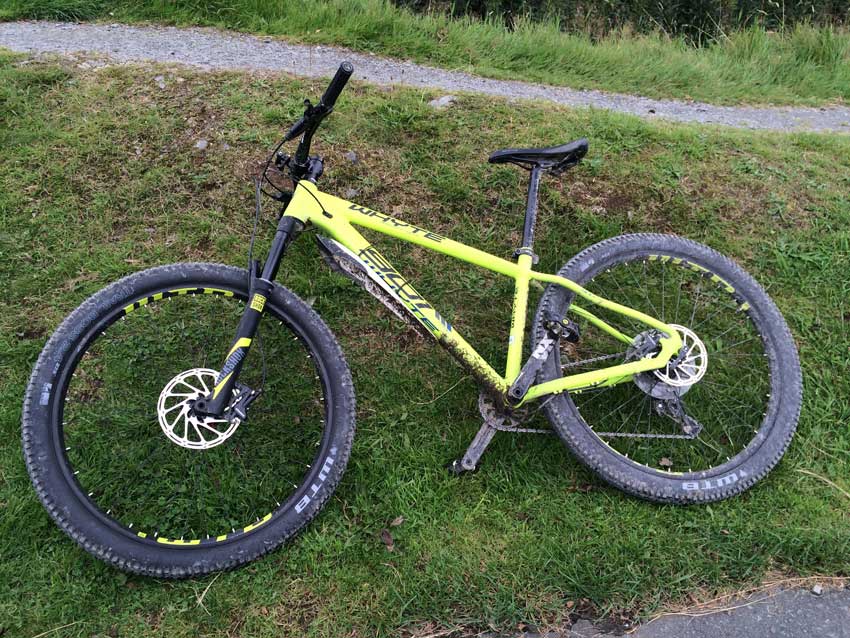 Trail Running
I ran around the Y Fuwch running trail again this week, but started at the Visitor Centre and did at least know how far it was and where the trail would take me this time. I'd also eyed up the final segment back to the visitor centre as a potential segment that I could claim a Strava Course Record on. I wasn't sure I could get it as I'm not fit at the moment, I'm a stone heavier than I could be and of course I'd already been swimming and cycling before I even started the run. What's more it was the very last segment of the day so I'd ran a fair way too by the time I got to it. I still put in a little more effort on this section just to see what time I could do. Back at home and I had managed to get the Course Record by a measly 8 seconds… That won't stand for long.
Not a bad day with plenty of activity, but the recovery advisor feature on my Fenix 3 watch had decided that maybe it was time for a bit of a rest. It usually tells me I need somewhere between 3 and 20 hours recovery after a session, but today it was saying 3.5 days!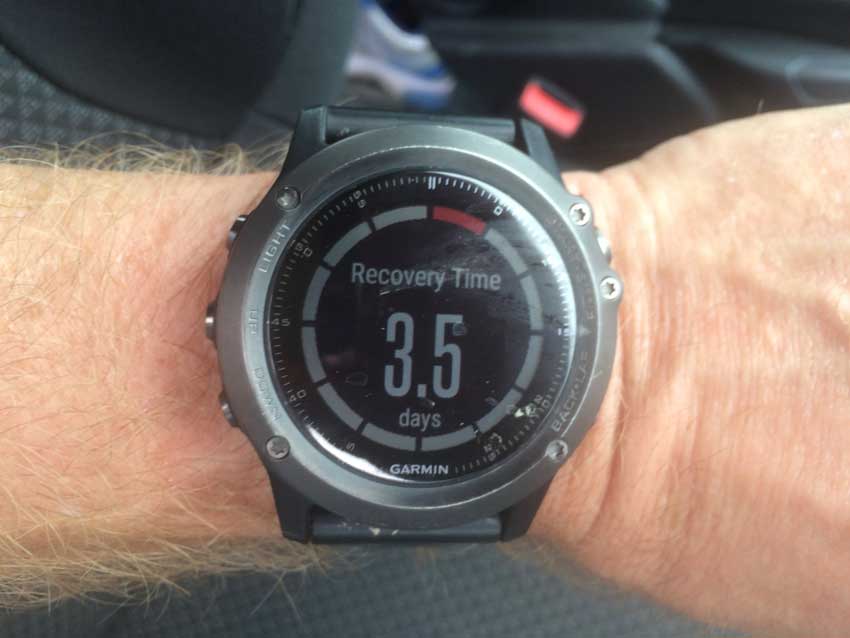 Time to head home for some lunch as it was only 12:30pm so the day was still young. I must admit I didn't do a huge amount in the afternoon. I cleaned my bike, rode down to the beach for an ice cream, did a bit of gardening and generally chilled before eating burgers, drinking a beer and watching the Olympics.
Extending the Weekend
Monday was a gorgeous day and we were all off work again. Although, I did have a meeting for an hour or so in the morning. So, once that was done we spent some time pottering the garden, inspected the bees and treated them for varroa and had some lunch. I then headed over to the beach to supervise Morgan and his friends in the water before Anna and I headed into Borth for another go in our canoe. We met Lee and his daughter Cerys there and had fun on the water in the glorious weather. We even decided to capsize our boat to see just what would happen to it once it was full of water. Thankfully it didn't sink to the bottom of the sea but 'floated' just below the surface. We were then able to pull it to shore to empty it.
If only all weekends in Wondrous West Wales could be like this. Here's a little video montage of some of our activities. I hope you like it.