TrainerRoad and Best Bike Split
Feeling completely unprepared for the upcoming Fishguard Ocean Lava Half Ironman distance triathlon that I'm supposed to be doing in a couple of weeks, I thought it was time to simulate riding the course. I didn't have time to head to Fishguard again to ride the bike route. So, instead I decided to replicate it on the Turbo Trainer and ride a version of it. I did this using TrainerRoad and Best Bike Split.
TrainerRoad

I've written lots about TrainerRoad here before. It's software that tracks power, heart rate, speed and cadence data while you train. It also provides a huge library of interval-focused workouts and specialised training plans. You load up a workout, jump on your trainer and then try your best to match your power output to the intervals dictated by the workout.
It is designed to be used with a power meter. Unfortunately I don't have a power meter, so the best feature of TrainerRoad for me is it's Virtual Power feature. This feature is built around a database of power curves within the TrainerRoad software. This database 'knows' the approximate power output for a given trainer based on your speed. As long as you have the trainer set up at the same resistance settings and other things such as tyre pressure etc are the same then it gives a precise, if not completely accurate, approximation of your power output. This allows you follow TrainerRoad workouts even if you can't afford a power meter.
TrainerRoad Workout Creator
TrainerRoad also have some Workout Creator software that allows you to build your own workouts from scratch or customize one of their workouts to better fit your needs. It's easy to use and allows you to build up your own library of custom workouts alongside the library of stock workouts from TrainerRoad. There's more info on the Workout Creator here: https://www.trainerroad.com/workout-creator
TrainerRoad Workout Creator can be used in conjunction with Best Bike Split to create a workout that approximates a particular course should you wish. That's exactly what I wanted to do.
Best Bike Split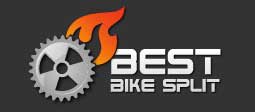 Best Bike Split is a different beast altogether. The idea behind it is that you tell it your details, feed it some info about your bike and then upload a course to it. The software then calculates a power profile for the route that should in theory give you your best bike split for the course. I'm not sure of the exact algorithms behind the software but as they say:
Our math and physics engine takes your power data, course info, and race day conditions to predict your race performance and create the perfect power plan so you can hit your best bike split ever.
From what I've seen of it so far it seems quite accurate. You can even use it to see how much time you would save by changin your bike or tyres.
My Best Bike Split
So, having ridden the bike course for the Ocean Lave Half-Ironman the other week, I had a GPS file of the route which I fed into the Best Bike Split software. I then put in my age, height, weight and current FTP along with some details about my bike and tyres. With my profile up to date and a course loaded I was able to create a race.
As you can see this gives you a power profile curve, along with speed and elevation of the course. It also has some stats about the course such as distance, average speed, average power etc.
You can also click on the Race Intervals button at the bottom to get a more detailed look at each part of the course and your ideal power output for it.
Best of all, you can export (download) the power profile in various formats such as a Garmin workout or, in my case a TrainerRoad file.
Best Bike Split and TrainerRoad
The file of your power profile for the race that you download from best Bike Split can simply be dragged onto the TrainerRoad Workout Creator software and a workout that follows the power profile will be generated for you.
Here's what my Best Bike Split data for the Fishguard Half looks like once it has been imported into TrainerRoad
Pretty clever hey as that means I can nearly replicate the ride on my turbo trainer without having to drive all the way to Fishguard first. It evens gives you a little welcome message and some details on the ride ahead when you start off and then displays the current gradient on the screen.
Limitations
I say 'nearly' replicate as obviously it isn't quite the same.
For a start Best Bike Split takes into account weather conditions. Riding inside I'm not subject to these so although the power I'm required to output has already taken this into consideration it's still not quite the same as riding into a headwind or being battered by driving rain.
Secondly, there is a little bit of gotcha when using this along with virtual power on TrainerRoad. Virtual Power relies on knowing the settings on your trainer and approximating power output based on a known power curve for that particular trainer on those particular settings. This means that in order to keep your power output precise you can't change the slope or resistance settings on your turbo trainer when using Virtual Power. If you had a power meter this wouldn't be an issue. Power data would come directly from that so you could change the slope settings on the turbo trainer to match those displayed on the screen and thereby effectively replicate climbs where they exist. When you hit a climb the slope or resistance on the trainer could be increased and you would manage that by changing down gears or reducing your cadence so as to keep your power on track just like you would on a climb in the real world.
Using Virtual Power you have to keep the slope settings constant, so the only way to slightly increase power output is by changing up gears or increasing your cadence. While this means that you are able to follow the power curve it is really the reverse of what would happen when you hit a climb. It's not a huge deal as it's the power that counts. 'Climbing' on a trainer is never the same as climbing in the real world anyway, but while using Virtual Power it's even less realistic.
There's also the fact that you don't get to freewheel on a trainer. In the world when descending you can take micro-rests, stop spinning, back pedal or just tuck in for the ride. You can't do that on a trainer. So, a 3 hour ride means constantly pedalling for 3 hours which is harder than a 3 hour ride with micro-rests. Add to that the fact that cooling on an indoor trainer is more of an issue than it is outdoors in Wales and the general boredom of 3 hours on a trainer and it becomes quite a tough undertaking.
It worked well though and maybe I should try it out on some local, shorter routes to see if I can use it to practise my pacing and get some PB's.
Sponsors.
If you would like to sponsor me and get some positive exposure for your business at the same time, please
get in touch
or use the donate button below. I'll do my best to make it worth your while.
I'm currently racing for Scimitar Sports Racing Team and Beet-it Sport