Triathlon Training for All
We had a busy day yesterday full of all sorts of things. Triathlon Training in the morning, followed by beekeeping in the afternoon.
I started my day nice and early, had breakfast, did a few bits of work on the computer and then headed off to Machynlleth where I met Owain at 7:30am for a run. My training schedule had me down to do a 70 minute run (quite long for me) with 4x 6 minute intervals at 90% effort. I'd been doing these 4x 6 minute efforts for a couple of weeks now but only within a 55 minute run so seeing as it was a longer run I decided to make up the extra time by doing 5x 6 minute intervals instead. It would be harder of course, but at least doing harder intervals stops it from getting boring.
We headed off around the little 'Penrhosmawr Loop' that I quite like running from Machynlleth at a steady pace for 10 minutes and then started on the intervals. There are two little climbs on the loop, one from Penegoes up to Penrhosmawr and then another out of Forge which only add to the difficulty when doing harder intervals and we were going to have to run the loop 3 times. I had my watch set up to beep at me at the beginning and end of each of the 6 minute intervals and to beep at me if we wavered from the targeted 6:15 – 6:30 min/mile pace for these intervals. We were both running at about the same effort and same pace, which was good. We were actually going too fast for most of the first interval but then we hit the first hill which slowed us down and our average pace for the 6 minutes was spot on at 6:27 min/mile.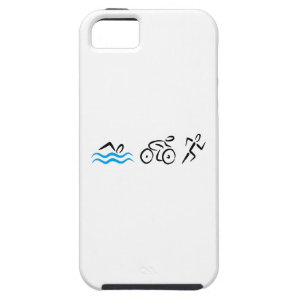 iPhone 5 case image from
Zazzle
We kept it up for all 5 intervals, hitting 6:20, 6:33 (thanks to the hill), 6:17 and then a fast 6:10 min/mile paced efforts each with 3 minutes recovery between them before heading back to the leisure centre to finish what turned out to be a 70 minute 10 mile run. A good effort for both of us.
It was then into the pool where we joined up with Dylan and did a decent swim session too. After a warm up and drills it was into 15x 200m pull with every third set flat out. We had well and truly earned our bacon sandwich and coffee by now so off to the cafe we went.
There was a junior triathlon training day in Machynlleth today as well, so Morgan was coming along to that. I usually take him whilst Anna stays at home but as it was on a Sunday this week I didn't have time to go back and get him from home so Morgan and Anna had caught the train from Borth to Machynlleth and met me in the cafe for brunch. We then headed over to the field to watch the junior training sessions whilst Morgan did his thing running and riding for all he was worth! I had remembered to bring the folding chairs with us so we could sit in relative comfort watching whilst the other parents envied our preparedness!
What with an organising committee meeting for the Aberystwyth Seaside Triathlon the day before I was 'triathloned-out' and looking forward to some beekeeping for the afternoon. Just a note, if you want to do the Aberystwyth Triathlon then you'd better get registered soon as registration closes on September 7th
Sponsors.
If you would like to sponsor me and get some positive exposure for your business at the same time, please
get in touch
or use the donate button below. I'll do my best to make it worth your while.
I'm currently racing for Scimitar Sports Racing Team and Beet-it Sport