Summer 2023
I know it's still only May, but 15 days without rain here in Wales definitely counts as summer! Temperatures have been up close to 20ºC every day, and everything looks lovely. Coupled with another bank holiday weekend that we've just had and it almost feels like a holiday now and then!
Most days start with a walk along the beach. This is the best time of day in many ways as I have the entire place to myself.
Some days might not start with a walk though. On Monday I had a slower start to the day and then I met up with friends in Borth for a lovely swim instead.
If I'm not working, the rest of the days seem to have been spent in the garden, doing chores around the house, running or cycling and of course windsurfing. Most of my cycling these days is done indoors, or as intervals up and down the Borth straights. I know it sounds a little boring but I quite enjoy it. I did do a couple of laps of the Borth Loop the other day as a change.
Windsurfing
The wind has been amazing for the last week or so. First, we had a week of NW sea breezes that led to some relaxed summertime sailing in the afternoons from the seafront. These surprised me by turning up every day so I just had to get out there and make the most of it.
With such nice weather, I was even able to chill in the sunshine afterwards for 20 minutes while my kit dried off. That makes quite a change to the usual mad rush to get a dry robe on and pack up in a hail storm before freezing to death!!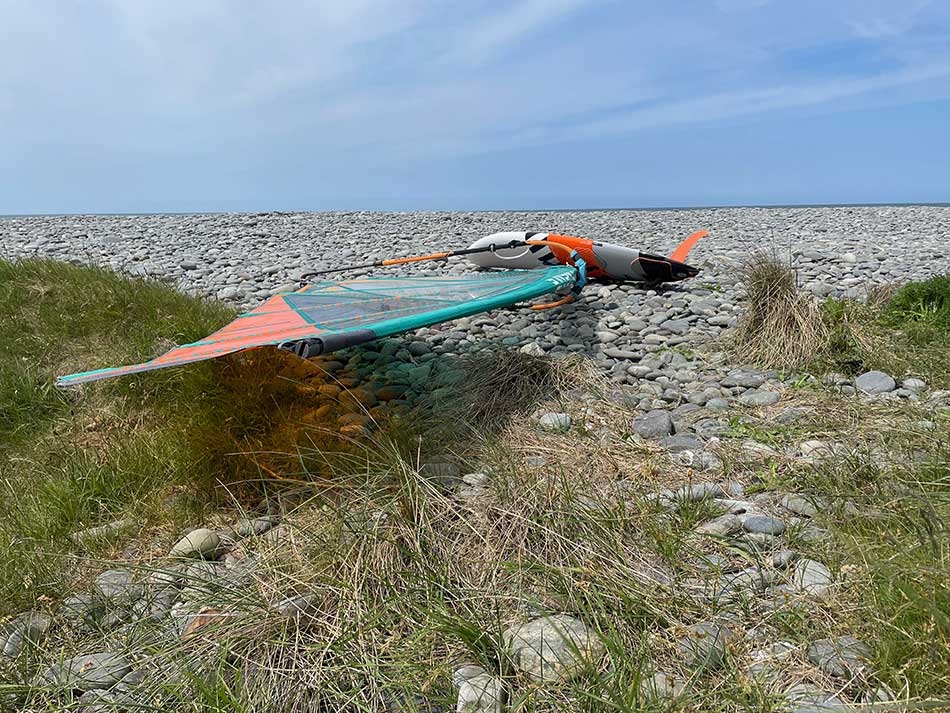 The last session I had wasn't quite so successful. To start with there wasn't quite enough wind which led to a bit of a wobble to get back to the beach. I fitted a larger fin which was OK but still a little difficult water starting. My bigger fin managed to slam into my leg at one point whilst I was in the water too.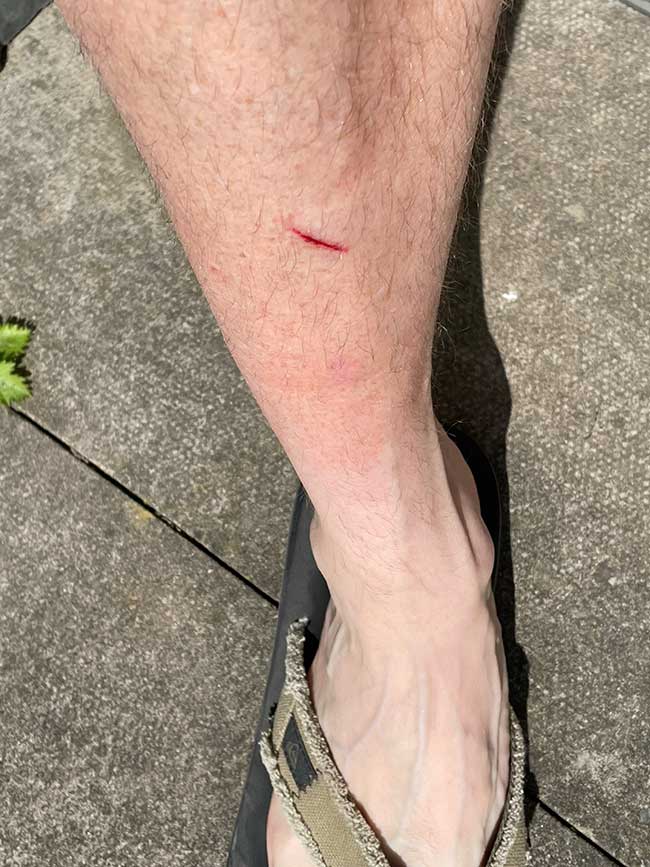 I headed back to shore and sat on the beach for a while hoping it would pick back up. Sure enough, it did! I was soon back put there blasting across the blue waters and having a good time. I did still have to head quite a way out to sea to head upwind. There was more wind further out and the longer reaches gave me more time to gain ground upwind before gybing.
Then, all of a sudden while I was miles out to sea the back end of my board just spun out. I tried to get going again, only to discover that the fin that had cut my leg earlier had now decided to fall off. It was lost forever beneath the waves. I now had a difficult sail back to shore without a fin. It was hard work to say the least! I can only assume that the knock of the fin against my leg must have somehow dislodged it only for it to fall out later on.
Back on the beach I fitted a smaller fin once again and finished off the session.
Since then, the wind has been howling from the NE. Unfortunately, the tides haven't quite been right for sessions in the estuary so I've been working in the garden and shopping with Anna instead. Probably a good thing really as my hands aren't quite up to windsurfing at the moment. Not only have I got a large blister on one finger, but another finger has some sort of infection that is pure agony!!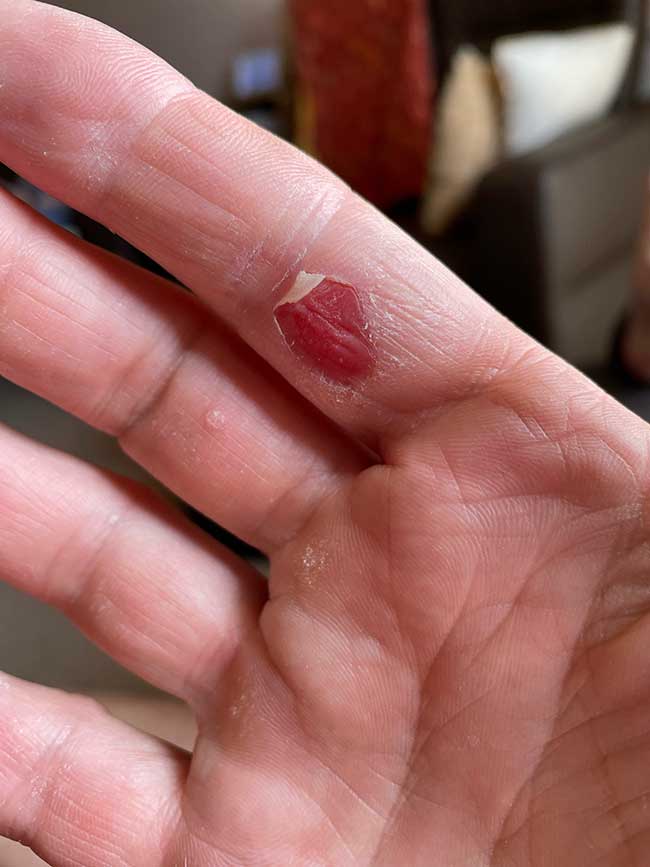 Believe it or not, the blister isn't actually from windsurfing – it's from working in the garden. I'm not sure where the infection on the other finger came from though, probably a thorn or something from the gardening too.
The bank holiday is over now though, so it's back to work for us. We do have a holiday in a few week's time to look forward to though, and I'm sure there'll be plenty of walks on the beach in the meantime.