Our Zappi is here!
We don't have our new electric car yet, but our Zappi chargepoint has been installed and is ready to go.
Installation by EV-Wales was on the date they planned and went well. The installers were really nice and remained cheerful throughout despite the wet and very windy weather! As far as we know it all went without a hitch. The area around our meter box is getting quite busy now though thanks to the meter box itself, various BT and Fibre boxes, the tumble drier vent, weather proof outdoor sockets and additional weather proof circuit breaker boxes. We can at least hide the worst of it with the wheelie bin!
The inside of the Meter box is pretty busy too, so we're not yet sure if we can upgrade to a smart meter. We're trying to but previously were told there wasn't enough room in the box to do so. We're hoping that has changed with new meter designs.
We're also having solar panels fitted soon, along with battery storage for the house. No doubt that will require even more fixtures, fittings and extra boxes by our meter box. We should however soon be generating our own electricity. It won't cover all of our energy needs as we do use quite a lot of electricity thanks to the fact that we don't have any gas or oil so everything is electrically powered. Adding an electric car into the mix will only increase our electricity needs. We're hoping the solar panels will cover much of our day-time needs and any excess will be stored in the battery for the evenings. We'll then use cheap rate electricity overnight to charge the car and such like if needed.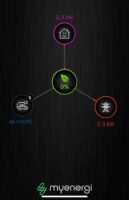 The Zappi chargepoint installation also included a MyEnergi hub that connects it to a cloud based portal where various aspects of it's operation can be monitored and controlled. It also gives us a nice little animated overview of our energy usage. I don't know if the software will automatically detect the new solar panles or if we'll have separate app for that, but it would be nice to see it all integrated.
MyEnergi do make other products called the Eddi and the Harvi. The Eddi diverts excess energy from Solar PV and wind generation into heating tyur hot water rather than exporting it to the grid. This might be something we'll consider at some point depending on how much excess solar we have. The Harvi is a wireless sensor that sends import and export data to other MyEnergi devices.
Knowing us, if the solar panels work out well it won't be long before we have a second set added.