Sunny Spring Sailing
Just a few stills from a top notch windsurf session today. It may still be a little chilly but it was perfect for a sunny Spring sailing session. The forecast was for the wind to pick up later in the day. There was enough first thing and the sun was shining so I thought I'd make the most of it. You never know, the wind might drop or the rain come through.
Spring Sailing
I started out with my 5.7m sail and larger 104ltr freeride board. There was plenty of wind for blasting around at Ynyslas. The waves out the back were fairly big and the wind quite onshore. There wasn't quite enough to get upwind through the last few lines of whitewater though. I therefore spent some time blasting out to the Dyfi Bar and back in the sunshine.
Mike joined me on the water with a 9m kite. I then made it out the back properly at one point so went on a huge 3 mile long blast down into Borth. Shem and a couple of other people were out kiting here but I didn't stay long. I gybed by the reef and headed back to Ynyslas. By now my GoPro had steamed up and the footage makes it look as though I was sailing in thick fog! I wasn't, the Spring sunshine was still shining.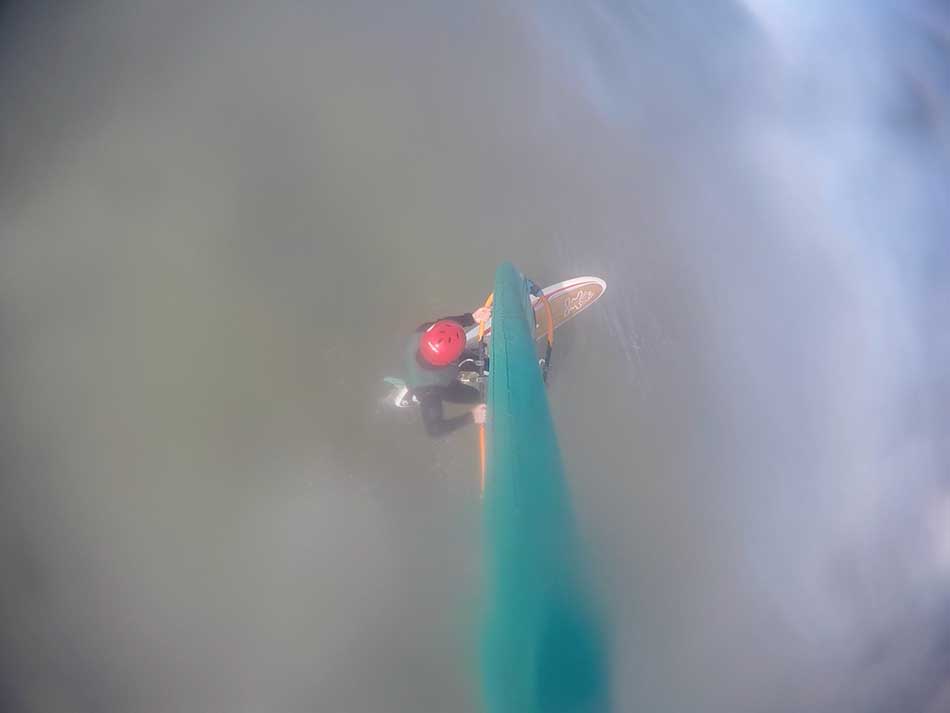 Once back at Ynyslas the wind eased a little so I headed into the beach for a bit of a break. Mike soon packed up as well. I then went out for a second round but soon realised that the wind had filled in quite a bit. It was OK with the bigger kit and with winds now around 30 knots it led to some massive jumps but it was getting a little too hectic!
So, I quickly rigged a 5m sail and 85 ltr wave board for round two on smaller kit which made things a little more manageable. I didn't stay out that much longer on this kit. By now my GoPro had stopped completely so I don't have any clips or stills from round two but it just got better and better. Fingers crossed for more of the same over the weekend. The forecast certainly looks good.