A Santa Christmas Cake
We have only five days to go, and a son who is slightly less enthusiastic about cake decorating than he used to be. A simple, not too time consuming design was therefore the order of the day for this years Christmas Cake. To be fair, I think that's actually the secret to success when it comes to cake decorating for amateurs! Choose a design that shouldn't be too challenging and and keep things simple.
So, having covered the cake in marzipan last weekend we had planned to ice it yesterday. However, Morgan never quite got animated enough to do so. What it is with teenage boys?! So, we forced him to spend half an hour with me this afternoon and finally got around to making the cake look festive.
A Santa Christmas Cake
First job was to ice the sides with a nice Christmassy red icing. I could have covered the whole cake with this but I don't actually like the icing too thick. Afterall, I do want to be able to taste the cake itself and the marzipan.
I bet you don't know what it is yet? Well, you wouldn't if it weren't for the fact that the title of this post may have given it away!
For those eagle-eyed amongst you, yes there is a slightly odd join in the marzipan. That's because I had some leftover after covering the whole cake so decided to put a second layer on the top – I just love marzipan so the more there is on the cake the better. I'll be the only one eating it so making it the way I like it makes sense!
Next was a little red crescent across the top of the cake. No need to be too precise with the joins as these would be cleverly obscured later.
Now some flesh coloured icing that will become Santa's face. Again, the joins aren't too important but I can't help getting them fairly neat. I did therefore patch up the gap at the right hand side before continuing.
Finally as far as the base icing goes was an almost semi-circular piece of white across the bottom of the cake. This will be Santa's beard.
Adding Santa's Features
With the basics in place for our Santa Christmas Cake it was now fairly easy to turn this into a fun looking Santa. All it needed was a crescent of white to act as a fur lining for Santa's hat. This was followed by some more white for his moustache.
Now the Santa Christmas Cake was beginning to take shape. We could now move onto the black icing which would bring it all together and cover up any less than perfect joins. Time to make a long snake-like beading for around the entire cake.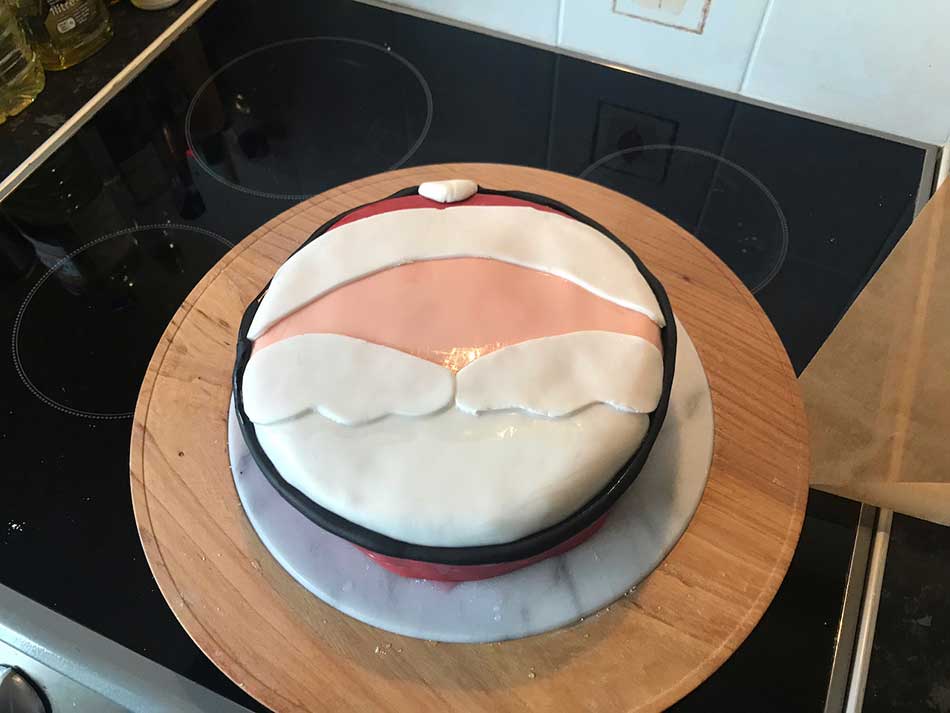 Now all we had to do was make more long black snakes so as to outline all of Santa's features. A big bulbous nose, a smile and he was almost complete.
He did need some eyes to really bring him alive though. And then that was it! We have ourselves a Santa Christmas Cake.
I'll take another photo later once it has dried and set properly.
Anna said it would be nice to see all of the cakes we have made over the past few years next to each other. I'll prepare a blog post with them all in later and add the final photo of this years to it.