Week 3 of Our Giro
Stage 16: Mezzolombardo to Aprica
This Stage was looking like it would be difficult before I even started it. At first it looked OK, one big climb followed by a ride across a plateau and then a descent. Closer inspection showed it to be a huge climb with severe gradients all the way and quite a long stage overall too.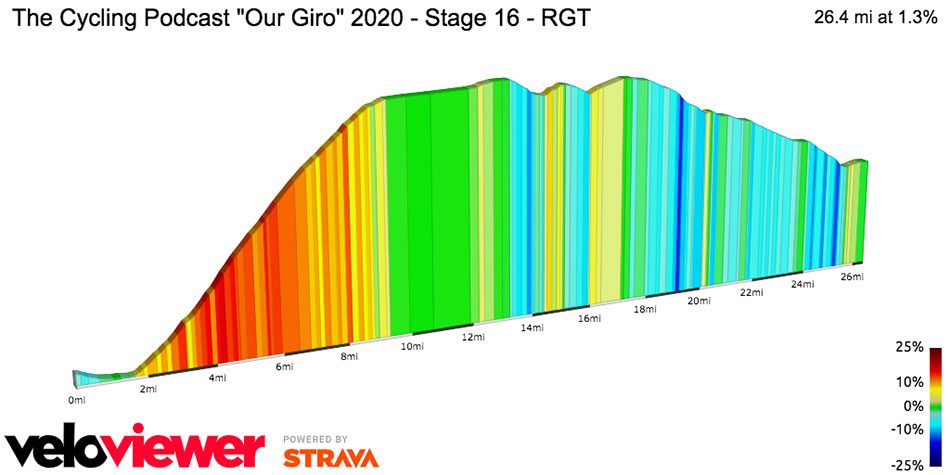 You'd think that after a rest day it would be OK, but sometimes a rest day makes things worse. I felt a little flat and once on the slopes of the Mortirolo I was struggling. This climb turned out to be a beast. Almost 8 miles long but with an elevation gain of nearly a mile. It had an average gradient of 10.9% and kicked up to 34.6% in places. Ouch!
I've sinced looked up some info on the climb and websites say things such as:
There are plenty of longer and higher climbs in Europe but when attacked with vengeance the Mortirolo sits alongside the likes of the Monte Zoncolan and Alto de l'Angliru in its rebellious nature and difficulty. It's for this reason that it is, and always will be, a true legend.

http://thecolcollective.com/
The Mortirolo Pass, Passo di Mortirolo in Italian, is one of the few climbs in the world that strikes fear even in the hearts of professional riders. The peleton is always nervous when the Giro d'Italia passes through Mortirolo.

https://www.cyclinglocations.com/
I plodded ever onwards, out of the saddle and pushing as hard as I could. The distance ticked down slowly, the clocked ticked up quickly and on and on it went. After an hour on the bike I was still only about halfway up the climb. I couldn't stop now so I continued to slog away at it. Eventually, after about 1½ hours I finally reached the top. There didn't seem to be much in the way of rest here either. I was on my own, the road still seemed to be pointing up at a shallow gradient and I still had 17 miles to go. The plateau was something of a slog in itself, there were a few little climbs across its top and my pace was still slow. The descent beckoned.
By the time I got to the descent even this felt hard but I was making my way back down the mountain and the end was in sight. It eventually ended after nearly 2½ hours in the saddle. Actually, if you add on the warm up I did before the race then it was over 2½ hours – that has to be a record on the turbo trainer for me.
It wasn't my best performance, I struggled all the way but it was over and done with and the next few days looked a little easier.
Stage 17: Morbegno to Bergamo
After yesterdays tough stage I was looking forward to this one. There was still a substantial climb but nothing like the last few stages and with a ride in my legs yesterday (along with a lovely sea swim) I was feeling better than I was the day after a rest day. Today's stage was essentially a climb up the Selvino and then back down the other side. The climb was at least at a shallower gradient than those of recent stages and it looked as though the entire stage would be over with in less than 1½ hours.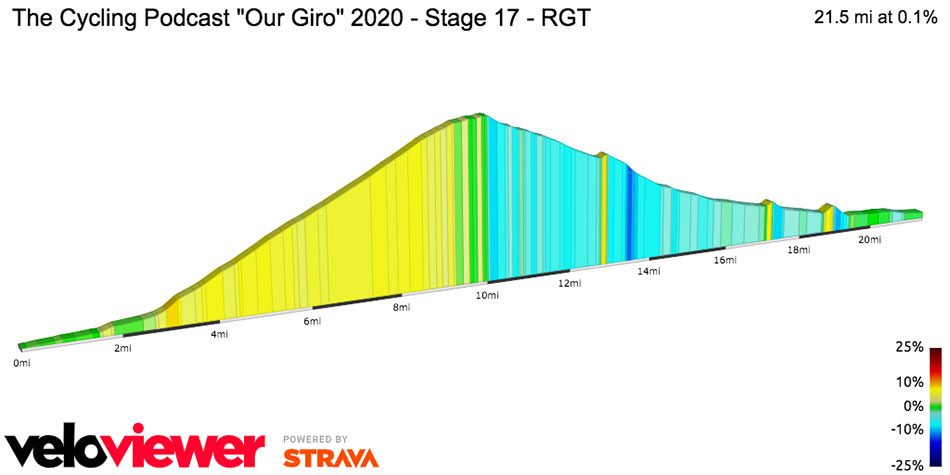 I started well, and held onto the lead group to the base of the climb, Here we all settled into our own paces and started making our way up the mountain. The gradients were OK and I was geared well for them so soon settled into a decent rhythm at a little over 3w/kg. I had a bit of a tussle with a guy named David halfway up the climb. He overtook me to start with but I gradually clawed him back over the course of a couple of miles. After a while we swapped places a few times and then he opened out a little gap. I came back at him again and very gradually caught him up. We were now about 1.5 miles from the top of the climb so as I caught him I decided to put in a hard effort for a while and pass him straight away. As expected, he tried to go with me so I kept the effort levels high with a good stint at 4-4.5w/kg. He held on for a little while but as his power output dropped back down I kept up the pressure. I couldn't hold it forever of course but I didn't ease up as things started to burn. I kept pushing hard to the top and then held the power high across the top where there was still a very gentle ascent. By now I was almost a mile ahead and could finally ease up a little as the descent started.
There were a few little rises on the way down but these were short lived. I kept it in the big ring and powered up over them before settling back into an easier output on the subsequent downhills. Things flattened off a little for the final couple of miles so I kept pushing to the end and finished in what felt like a semi-decent time.
That's it for the hills for a couple of days.
Stage 18 – Magenta to Barolo
I know I said that was the end of the hills for a couple of days. What I should have said is that was it for the mountains, as today we were riding along the undulating foothills and vineyards of Northern Italy. There were still quite a few climbs to be had, but just as much descending as well.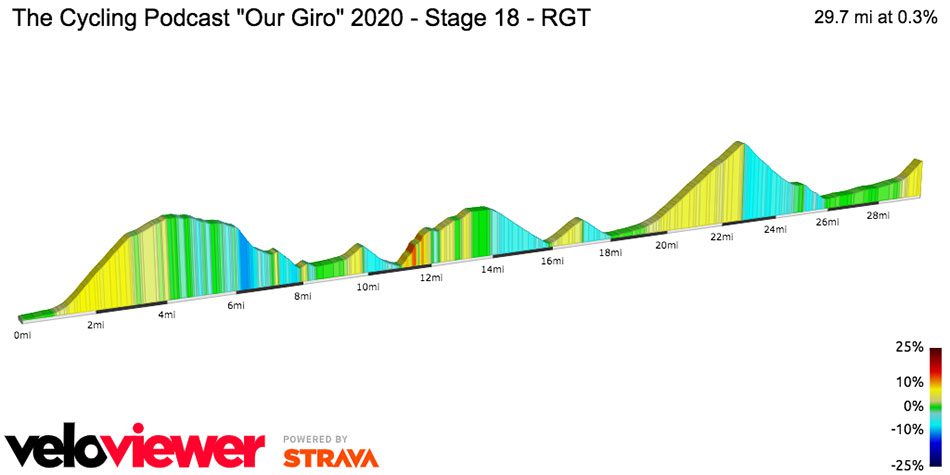 A nice little group of four came together over the top of the first climb. Myself, Paul, Danie and Alex then stayed together working well along the rolling roads and up and over the next couple of climbs. We lost Alex on the third or fourth little bump and then pulled away from him to the base of the penultimate climb. I piled on the pressure at the base of this climb and dropped both Paul and Danie for a while but Paul came back at me and then managed to pull away from me towards the top of the climb. Danie was now losing ground but someone called Tony had passed him and was chasing me hard. Tony passed me at pace on the long flattish section towards the end and by now I had nothing left to give so metered my effort to make sure I could get up the final climb.
The final climb was a little shorter than I expected, but the 15-20% kickers right at the very top were something of a surprise. Not nice at all with the way my legs were feeling by now. I'd had a good day in the saddle and crossed the line with a fairly respectable time.
We have a downhill start tomorrow, followed by a flat section with just a short sting in the tail in the form of a steep little climb just before the end. It's then back into the mountains for Stage 20 and then just a single flat stage through the city of Milan after that.
Stage 19 – Cuneo to Pinerolo
With a downhill start and then a virtually flat race with just one nasty little kicker towards the end this looked like being a fast and furious race today. My only plan was to stay with the lead group on the descent and then try to hang with them (or at least a straggler group) along the flats. I'd get dropped on the little climb but by then we would be almost done and it would be the best way of getting a decent time.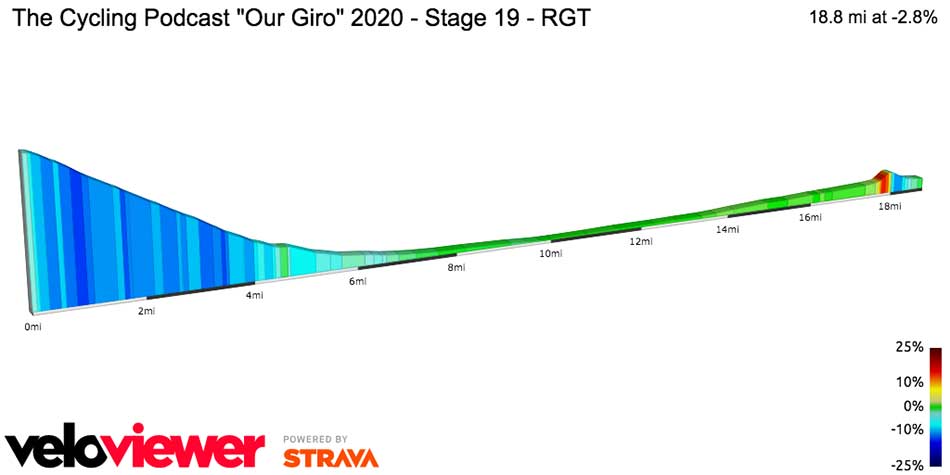 The start went well, I was up with the lead group and flying along despite not putting in too much effort. I was putting in around 2.5w/kg and staying with the group. As the gradient steepened we were speeding along. At one point I saw the speed on the HUD top 60mph. Stupidly I decided to mention this fact on the in game chat. It only took seconds to do but when I looked back up the group was gone. They were 50m down the road and I was on my own. I put in a massive effort to try to catch them back up but there was no chance. They were still doing 2.5w/kg, I was doing 7-8w/kg but without the benefit of the draft I had no chance. The gap was growing and I had to ease off. That was the end of that! A few others overtook me as well, again, the benefit of the draft that they had along with the speed differential meant that I just couldn't get onto their wheels. I messed that up didn't I!! Serves me right I guess for taking my hands off the bars at 60mph – I wouldn't do that in the real world.
At the bottom of the descent I was in my usual position dropped from the front groups and with just a few people behind me. I grouped up with Kev, Paul and Terry and we worked well together for a while. After a bit Terry had a technical issue and dropped power. Kev decided to but in a big effort. Paul and I tried to go with him a couple of times but couldn't so it ended up with just the two of us for the majority of the ride. We weren't pushing hard but were keeping up a steady pace and holding the gaps to those in front and behind us fairly steady. If anything it was a little too much on the easier side of steady and it felt as though Paul was saving himself somewhat for a big effort on the little bump before the end.
I therefore decided to go a little earlier than this and put in a big effort about ½ a mile before the climb. I created a gap and then built on it by pushing hard to the base of the climb. There was 0.1 mile gap behind me to Paul and in front of me the 0.4 mile gap to Danie was coming down fast too. The hill kicked up and I had to keep pushing hard. Paul was going for it behind me now and we were both climbing at around 5.3w/kg The climb steepened and seemed to drag on longer that it looked as though it would. Somehow Paul was closing down the gap and we were both catching Danie who hadn't responded to our efforts. Paul got back to within 50m of me but then started to fade. I closed the gap to Danie down to about 50m as well but as he crested the hill before me he soon opened it back out once he was descending and I was still climbing. I did the same to Paul once I'd crested the hill and from here it was just a quick ½ mile descent followed by a ½ miles sprint to the finish.
That final kick had hurt and now it was time to jump off the bike and go for a quick run around the dunes. Not a bad start to the day, even if I did mess up the first descent. Overall that one little mistake probably cost me a couple of minutes of time. Oh well, it was a good workout and that's the whole point really.
Stage 20 – Alba to Col Basset
It was back into the hills one last time for the penultimate stage of Our Giro. First was a climb up the Col de Montgenèvre in France and then back into Italy for the Col Basset.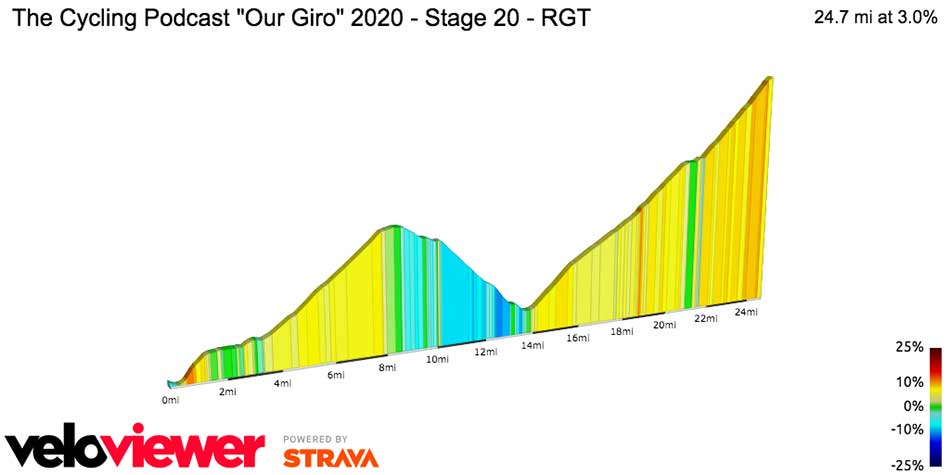 The first climb was quite a slog. As usual, once the climb starts everyone spreads out across the mountain. I was climbing for the most part with a Japanese guy and someone else was catching us towards the top. We all joined forces over the top and descended together which was good, but the long climb of the Col Basset lay ahead.
Once again it was time to settle into a steady pace for what would be getting on for 1½ hours of climbing with barely any let up. We split up again, the guy who had caught us over the top of the last climb very gradually pulled away whilst the Japanese rider slowly dropped back so that I was alone on the mountain. And that's pretty much the way it stayed with the gaps ever increasing as we inched our way up the pass. I was struggling a little today but had to keep going as it was the last but one stage so once this one was ticked off it should be plain sailing from here before some much needed rest. The climb was long and hard but eventually I got to the top and all was good. Let's hope all this hard work has paid off and that I'll be flying on the bike once I get out in the real world.
That was a lot of climbing today. Tomorrow's final stage is a flat TT through the streets of Milan.
Stage 21 – Naviglio to Milan
The final stage at last and this 'should' be an easy one with a short, flat TT through Milan.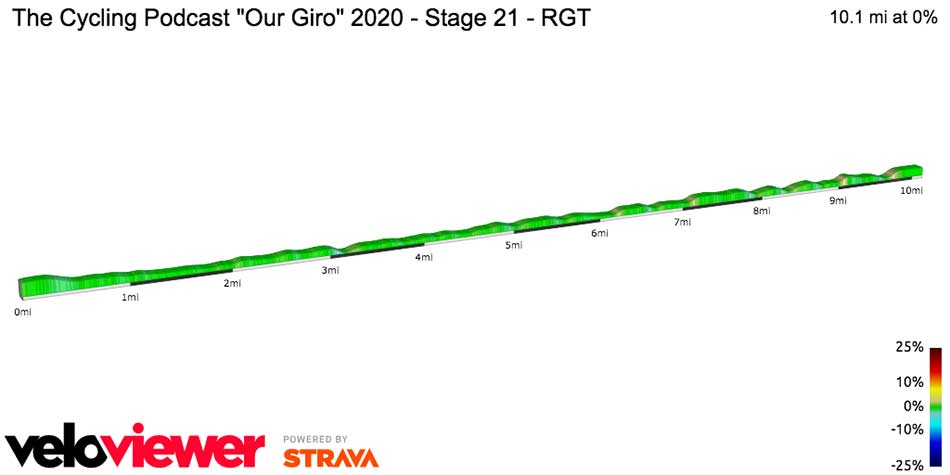 My knee was hurting after yesterdays ride though so I had decided to take it fairly easy whatever the racing was like. I also noticed a bit of a split in my tyre before starting. I just hoped it would last the race.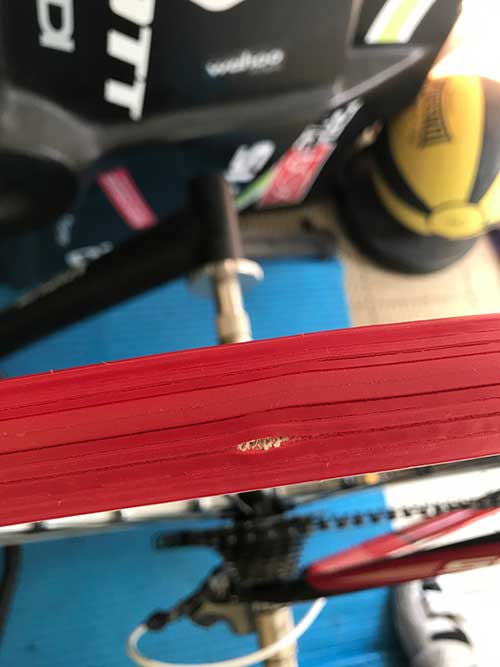 I was a little surprised to find only three of us on the starting line. I'm guessing most people did two rides yesterday so as to finish off Our Giro without extending it into the next week. It was just me, Terry and João. Terry has been pretty fast most mornings despite having some issues with power dropouts so I was half expecting him to blast off up the road. That wasn't the case though and we all stuck together for a fairly chilled ride on this final stage. I was getting a little panicky that my tyre would burst as we got close to the end but it held out. I shall be changing it later today and will give the bike a bit of a service at the same time.
There was of course a sprint finish with Terry taking 1st place, me in 2nd and João 3rd, but other than that it was a nice steady finish to the tour.
Time now for a day or two off the bike, some rest and recuperation and hopefully a chance for my knee to recover.
It was pretty hard at times but a good way to get some miles in during lockdown. Some of the longer mountainous stages were long tough slogs, but there was some good racing on some stages and some hard work put in here and there. I might have to venture out into the real world soon!