Post 'Our Giro' Ramp Test
Having had a few relatively restful days after 3 weeks of riding a mini virtual grand tour, I thought it was time to test my FTP with a ramp test.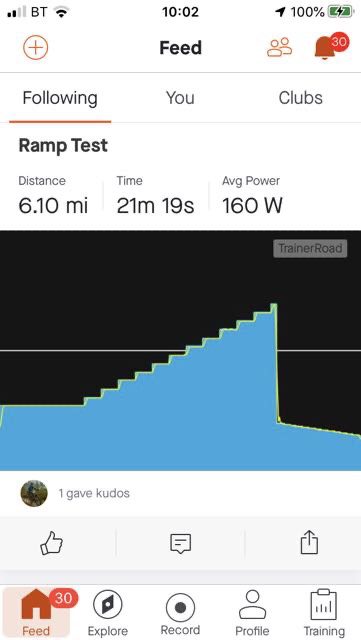 As usual I calibrated everything, checked tyre pressures and got down to it. It's never easy but kind of satisfying to do. The results weren't great though. My FTP has dropped by 39W. That in itself would be bad enough, but when it was only 261W to start with, it's terrible. Not only does that mean that my FTP is an embarrassingly low 222W but that's a 15% decrease.
To add insult to injury I've also gained 3kg in weight. So, my all important power to weight ratio (at FTP) has dropped from 3.73w/kg to 3.04w/kg. That means there's been a 17% reduction in my cycling performance.
It just goes to show that messing about racing up virtual Italian mountains is no substitute for proper structured interval training. It was fun though and gave me a focus during a few weeks of lockdown. And with an FTP as low as 222W, 'the only way is up!'!