Beekeeping Hardware Maintenance
With the sun shining and Spring on it's way you'd think it was the perfect time for the bees and for beekeepers alike. It should be and would be if it weren't for Ivor our local katabatic wind. He's been blowing his socks off with wind speeds exceeding 50 knots for days on end. No doubt it hasn't been windy elsewhere but it has here. It's been far too windy for the bees to fly, far too windy for me to inspect them as well so I've taken the time to get on top of come of our hardware instead. Usually of course I'd be windsurfing, but the Coronavirus lockdown has put a stop to that for now.
The extreme conditions here mean that hive hardware doesn't last long. It doesn't matter if we leave it untreated or if we paint it, the wood soon rots and things need replacing and repairing pretty soon. Not everything can be repaired though so a few new items were ordered and should arrive soon.
1 new Nuc Box – just in case we can cacth any swarms
1 new Brood Box
1 new Mesh Floor
1 new Roof
1 new Stand
A pack of frames – 10x Brood Frames, 10x Super frames and the foundation for it too
Not quite a whole hive but not far off it. We already had a couple of new supers so didn't need those.
Maintenance
What I did fail to do before ordering things was actually go through and maintain what we did have. But as I was unable to finish off the flooring, with the sun shining and too much wind for actual beekeeping I spent part of the weekend in the garden going through the piles of old equipment. We do have three serviceable hives at the bottom of the garden. Two of which have bees in and a third is made up ready for artificial swarming. A fourth was needed though hence the new purchases.
We also had a whole collection of old, not so serviceable equipment that needed sorting out. From this pile, the roofs were too rotten to save so they have been piled up ready to be burnt or taken to the tip. The same was true for most of the old brood boxes and supers too.
The frames in them have all now had their wax removed and disposed of. It was all old, messy and pretty disgusting. The frames have been cleaned and are now ready to be re-used with some new foundation. Having done that, we probably didn't need to buy the pack of frames but it won't do any harm to have a load of spares ready to be made up just in case.
I did have to keep a few of the old brood boxes and old supers just to store these frames in though. They have therefore been cleaned and piled back up with frames in them. I won't use these old boxes as they are quite rotten but they are the best place to store frames for now.
The old nuc box wasn't in quite as bad a condition as I thought either. The roof was rotten, but the box itself was still useable so I fashioned a new roof out of some wooden planks that I'd reclaimed from part of the fence we took down while building the lean-to. Re-using and recycling, perfect! This means that maybe the new nuc box wasn't needed as well, although nuc boxes do come in handy all of the time.
While I had my tools out and various offcuts of wood I decided to re-construct a stand as well. It turned out better than I thought so we suddenly had another stand as well. Maybe the one we'd ordered also wasn't needed! It probably is though as the stands that the three hives at the bottom of the garden are on aren't the best.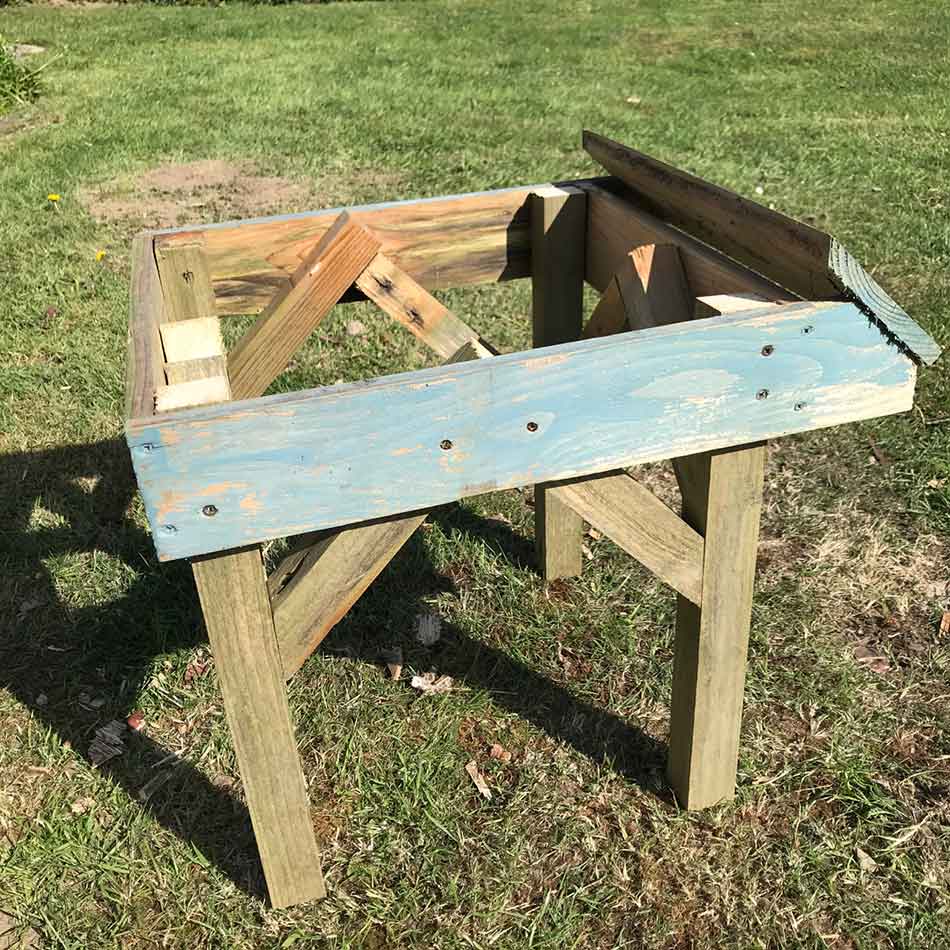 The roof that we ordered is needed, as is the brood box but I'm not so sure about the floor as now that I've cleaned everything up there were actually a few of them piled up on top of each other that I didn't know about.
It's not the end of the world of course as having some surplus equipment is always a good thing. I might keep some if it flat-packed until it is needed as it'll be easier to store like that and can be kept in the shed out of the elements. We may have ordered a few things that won't be required immediately but there is always an ongoing need for new bits of hive hardware so having some in storage will be great as it'll be there when needed. It will probably mean that I'll replace things as soon as they need to be replaced as well, rather than trying to make it last a little longer. The whole activity of beekeeping is nicer with equipment that is in good condition too. I maybe should have bought some more foundation though!
Hive Longevity
We're also hoping that the new equipment will last a little longer. The first hives that my Dad built for us almost 10 years ago were made from plywood. We still had a few bits from these but many of the layers of ply had delaminated over the years so most of these have now gone. The next few hives and other bits of hardware that we bought were made from pine. These don't last as well as cedar hives but they are cheaper and at the time we needed to build up our collection of equipment quite quickly so it was the most economical way to do so.
We did replace some beekeeping equipment with a new cedar hive in 2016. This has indeed lasted better than anything else and our plans are to buy cedar equipment going forward. Ultimately as we gradually replace what we have then all of our equipment will be cedar and that should mean that it will need replacing less often. Yes, cedar would have been the better option right from the start and would have would have worked out more economical in the long run but we needed lots of equipment and just couldn't afford to buy it all in cedar to start with. Now that we have more than we need, we'll gradually upgrade it and all will be fine.
Lets just hope the bees appreciate the effort!