Time for some Shopping
Well, Tuesday's windsurf session didn't quite go to plan. As I rigged my 5.7m sail I noticed a big rip in the top of it. By then I was already in my wetsuit, on the beach with all my kit rigged so I decided just to go with it anyway. It's not ideal sailing with a torn sail but after all the effort I thought I may as well get wet.
The sail didn't produce quite as much power as it normally would but I did manage to get going for a short half an hour session before the wind died off too much. Time to pack up, head home and do some Internet shopping for a new sail. Here it is when new.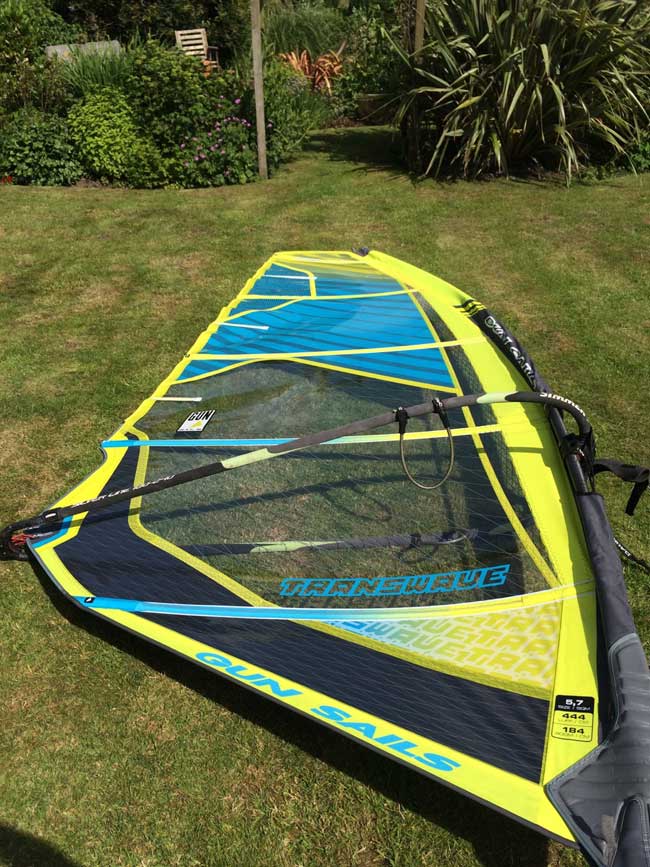 To be fair, I guess I haven't really been keeping my windsurf kit up to date lately. Although, this particular sail was only a few years old. I keep a track of these things and can see that I first used it in July 2016. Since then it has only been used 32 times. That's not a particularly good track record and not a great deal of use from a sail, especially when you consider a replacement is in the £400-£500 price range. Maybe I should try to patch it up with some repair tape first but the monofilm is feeling a little brittle these days and I guess they don't last forever even if they aren't being used much. I'll have to make sure I start windsurfing a little more often once again to make sure I'm getting good value for money from my kit.
I could do with quite a few other bits and pieces to replace ageing windsurf kit as well. Footstraps, fins, harness lines, UJ's, various bits of rope and soon a new boom, so maybe it's time for a new sail and some updates. Even my much loved and very well used Naish Hybrid Freewave board needs to be replaced soon as it is looking a little worn out these days. At least I've had a bit more use out of that. I originally bought it in 2006 so it is quite old. I then snapped it after less than a year of use and got a replacement board from Naish and have now sailed it a total of 250 times – no wonder it's looking a little tired.
It's such a nice board though and was a really progressive shape for it's time at only 214cm in length for the 85 litre version I have. I haven't been keeping up with all of the latest developments in board design so I'll have to start shopping around for something that will make a good replacement for it. Although, I've had a quick look at some likely candidates and when did windsurf boards get quite so expensive!!!