Busy Easter Bunnies
That was quite a busy Easter weekend. Friday was spent heading back from the Isle of Man – we did have Hot Cross Buns at Pat's before leaving though, and Fish and Chips in Machynlleth – It is customary to have fish on Good Friday isn't it? If not, then I'm making it a new tradition for use 'Good Friday Fish & Chips'.
Saturday was a fairly dour day though thanks to the discovery of Luna on Friday evening and the fact that there was no sign of Parkin either. Luna was buried in the garden and Parkin still hasn't turned up so we don't know what has happened to him.
There was lots to do though so at least I was kept busy to take my mind off such things. There's always lots of catching up- to do after a week away and I think it's even worse in these Internet Days where emails and other website related things just never stop. I started the day catching up with some work therefore. I'd also arranged to meet Stephen for a surf ski paddle as well.
Surf Ski Paddle
I met Stephen briefly on Aberdyfi beach last year after I'd paddled over there for a swim. He was there on holiday and often visits the area and surf ski's too. He had messaged me in the week to say he would be in the are and wondered if I'd like a paddle. I was on the Isle of Man for most of the time he was here but we did overlap on the Easter Saturday so I arranged to meet him.
I paddled out from the beach in front of our house and headed off towards Aberdyfi. I soon met Stephen coming the other way having launched from Aberdyfi and paddled out through the estuary. We then headed south along the beach towards Borth, around the reefs and then onto Aberwennol before returning. The weather was glorious, hot sunshine and barely any wind. Not exactly exciting surf ski conditions but nice for an easy paddle whilst chatting.
Garden Time
Back at home it was time for some gardening. First though was a bee hive inspection as the bees were up to something. There were loads of them coming and going from a nearby empty nuc box and lots investigating the empty hives by the bedroom window. All looked good inside the hive though. Plenty of brood, plenty of honey, plenty of pollen and plenty of bees too. I didn't actually see the queen but there were lots of eggs and quite a few drones as well. I had expected to see some signs of swarming what with all the activity in the garden but all looked good. No doubt they are thinking about it though.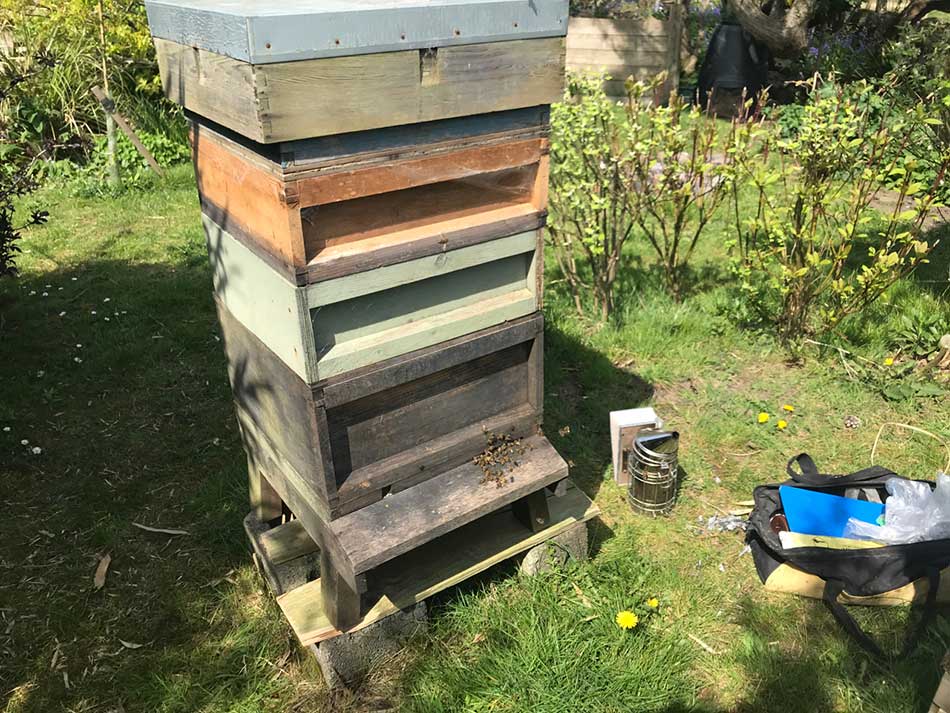 Next up was lawn-mowing. I did the bottom part of the garden in my bee-suit as the bees were out in force down there and they don't like the mower. I even got Morgan to man the lawn mower for a little while.
I then had three bikes to wash, wax, lube and fix and a van to clean and polish too. Soon the garden was looking good.
The van and bikes were shiny too.
We then had time to get Uuni Pizza Oven out. This was my Christmas present but so far I've been unable to play with it. Today was the first chance and the weather was perfect. Temperatures were now into the mid 20's, the sun was shining and there was barely any wind. I got it going first to prime it and then Anna spent some time making pizza dough and creating pizzas from what we had in the fridge. All looked good.
Before long it was time to try the oven out so in went a pizza. Amazingly it was cooked pretty well within 30 seconds. Maybe a little too quickly really as the base was browning quicker than the toppings were melting and cooking. They still tasted nice but some experimentation is needed before they are cooked to perfection. They were so nice that we soon devoured them and forgot to take any photos of the cooked results until it was almost too late.
Somehow, it was still only Saturday and we were beginning to feel as though we had caught up somewhat.
Easter Sunday Bike Ride
Easter Sunday was mainly spent riding my bike for me. 90 miles of gorgeous Welsh countryside baked in hot sunshine.
Anna had devised an Easter Egg hunt for Morgan. He maybe 14 and not usually want much to do with us but he still secretly enjoys the puzzles of his Easter Egg Hunt! I missed out on this as I left for Aberystwyth before they were out of bed.
It was a little chilly to start with as I left home at 8am but by the time I was in Aberystwyth it was already warm enough for shorts and a single short-sleeved top. Sunglasses and sunscreen were the order of the day.
Nine of us headed out along the A44 to Nant yr Arian and then on into Ponterwyd and Llangurig. We then went to Rhayader an onto a coffee strop at the Elan Valley Visitor Centre. It was quite busy here with motorcyclists and holiday-makers everywhere.
Re-fuelled and ready to go with water bottles topped up we headed up the hill and around the Elan Valley lakes and then onto the Cwmystwyth Mountain Road. My new Garmin Edge was working fine but it was showing that my new Garmin Vector 3 power meter pedals were playing up somewhat as the right power meter kept dropping out. I'll have to try to fix that or get onto Garmin for a warranty update. The temperature on the top of the mountain road was reading almost 27ºC. Not bad for an April day in Wales.
We headed up to the Arch and then down to Devil's Bridge where most of us turned right and headed back to Ponterwyd. A couple of people went the other way as that was better for them. In Ponterwyd Gethin and I headed up over the mountain road towards Pendam while the others headed back into Aberystwyth via the A44. I think our option was nicer as there was no traffic where we were. We then dropped down into Penrhyncoch where Gethin ended his ride and I continued on my way back to Ynyslas.
The rest of the day was spent eating chocolate and pottering around the house. I think I'd earned the chocolate though.
Easter Monday in the Sea
Easter Monday started with a couple of hours of work for me. Work Schmurk, but it has to be done! There's still lots to catch up on as well but I'm trying not to think about it.
I then headed into Borth for a sea swim. We usually swim in Aberystwyth but I had arranged a swim in Borth for a change and a few other people who were either locals to Borth or frequent visitors had decided to join us.
Richard and I set off dead on 10am as planned so as to make the most of high tide and slack waters. Ian wasn't far behind us but we didn't know this yet. Also heading out were Toria who said she would be slow and a middle-aged man and his Mum who were without wetsuits.
Our plan was to swim out the the Camels Humps rock and back. We advised the others that it might be best just to get in and swim around the bay for a while as the Camels Humps was probably too much of an undertaking for them. We said that they could head that way if they wanted and we'd pick them up on our way back.
Richard and I made good time out to the Camels Humps in what were amazing conditions. Light winds, wall to wall sunshine and even the water felt a lot warmer than it had so far this year. It's always warmer in Borth than it is in Aberystwyth and the last few days of sunshine had worked wonders on the temperature too.
We swam around the rock and then spotted Ian coming towards us. We therefore swam around the rocks with him as well.
This time as we headed back to shore we spotted a couple of other swimmers heading out towards us. We hadn't met these before, it was a father and his teenage son and they seemed to be doing OK. Richard headed back in to the beach but Ian and I decided to take them around the Camels Hump and back in. The teenage son was getting a little cold by now despite his wetsuit but was swimming well.
Meanwhile Richard had picked Toria up and convinced her to turn back and then swam with her to make sure she was OK. I was surprised however to find the two other without wetsuits still breast-stroking their way out towards the Camels Humps. I suggested that it was probably time for them to turn back but they said they wanted to go out to the rocks now that they'd gone this far. We therefore carried on back to shore. Once most of the way back, I told Ian that I'd swim back out towards the others to see how they were doing. The father and son were going well so I left them to it and headed out to find the other two.
Towards the beach Ian had now caught Richard and Toria and helped coax her back to shore. The father and son went with them I think. I found the non-wetsuit clad couple still quite a way out and making slow progress.
I decided to stick with them and help them back in as they had now been in the water for close to an hour. They were swimming painfully slowly but had been slow all the way. They were however still making some progress even though the tide was now beginning to turn. I stuck with them for half an hour as we edged ever closer to the beach. Eventually though I decided that enough was enough. I had judged that their progress was slowing and I didn't think they would make it. It was time to act now while they were still in fairly good shape before anything went wrong. I gave the mother my swim float so that she had some additional buoyancy should she need it and so that they could be seen a little more easily. I told the son to stick close to her. I then told them that I would head in to get a stand-up paddle board so that I could help them to shore.
As luck would have it Simon and Rhys were out giving a SUP lesson in the bay anyway so I was able to swim to them within a couple of minutes and tell them what was going on. It was easier and quicker for them to paddle out to them than it was for me to get to the beach and find a board so that's what they did. Simon as a member of the Lifeboat crew also called it in so that the lifeboat could go out to get them. I would have just stuck them on the board and paddled them in but the lifeboat crew were all there ready to go anyway having been out on a shout earlier so they were soon with the swimmers and brought them the few hundred yards back to shore. At least they were still in good shape once back on the beach and no harm was done. Had I not come in to find a way to get them some assistance when I did then it could have been a different story.
Ian, Richard and I then headed to Boulders café for a coffee before going our separate ways.
Afternoon Surf Ski
After lunch, Laura and her sons popped around and we all headed off to the beach. I had my surf ski with me and Iwan had his new SUP to play on. Llyr borrowed a wetsuit that was far too big for him so that he could get in the sea for a splash around and Gruff just didn't really want to be on the beach! There was quite a wind blowing by now so I kept a close eye on Iwan as I didn't want to have to call the lifeboat out for a second time in one day! There was a tiny little wave to play on. So, although the conditions were a little challenging thanks to the wind Iwan seemed to enjoy it and managed to catch a few waves. I stayed out a little longer on my own catching some nice little waves before we all headed back home.
I guess that's it, the holidays are pretty much over with. I do have tomorrow off as does Anna but I've got some work to do. Morgan is off for the rest of the week but doesn't have much planned as yet.