The Isle of Man 2019
We finally made it to the Isle of Man after a traumatic trip there. We arrived Monday evening, so having missed a day of our holiday we had lots to pack into the remaining few days.
First on the agenda after breakfast with Pat was a trip into Douglas to drop off receipts at the Steam Packet offices so that we could claim back the cost of the hotel etc. We had to go to Tesco as well to collect shopping for Pat that should have been delivered yesterday. She had to cancel it because we were stuck in Liverpool and therefore couldn't be there for the delivery!
We also popped into the Isle of Man Independent Couriers depot to try to collect a parcel as well. I had ordered a new cycling gadget (Garmin Edge 820) on Sunday. Delivery to the Isle of Man was promised for Monday! Clearly that was never going to happen. It was now Tuesday and the tracking details said that it was at the depot ready for delivery on Wednesday so we decided to pop in to collect it. When we got there they went off to look for it and then returned to say that it was buried at the bottom a van somewhere and would be out for delivery today. Sure enough, later that day it did arrive.
Things didn't take too long at the Steam Packet offices either. We dropped off the receipts, they photocopied them and that was that. Apparently we'd hear from them soon. That didn't fill us with much confidence and we expected to have a fight on our hands to get the money that was due to us. To be fair to them though they did pay up within the next few days so all was well with that too.
The trip to Tesco took a little longer but soon the van was loaded up with shopping and our holiday could begin.
A Coast Path Run
As I've been gradually running around the coast of Wales, I thought that while I was on the Isle of Man I may as well start running around that as well. At just shy of 100 miles it's a fair bit shorter than running around Wales and should be achievable even by someone who only visits the island occasionally. Douglas seemed like a suitable place to start. I'll write a separate post about this though so as to keep this one fairly succinct – as if any of my posts are ever succinct!
I made it 13.5 miles, from Douglas to Derby Haven along the Raad Ny Foillan (Coastal Footpath).
It was getting a little late in the day by now so we spent the evening at Pat's house.
Day 2
I lose count of which day was which to a certain extent – isn't that what holidays are about? Wednesday was our second full day on the island though so time to pack in some more activities. For me this started with an early morning bike ride on my Gravel Bike. I headed into Castletown with the van, got kitted up and headed off for a ride. It was pretty chilly mind you, but it was dry and the sun was rising. Anna and Morgan were afforded the opportunity of a lie in and a lazy start to the day while I was out exploring. This works well for us all and tends to be the plan when we go away!
CX Bike Ride
I headed off through Castletown and out onto the Coast Road. I then turned off onto the slightly bumpy Pool Vaaish Road and headed along a little coastal track before emerging back out onto Shore Road. I didn't stay on this long though, heading inland now onto a little country lane through to Colby. From here it with right at the roundabout and the start of a long climb up Ballakillowey Road and out onto The Sloc. At the top I turned right and headed down the rocky descent of the Whiskey Run and then back down through little lanes via Grenaby to the bottom of the hill and on to Castletown where the van was waiting. A good start to the day even if I was pretty cold by now.
Retail Therapy
Next up, after a second breakfast at Pats was a quick trip into Douglas with Pat. She wanted some new chairs from a garden centre and had a few little tasks lined up for me so we needed to visit B&Q for some supplies too. After this we dropped Pat back off at her house, made a quick picnic and headed off to Port Erin. We ate our picnic overlooking the bay and Bradda Head.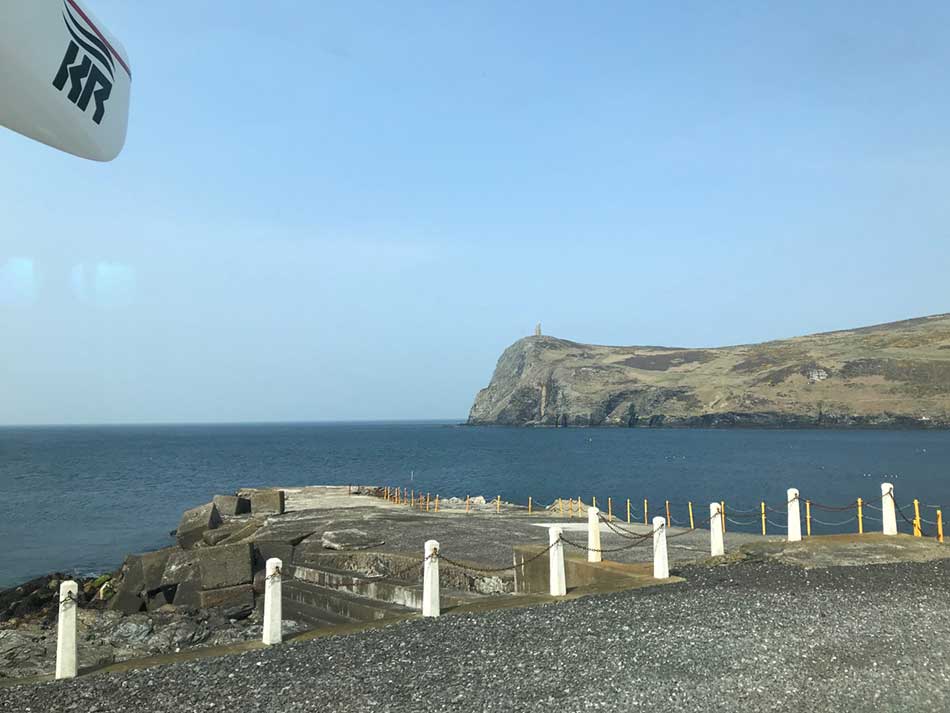 Surf Ski at Port Erin
Next for me was a surf ski session from Port Erin. There was quite a strong offshore wind and high imposing rocky cliffs all around. I didn't venture too far from shore but it was still quite an exhilarating paddle. In the bay itself, all was calm and inviting.
Anna and Morgan chilled in the van and I joined then in the sunshine after my paddle.
Ice creams all round and a little stroll into the town for me and Anna and it was time to head back to Pats for dinner. We then headed off to Claire's house for the evening. We also discovered that something had been nibbling on one of Morgan's Easter eggs!
Day 3
Thursday morning and it was back onto the Coast Path for me. I left Anna and Morgan sleeping and drove to Derby Haven so as to continue where I left off last time. This time I ran all the way to the Sound at the far southern end of the island. Again, I'll post separately about my Coast Path run later.
The rest of the day was spent out and about. First it was the arboretum at St Johns and a nice walk through the trees in the sunshine. There were more segulls than ducks today, but the bluebells were coming out and the cherry trees were in full blossom.
Then it was on to Peel for a picnic lunch and a surf ski session from Fenella beach. I paddled out around Peel Castle and then into the main bay before heading off along the coast a little way. It was quite windy again but really nice out there.
We chilled by the beach for a while and then headed off into the hills to meet Anna's cousin James. I'd planned a mountain bike ride with him. So, we all had a little chat and then Anna and Morgan headed off to Pat's in the van and James and I headed off onto the mountain bike trails. Loads of new trails had been built since I was last here. All there was last time were a few short trails at South Barrule. Now there are loads through the South Barrule, Corlea and Cringle Plantations, as well as others nearby too. Needless to say we had fun exploring and trying some of them out. We rode around the new skills area too and then headed back to the top. James headed home in his van from here while I headed off down another nice trail – the best of the evening – before heading back down the hill to Pat's house where dinner was waiting for me.
Heading Home
Unfortunately, all too soon that was out holiday over with. Friday was spent packing, heading into Douglas and getting the boat home. We did have time for a little stroll along the prom in Douglas and to wander through the shops. It was a glorious day.
It was then a fairly uneventful and very calm trip back across to Liverpool on the boat and an easy drive home to Wales.
We stopped off in Machynlleth for fish and chips and arrived home after a good week away. An hour later there was a knock on the door to tell us the sad news about Luna… Something of a downer after a nice week away together.