Digital Treasure Hunting РPok̩mon Go, Wherigo & Geocaching
Pokémon Go is all the rage at the moment and we've jumped on the bandwagon with it. Mind you, we managed to tie it in with a full day of digital treasure hunting on Saturday. To start with we were trying to gain a geocaching souvenir by doing a geocache that had at least 10 favourite points. The nearest such cache to us just so happened to be a Wherigo so we were hunting for Pokémon, completing a Wherigo, gaining a Geocache and earning a digital souvenir all at the same time!!
Wherigo to get a Souvenir
The Souvenir was one of the Summer series that Geocaching HQ tend to organise each year. This year they are in the form of puzzles as part of "Mission GC". Anna did most of the work solving the puzzle – or at least, she worked out the cipher and deciphered it but then couldn't quite put the letters into words even though that bit was obvious! We soon had the details of the mission that we had to complete to get the souvenir. The souvenir was called 'Favourites are Forever'. We simply had to find a geocache with 10 favourite points or more. A quick check of the Geocaching database and there were a few we hadn't found on Cadair Idris that met the criteria, one on Plynlimon and a Wherigo in Aberystwyth.
Anna and Morgan weren't too keen on the big hills, so the Wherigo looked the most appealing. We'd struggled with the Wherigo App last time we tried it, so I reloaded it and all seemed good. We downloaded the Wherigo cartridge for the Aberystwyth Royal Mint Wherigo Geocache and it seemed to be working. Next we headed into Aberystwyth with two phones; one in Morgan's hand with the Pokémon Go app running and one in Anna's with the Wherigo App running.
The Wherigo cartridge took us on a nice little walk around some historic points of interest in Aberystwyth, including down a little alley and flight of steps that we didn't even know existed. Yep, after more than 20 years of living in Aberystwyth geocaching still took us somewhere new.
After about an hour strolling around in the sunshine, pausing to read the Wherigo instructions and pausing to catch Pokémon we came to the final coordinates and found the cache. With the log book signed we had completed geocache number 720, found a Wherigo cache and had gained the 'Favourites are Forever' Souvenir. Not a bad morning strolling around Aberystwyth.
We also popped into Coffee #1 for coffee and cake, and into Isaac's for sweets and fudge.
Pokémon Hunting in Aberystwyth
As mentioned above we were also Pokémon hunting. In case you haven't already heard of the latest digital craze of Pokémon Go, here's a brief intro – don't worry, I knew nothing about Pokémoin a few days ago either.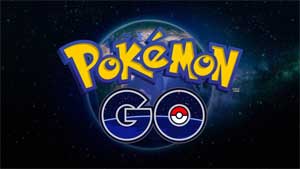 As far as I know, Pokémon started out as physical cards that you collect and traded with friends. This soon became a digital game in which you travelled around a virtual world catching and collecting Pokémon. The latest Pokémon Go game takes you out into the real world where you move around the landscape looking for and catching Pokémon with your mobile phone. This ties it in a little with the geocaching above as it uses your GPS location as you move around your surroundings to determine where you are and what you see on the Pokémon Go map.
As you travel around you come across  Pokémon and then have to interact with them on your phone by throwing something known as Pokéballs at them in order to catch them. Once you've caught them they are added to your inventory and registered in your Pokédex – this is a list of all the Pokémon that you have found.
At the moment there are 148 different Pokémon to find (142 of which are available in the UK). Apparently different types of Pokémon are more likely to turn up in certain environments than others. Some live near water, some in towns, some in grass and so on which means you need to visit different places and different areas in order to "catch them all". Some are only available in certain regions of the world as well, hence the limit of 142 available in the UK.
Catching Pokémon not only adds them to your inventory but also gives you experience points, candies and stardust which you use to level up and progress through the game and also use to evolve or power up your pokémon into stronger forms.
Pokéstops and Gyms
There's a little more to the game than just running around the place finding Pokémon though. The Pokémon themselves can pop up anywhere and tend to hang out in certain environments. There are certainly more Pokémon in Aberystwyth than in Ynyslas so I imagine that cities are full of them.  There are also things called Pokéstops. Pokéstops are in fixed locations, usually at landmarks or historic features such as statues or plaques. These are locations that you can visit in order to stock up on Pokéballs and other game items.
Pokémon gyms are also in fixed locations and tend to be at more significant features. Once you are at level 5 in the game you can enter these gyms and do battle with other Pokémon. I won't go into the details of battling gyms, owning gyms, training Pokémon in gyms and the various teams that you can join.  You can find that out elsewhere if you need to, but it's an added dimension to the game that can be fun. We managed to get Pokemon into 4 gyms yesterday.
Digital Treasure Hunt
In it's simplest form, Pokémon Go is really a digital treasure hunt in which you roam around the real world looking for Pokémon to collect. A little like geocaching really. The added gameplay elements make it appeal to younger people as well though and it is the craze of the summer 2016.
Where to Play
As I mentioned in a previous post, Pokémon Go doesn't work too well near our house. We do however live 'in the middle of nowhere' as far as most people are concerned, and it seems as far as Pokémon are concerned. For a start we have terrible mobile reception here and it needs 3G to work. Secondly there are very few pokémon around, and not many pokéstops or gyms either. We have therefore been heading into Aberystwyth most days of the school holidays so far so that we can wander around visiting all of the places with pokéstops and gyms.
Walking Miles
It sounds silly but it gets Morgan out of the house and gets him walking. Yesterday he just wanted to keep going. Around campus first, past the National Library down into town and out along the seafront, Up to the top of Consti, back down again, through Penglais woods and up to the viewpoint. Back into campus and on we went.
We must have walked miles in total and Morgan couldn't get enough of it. There's even a part of the game that encourages you to walk as you can collect eggs and place them into incubators. The only way to get these incubating eggs to hatch is to walk certain distances. There are 2km, 5km and 10km eggs and that's how far you have to walk with them in an incubator before the egg will hatch. At this point a Pokémon pops out so it's a good way of hatching some of the rarer forms and encourages players to walk long distances in order to hatch their eggs.
Pokeémon Go Progress
We're doing OK in the game – not brilliantly but we've only been playing for a few days. We are currently level 18.
We have caught 61 different types of Pokémon and 432 altogether – Here's what is in our Pokedex at the moment.
We also have a few fairly strong Pokémon for defending gyms too!
Days Out
Who'd have thought that a silly Pokémon game on a phone would encourage us to be having days out traipsing around Aberystwyth? It does seem as though this will be what the summer holidays hold in store for us though, and we're not the only ones. Everyone seems to be doing it and many businesses are taking advantage too. In some places coffee shops that have a pokéstop accessible from their premises are buying lures within the game (with real money) and continuously placing them on pokéstops. These lures attract pokémon to the area so people are encouraged to sit in the coffee shops buying coffee and cake whilst catching pokémon.
It looks as though we may even be having a day out at Portmeirion soon thanks to Pokémon Go as apparently it is a hotspot for rare Pokémon. It could all be marketing propaganda from Portmeirion of course, but according to this article it has seen tourists to the site increase by 13 per cent since the launch of Pokémon Go in the UK as it is reputed to be a 'goldmine' for high ranking Pokémon characters and has three gyms, more than 16 Pokéstops and a wealth of rarer Pokémon.
Pokémon Mad
Morgan now wants to buy a Pokémon backpack, Pokémon badges and probably more battery packs to keep my phone charged whilst on extended Pokémon hunts. I'm having fun spending quality time with Morgan though and Anna enjoyed our day out on Saturday too… Mind you, I think that maybe she's a secret Pokémon fan really as the only photo I saw from a recent work 'Away Day' that she attended was one that looked as though she was pretending to be some sort of Pokémon herself.