Busy School Holidays РWindsurfing, Pok̩mon and a Courgette Glut
The lovely summer weather seems to have deserted us as usual for the school holidays. This is a shame really as I have loads of time off work thinks to the fact that I worked lots of overtime earlier in the year, so I've been at home with Morgan.
We haven't been put off by the weather though as apparently we 'Pokémon hunt whatever the weather!'
Early Morning Windsurf
Wednesday was a particularly windy day so I started the day with a nice windsurf session at 6am. Needless to say I was the only one on the water with a nice steady 25 knot wind and some easy waves. I used my new 5.7m sail and Naish Hybrid Freewave board and had a lovely session whilst most people were still tucked up in bed.
Pokémon Hunting
After breakfast and seeing Anna off to work, Morgan and I headed into Aberystwyth for some Pokémon hunting. After an epic day yesterday which Morgan has already blogged about, we had a few aims today. First we wanted to get Pokémon into some gyms so that we could collect some gold coins. We already had one Pokémon in a gym but wanted at least 3. We therefore rushed around campus to get the 'Steps to Nowhere' gym then headed down the hill to get the 'National Library' gym. In the meantime we had been kicked out of the steps to Nowhere gym so headed back there to regain it. Then we walked through the mud of Penglais woods and out to the viewpoint to place a Pokémon in the 'Overlook' gym. From here we could see that the Old Town Hall gym was already held by team Valour so we ran down the hill to place a 5th Pokémon in that. By the time we got there it had been taken by a rival team though so we had to battle to regain it first. Finally we had 5 Pokémon in gyms and collected our 50 gold coins. That gave us plenty of coins to buy a lucky egg which we would need later in the day.
Another aim we had for the day was to get to level 20 which meant gaining experience points. The best way to do this is by evolving Pokémon whilst using a lucky egg to double your experience points so we were trying to collect easy to evolve Pokémon today.  We didn't stay out all day today though as Morgan was tired after all the walking we'd done looking for Pokémon in the last few days. According to the Pokémon app we have covered nearly 70km so far!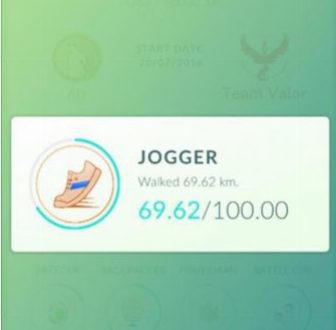 We also spent a fair bit of time sat in Coffee #1 drinking coffee and eating croissants and flapjacks. We also met Anna for lunch. We were of course as always looking out for new Pokémon too. The new ones for today were:
Which takes us up to having caught 72 different Pokémon so far.
Pokémon Hunting Tech
Next on the agenda was a trip to Curry's for some Pokémon hunting technology. As I've mentioned we've been unable to play Pokémon Go in Borth or Ynyslas as our mobile reception there is terrible. We also have a few days away planned and had checked the mobile coverage there. Once again it was terrible. We're with Tesco Mobile which uses the O2 network, but the EE coverage looked much better bioth at home and everywhere else. We were therefore after an EE Mifi Device. They had just what we wanted. A pocket sized MiFi device that connected to the EE network using a 30 day contract EE Sim card.
With Curry's vouchers and the necessary monies handed over, and the usual form filling that always seems to be involved with any purchase from Curry's we had our hands on our own proviate, mobile WiFi network. We turned it on straight away and connected to it and all seemed to be working well. We then tried it out in Borth and Ynyslas and finally caught our first Pokémon from Borth and then placed a Pokémon in the nearest gym to our house which is at the Visitor Centre in the dunes. lets hope it works as well for our camping trip.
Afternoon Windsurf
By now the wind was blowing an absolute hoolie so I headed over to the beach with some smaller kit than I had used in the morning. I ended up on my small 75ltr wave board and a 4.5m sail, but even that was too big really. I should have been on my 4m as the wind on the beach was around 30-35 knots but soon as I got out away from the beach it was ballistic – 40 knots plus I;d say so survival was the name of the game. Along with some big jumps, some big crashes and a fair bit of swimming!

Levelling Up
Later that evening we sat down, activated our lucky egg and evolved as many Pokémon as we could. We didn't have that many, but the double points from the lucky egg saw us gain eneough experience to level up to Level 20 which Morgan was quite excited about.
Courgette Glut
With a successful Pokémon hunt complete, a couple of good windsurf sessions and a generally busy day, it was time to use up some of the courgettes from the garden. As usual we have a bit of a glut, and a glut of broccoli too. So it was broccoli and feta bake for dinner, broccoli lasagnes for the freezers and chocolate, courgette and brazil nut cake for pudding. We also had enough cake leftover to take one to work, enough courgettes for Anna to bake more cake the next day, and still some to give away as well.