Welsh1000 Walk – Llanrhystud to Furnace
My Coast Path capers all started when I signed up to do the Welsh1000 Walk, a charity event to raise money for the Alzheimer's Society. I initially showed an interest in doing the event with the Scouts, but somehow ended up being the 'leader' for the Llanrhystud to Aberystwyth section of the walk. The idea was that 72 different walks would be taking place on the same day (April 16th) and in total these walks would circumnavigate Wales, following the Wales Coast Path and the Offa's Dyke Path.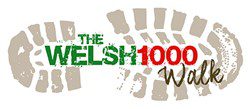 At first I assumed that the walks would be open to almost anyone and that there could be quite a turn out, but I later found at that each walk was limited to a maximum of 12 participants and that they had to donate (pay) £25 to take part. Now, I don't like to criticise as the organisers of the event have no doubt had many difficult decisions to make during the run up to the event and will have spent countless hours planning and organising it. Having organised small events for various things myself I know how much time and effort is involved, but I do think that the sign up process put people off.
For a start we didn't encourage our Scouts to take part as with only 12 places available there just wasn't enough places for all of them. Similarly, the £25 sign up fee is bound to have put many people off as well. Many people would be willing to give up their time to walk along the coast path in aid of the Alzheimer's Society and no doubt many of those would donate as well, but not everyone can do both, or at least, not to the sum of £25 anyway. That sign up fee immediately discouraged many people from getting involved in what could have been a great event. In fact, it meant that there was no one at all signed up for Walk 30 from Llanrhystud to Aberystwyth that I was leading, so I was there doing it on my own. We couldn't even sign Anna and Morgan up as we couldn't afford the £25 each for all of us and I'm sure this would have been the same for many families across Wales. Worse still, there was no one, not even a leader, doing Walk 31 from Aberystwyth to Furnace, and I heard of a few other walks that only had one person doing them as well.
Now, I can't prove it, but I'm fairly certain that if there hadn't been a sign up fee, or if it had been a minimal fee such a £1 then there would have been LOADS of people there for all of the walks everywhere around Wales. I can be certain that if that had been the case then most of our Scouts would have been there for walk 30 as we would have made it the weekly Scout meeting. If the Scouts had been there then they would have raised several hundred pounds in sponsorship and even more importantly, their families, friends and acquaintances would likely have either joined in or at least been aware of the event. Instead the only money raised from this section of the Ceredigion Coast will be that of people who donate due to my exploits today.
If more people had been there, many of them would have posted about their exploits on social media channels such as Facebook, Twitter, Pinterest etc meaning that everyones streams would have been full of Welsh100 posts and links to the Alzheimer's Society's JustGiving page today. Also, if there had been 'loads' of people doing the walk, we would have had a reception at the end of it and no doubt the local paper would have been there to take photos and document it, spreading the word yet further and once again increasing the chances that people would donate. We would probably even have taken a bucket with us and collected money on the way. Instead it was just me, one middle aged man running along the coast path on his own doing the Welsh1000 walk and raising money and awareness for the Alzheimer's Society. Unfortunately, even I'm not delusional enough to think that many people are going to take any notice of one middle aged man running along the coast path, even if it is me!!!
I shall feedback these thoughts to the organisers though so hopefully these criticisms will be taken on board and they'll try to organise the event again next year but with a different emphasis. I'm sure if the idea was to not only circumnavigate Wales but to get as many people as possible doing it then it could turn into an amazing annual event. It could be a celebration of Wales and The Wales Coast Path, it could encourage people to get out and active (which may actually help prevent diseases such as Alzheimers) and by getting more people involved it would raise awareness and no doubt raise much more money than it did today.
The Welsh1000 Walk
In the end, I completed both Walk 30 and Walk 31 on my own. Anna dropped me off on the beach in Llanrhystud at 7:30ish and off I headed. It was a chilly start, 4ºC with plenty of snow on the hills and a cold wind. I started out at a slow pace as I knew that there was a long way to go.
I was making good time though. I stopped for drinks and a snack every 3 miles or so and the odd photo too and before I knew it I was in Aberystwyth having taken 2 hours to do the first 'walk'.
After a selfie in Aberystwyth, I stopped off briefly in Coffee#1 to refuel with a brownie and a latte to take away. I didn't have my loyalty card with me today though so no stamps for me. I then headed off for the particularly hilly section of the coast path between Aberystwyth and Borth, and the start of Walk 31.
Progress along this section was good and I was still running well and feeling OK. It wasn't fast by any means with an average pace of around 11:45 mins/mile but I was taking it easy and even walking many of the steeper hills. I was soon in Borth though with the hardest bit ahead of me – the long hard slog across the wet, knee deep mud of Borth Bog.
I stopped briefly on a bench overlooking the bog to send Anna a text message with a progress report, had a quick snack and took a photo and then headed on, across the River Leri and into the bog.
As usual it was wet with a few knee deep bits of bog to negotiate, but it wasn't anywhere near as bad as last time I did it. I was still making good time and if anything my average pace was improving. It was even beginning to warm up and the sun was coming out so it was off with my hat on on with my shades.
All was going well until I took my eye off the ball to look at some cows that were taking too much of an interest in me and managed to take one misplaced step that had me twist my ankle. I could hear the unmistakeable sound of ligaments tearing as I went over and felt the sudden pain that reduced me to hobbling. I was somewhere around mile 20 with another 5 miles to go so I hobbled onwards. Once the initial pain subsided and adrenalin started to mask it I tried a few times to run on it, but that wasn't going to happen so I found myself a nice walking stick and decided that I would walk / limp the remaining 5 miles.
These 5 miles certainly weren't pain free and my pace had dropped from sub 12 minute miles to 20 minute miles but I was now so close that I had to keep going. About 3 miles from the end I gave Anna a ring to let her know that I'd probably be about 50 minutes or so and to request a bottle of chocolate milk when she came to collect me. My ankle really started to hurt after that phone call though but I could do nothing but plod on.
Eventually, 5 hours and 22 minutes after leaving Llanrhystud and with exactly 25 miles of coast path behind me I made it to Furnace.
Anna arrived in the car at exactly the same time as I did so there was no waiting around for either of us. I climbed into the car, told Anna about my ankle and we headed home. I'd done it, Walk 30 and Walk 31 of the Welsh1000 Walk and 25 hard miles of coast path.
It's a shame about my ankle as I reckon I would have finished in under 5 hours otherwise, and it's a shame I was doing it on my own, but hopefully I've done my bit and people reading this will donate. As I said above, I think greater participation should be the aim of the Welsh100 Walk in future years, but don't let that put you off donating this year. Alzheimer's and other diseases that affect us as we age are all too close to home for many of us. As we age will will almost certainly be affected in some way or another by such things so who knows, just a little donation now may make a difference to you or someone you love in the future.
I've been reading reports of other people having finished their walks too so hopefully between us we will have circumnavigated most of Wales, and in the process will have raised much needed money and awareness for the Alzheimer's Society.
Time now for an ice pack for my ankle, some rest and lots of cake!