Mountain Training
As I've mentioned before, I'm supposed to be doing the Original Mountain Marathon (OMM) next weekend. It's Lawrence's fault as he suggested it, but since he did so, we've had little chance to get out 'training' together. We've been preparing in other ways, buying kit, practise packing, testing dehydrated meals and such like, but for one reason or another, we just hadn't been out in the hills together. Lawrence has been ill, we've both been busy and things have just conspired to mean we couldn't do it. Thankfully, we managed to change that on Monday with a quick trip to North Wales together.
Surf Injuries
It nearly didn't happen again – this time due to me. The surf here was amazing on Friday so I obviously headed out for a session. All was going well with some amazing waves. It was a big, powerful swell with barely any wind and wide open faces to play on. My larger board was performing perfectly and I was surfing well too. I tried for a big cutback at one point, twisting hard to carve the board around. Being quite a bit larger than I'm used to the board didn't turn quite as fast as I'd hoped. So, I twisted one way, the board went the other way and I tweaked my lower back.
Friday evening, Saturday and Sunday were spent in some degree of pain and taking things easy to let it heal. It felt OK by Monday so our trip to North Wales was still on.
Off to North Wales
I met Lawrence in Machynlleth and we drove north, chatting and planning as we went. Lawrence seemed quite taken with our electric car!
My back was a little sore, Lawrence wasn't fully recovered and neither of us had done much training. The original plan of going fully laden with everything we'd need for OMM was therefore abandoned. It was only going to slow us down and maybe lead to further injury so we went light instead and were soon heading out into the hills.
Points on a Map
We won't know where exactly the OMM course is, we don't where it starts from and won't know where any of the checkpoints are until the day of the event. We can't therefore recce the course. Instead, we were just exploring a random bit of North Wales. Somewhere neither of us had been before that had a few summits worth bagging. There was what looked like an impressive waterfall to check out too.
I had marked 9 points on the map (8 summits and the waterfall) and the plan was to use map and compass to navigate to all of them. It wasn't that useful as a practice for the OMM as I'd devised a route between them to start with but we were at least using the 1:40,000 Harvey map which is the same style map that we will be supplied with on the day.
It was a clear but cool day with a stiff breeze as we set off. Navigation was actually really easy due to the fact that it was clear and we could see where we wanted to be. We still used the map and compass at each of our 'checkpoints' just for practice.
Waterfalls
With a few summits ticked off we descended down through a lovely valley towards the waterfalls. It was nice to be out of the wind for a while, although it did start raining. We stopped by the waterfalls for a quick snack.
Aber Falls as the waterfall is known are formed as the Afon Goch plunges about 37 m over a sill of igneous rock. It's quite impressive and obviously not too far from a car park as there were quite a few people here taking photos.
Up we go Again
After a quick stop, we checked the maps again and decided the best course of action was a long and very steep slog straight up the side of the hill, avoiding the steep crags formed by the igneous sill that the waterfalls tumble down. It was hard going through knee-high bilberries and heather and definitely steep in places. It was also the most direct route to where we wanted to be and with no sign of any paths probably the best way to go.
After quite a slog we emerged out onto more open hillside and a howling wind.
There was still quite a bit of climbing to do up to the rocky summits of Bera Mawr and Bera Bach, the latter being our high point of the day at 807m.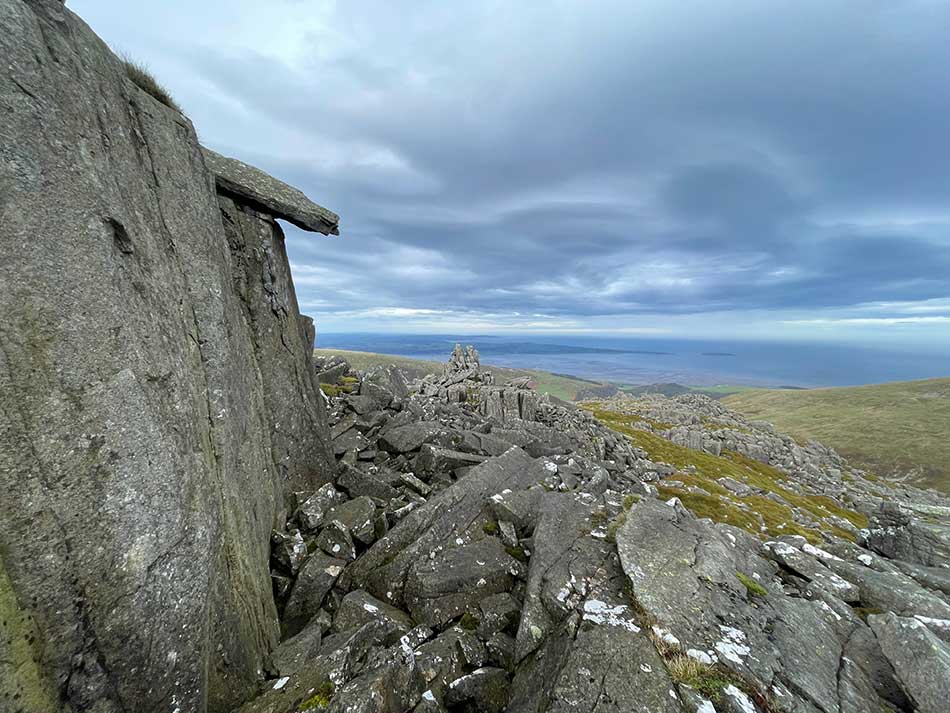 From here we headed off to two more summits and then had a nice fast descent back to the car.
It had been a good day in the hills. Very windy on the tops where we could barely stand up and a little wet in places but otherwise all was good. We'd made it unscathed and felt as though we'd made fairly good time. We'd like to be faster but there's not much we can do about that. We had navigated well and at a little over four and a half hours it wasn't far short of the 5 hours we'll have to do on Saturday. Although we weren't sleeping in a tent and weren't doing another 4 hours the next day as we will be at the weekend. Today, it was a pleasant drive home for a nice warm shower, a huge steak dinner and a nice comfortable bed instead!
We'll have to see how we get on next weekend when the terrain will no doubt be more challenging, the checkpoints more difficult to find and we'll be carrying lots more kit. Not to mention whatever the weather throws at us and the fact we'll have an uncomfortable, cold night in a tent to contend with. We can't wait!!