Covid-19, Stopping the Spread
These are strange times indeed. Worrying times too. Everything seems to be dominated by Corona Virus news and the ever increasing threat of Covid-19. Our daily lives are being affected by it in ever increasing ways. Working from home seems likely to be the norm for many for some time come. Self-isolation, social distancing and some challenging times are going to be part of our lives for the foreseeable future.
Stay at Home and Social-Distancing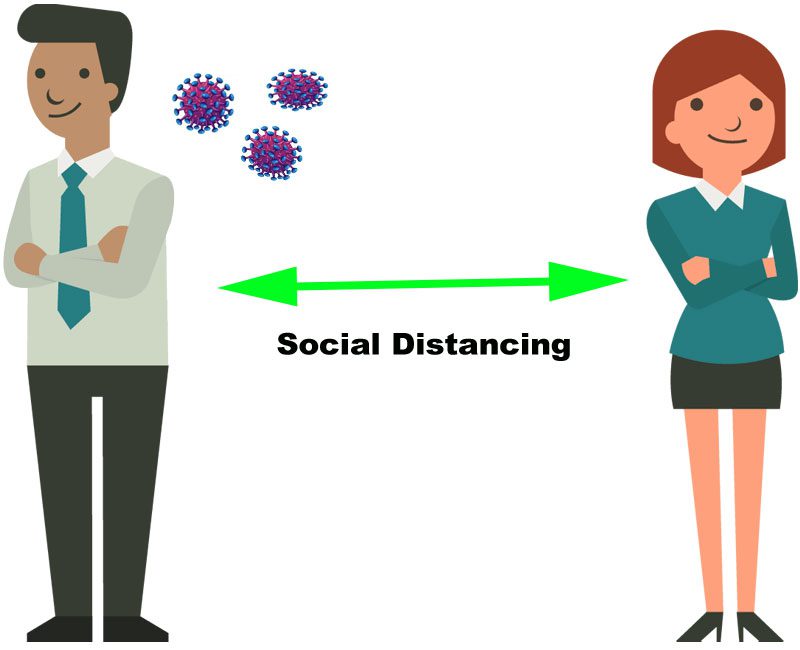 The advice from the health experts and the Government is to stay at home as much as possible, stop all social gatherings and minimise contact. Travel should be limited to the essential and those with symptoms or at high risk should self-isolate. All well and good, but really everyone, not just those at high risk or with symptoms, should be doing as much as possible to minimise contact and prevent the spread of the virus.
The closure of first schools and then all pubs, clubs, leisure centres, theatres, restaurants and other gathering places has now been enforced to try to limit the spread of the virus but still people don't seem to be listening. Just because you don't have symptoms doesn't mean it's safe to be out and about unless you need to be. You can have, (and therefore be spreading) the virus for weeks before you show symptoms and from what the Government are saying, the health services here simply won't cope if we all get it at the same time.
Government Measures
The Government seem to be doing all they can to first encourage us to take their advice and then force us to do so. They are also helping businesses and individuals as much as possible with huge economic measures and various health care initiatives. They are doing a good job of keeping us up to date with the latest developments via daily briefings too. It feels to me like a war-time effort and is certainly unprecedented in my life time. The scale of the efforts should be enough to indicate the severity of the situation. The powers that be wouldn't be taking such drastic measures if they weren't seriously worried about the implications of not doing so.
Yet still many people in Western countries tend to think that they know better and that such things don't apply to them. I'd rarely agree with the politics of countries where democracy and human rights aren't high on the agenda, and I generally consider myself fortunate to have been born in the UK where such things are taken for granted. But, at times like these it may be an advantage to live in a regime where the populace do what they are told when they are told to do it.
Don't worry, that's as political as I'm going to get, but it does look as though what seemed to us like fairly draconian measures in China may have worked to a certain extent. The complete city lock-downs and military personnel patrolling the streets to enforce these rules has limited the spread there for now. Yesterday was their third day in a row with no new cases of Covid-19 reported and some of the restrictions are now being lifted.
Here however we are generally asked to do things rather than forced to do them. First we were asked nicely to stay at home. That didn't work as many didn't listen. This wasn't always the fault of the individual as many businesses were still open and people felt obliged to go to work. The fact that schools were still open also meant that the daily school run continued as usual and nothing really changed. Next schools, pubs, clubs and such like were closed to try a little more forcefully to make us stay at home, but still many aren't taking it seriously.
It's Not a Holiday
It seems as though many people are treating it like one big holiday. People have been flocking to the coast and the mountains where scenes have been like that of a Bank Holiday weekend. Mountain Rescue teams have been busy in the hills, Snowdonia has seen queues on the roads and car parks full to bursting. Here the road was packed with parked cars and the car park has been gradually filling up with camper vans. Some caravan sites have taken the sensible decision to close and send people home but others are open and are full of people. There is a now a petition to force them all to close.
There are fears here and in other rural communities across the UK that the influx of visitors will put increasing stress on the already limited medical and emergency provisions in these areas. Not to mention the fact that by travelling around the country people are simply increasing the speed at which the disease will spread.
Yes, getting out and about in the fresh air (whilst socially distancing of course) is a good thing both physically and mentally, but travelling around the country to do so isn't. The intention of closing pubs, clubs and gathering places was to stop people going out, stop gatherings of people and limit the spread. Unfortunately many seem to have seen it as one big holiday and have been largely ignoring the advice of 'stay at home'. At this rate a proper lock-down where limits are placed on people being outside is going to be needed.
Is it Really That Difficult?
I understand that staying indoors, social distancing and not being able to go to the pub seem to be difficult for some people. I'll also admit that as a family we may find such things relatively easy as it is almost the norm for us. I don't remember the last time Anna or I went to a pub. Other than going to work, band practice for Anna, and the occasional swim for me we pretty much practice social distancing all the time. It's not difficult to do when you live where we do. So, other than the fact that we are both working from home all the time at the moment and Morgan isn't at school there's very little difference for us. But even if social-distancing and staying at home is a huge lifestyle change it seems to me to be a small price to pay when lives are at stake.
The Consequences of Not Listening
I can only go on the information I glean from the various news channels as I'm not a medical expert. Even the experts don't have all the details and are doing their best to learn all they can about Covid-19. What is clear is that it is a highly contagious, easily spread virus that can and does kill. If we don't limit it's spread then most people will at some point become infected. We have no defence against it as yet. Clearly some people are at higher risk once infected than others and many, if not most of us will only experience mild symptoms. However, many have already died from it, many more will do so and we are all at risk. Surely the 'hardships' of staying at home and keeping yourself to yourself is a small price to pay if it saves the lives of others and possibly even your own?
I know we can't all stay self-isolated forever and that we all need to go out and about for essentials but limiting such excursions to those that are truly essential may just slow the spread enough so that our health care systems can cope. It won't mean that we as individuals won't at some point become infected but it seems to make sense to slow the rate of infection so that those that are most at risk can get the care and hospital treatment that they'll need.
I know there will be some that will say that this is all being blown out of proportion and it's not as bad as the media are making out. If that turns out to be the case then great. Will I be disgruntled about what may turn out to have been unnecessary inconveniences of social distancing? Maybe, but when lives are at stake and the experts are asking us to do something, I think it's a good idea to follow their advice. The alternatives could be dire and it's not worth taking that risk.