Cyclocross 2019 – Rnd 8, Swansea
After last weeks mud fest in Newport, it was back to South Wales at the weekend for more of the same. The heavy rains all week made it likely that mud would feature highly on the list of things to expect and we weren't to be disappointed. The sun was shining for the drive there though which was nice and other than the flooding in Borth and towards Bow Street the roads were clear. I was soon therefore at Singleton Park in Swansea.
With my kit on and my cyclocross bike in the pits I was able to ride around some of the course and check it out. Yep, it was going to be a muddy, slippery one again and there would be quite a lot of dismounting, running and re-mounting to be done as well. I had the usual chats with people, made excuses and met up with Gethin and Chris who would be racing in team Scimitar colours along with myself. It was a lovely day and there was a good atmosphere in the park.
The Race
We were soon lined up ready for the start.
Chris was in the row ahead of Gethin and myself. I seem to have been going backwards in the seedings throughout the season. Partly because I don't tend to do so well in the really muddy races, partly because I missed a couple of the more poorly attended races and partly because I could do with a rest. It is what it is though and it's all good fun wherever you are in the field.
The whistle sounded and we were off. I had some trouble getting my shoe into the pedal so lost a bit of time and lots of places here. We then hit a patch of sodden grass which knocked off any speed that we had. I had very little speed to start with thanks to the issues with my pedal so almost came to a halt before we entered a couple of fast grassy bends. I got held up here as well and then got boxed in on the next bend as we headed up the slope. Things weren't going well, but all around me others were struggling with their own issues as well and things generally even out over the course of a few bends.
Next there were three muddy straights with hairpins at either end. I had decided that I might run these in the race as they were energy sapping and pretty slow on the bike, but as it was the first lap and no one else was running I stayed on my bike and tried my best to power through them. Mud and grass clogged everything, my rear wheel was spinning and had very little traction. My front wheel weaved and slid from rut to rut and already it was hard work. I wobbled and slipped around the bends at the end of each straight and eventually made it through unscathed where we emerged out onto the tarmac and underneath what would in just under an hour be the finish gantry.
Here we headed out onto our first proper lap. Gethin and Chris were just ahead of me. There were some puddles on the tarmac so I rode through them in a vain attempt to clear some of the mud from my bike. I didn't worked, it just flicked muddy water up into my eyes and got my feet wet but it was worth a try, and I tried it unsuccessfully on every subsequent lap as well! Off the tarma and back onto sodden grass and then over a little hump through a line of trees. Last year I was jumping off the hump here but the soggy grass just clawed at my speed so I didn't have enough for any air.
Next was a couple of slippery right hand bends and then another patch of very deep mud. It didn't matter how I took this patch of mud I always ended up in a deep patch that almost brought me to a halt.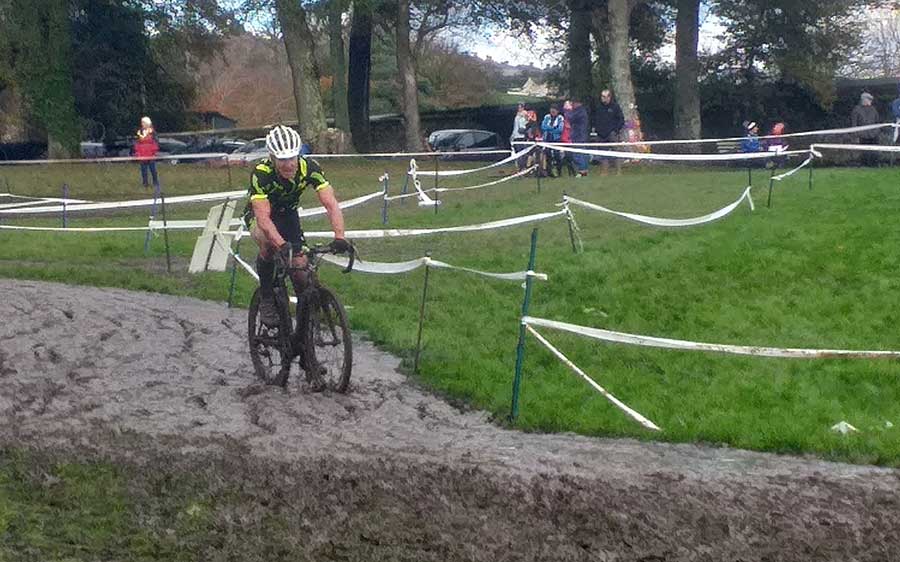 Luckily it wasn't too long so a few hard pedal-strokes had me out the other side and crossing the line of trees again We then headed down towards the pits. The section alongside the pits was a slight incline through sticky mud. I rode it on the first lap but ran this section on subsequent laps. I actually gained some time here on each lap by doing so. Although, I did see some people ride through the pit lane itself where the grass wasn't quite so muddy.
We then had a little section weaving through some trees which was pretty much the only part of the course that wasn't soft mud. A brief respite as we weaved through the trees and then out onto a yet more muddy grass. We made our way down the grassy slope through a few slippery bends and then through deeper mud to a tricky left hand turn over tree roots. We were now at the bottom of the course with a deep ditch to contend with. I didn't ever attempt to ride this so it was off the bike again to jump the ditch and climb back out the other side. I tried to clear some of the mud from my bike as I dismounted.
We then had a little climb to contend with up a grassy slope. Lots of people ran up this as they were already off their bike due to the ditch. I remounted and seemed to gain some time on the climb. I was now right behind Chris. This was followed by a slippery descent and a couple of off camber bends before another little climb and a similar descent, bends and mini-climb. Chris almost lost it on the bends at the bottom and went wide, out beyond the tape so he had to dismount and jump over it to get back on course. He jumped back on right in front of me so I had to brake and lost all momentum before starting the climb behind him. With lungs bursting we had a little drop over some tree roots to ride over. This was probably the only part of the course where the mountain bike was an advantage, but someone fell off in front of me on this first lap. I had to stop, dismount and then climb over the tangle. I lost more time and more places.
Back on the bike for another little climb and then a tricky off camber and very muddy left-hander.
I jumped off for this one and then ran all the way to the ups and downs along a muddy bank. Most people were running this section, I was just running more of it than most. I jumped back on for about 20 yards but then dismounted again for a deep muddy patch. It was then out onto the fast sweeping bends. The grass here was a little drier and there was actually some traction but the person in front of me had their front wheel wash out. I had to brake to avoid collision as they slowed. The concertina effect meant that I pretty much came to a halt. So far, as the first lap came to an end I just seemed to have been in the wrong place at the wrong time. I was still upright though and feeling OK. I had just lost lots of places and quite a bit of time to Gethin and Chris already.
When I got to the three muddy straights before the finish this time I jumped off yet again and ran through them.
It wasn't much quicker, but it wasn't any slower either and it felt a little easier than slogging through it on the bike. A quick remount and then it was off under the finish gantry through the puddles and out onto another lap.
Each lap was much of the same really. I was now running almost as much of it as I was riding. I was off the bike past the pit lane, off the bike through the ditch, off the bike from the tricky left-hander all the way through the ups and downs along the bank and even across the top of the bank as well, and then I was off the bike again for the 3 straights before the finish line. There was lots of dismounting and re-mounting going on today.
The Race Unfolds
Gethin disappeared off into the distance and had a good race. He seemed to be flying on his new mud tyres. Chris opened out a bit of a gap on me over the course of lap two and three but as things settled down I started to close it back up again. I think it was on lap four that the gap closed quite quickly and I overtook him whilst we were running through the ups and downs along the muddy bank.
My bike was now completely clogged, weighed at least twice as much as it should and wasn't functioning quite as well as it should. I was sure Chris would come back at me. Thankfully he didn't. He seemed to have slowed and I started to open out a gap on him. There were plenty of other people to battle with and by now tail-enders to lap and faster V50's to overtake me.
It's difficult to know who you are and aren't racing against so it's a battle all the way. Laps were taking almost ten minutes, so as I passed under the finish gantry at around the 40 minute mark I was half hoping to hear the bell. It wasn't to be, so I would have two more laps to go. Chris was dropping back more though so it was just a matter of keeping up the pressure. As I came towards the end of the penultimate lap I was starting to struggle. All of the running was taking its toll and just getting up some of the muddy banks on foot was a challenge. I could feel the beginnings of cramp as I ran through the muddy straight before the finish gantry.
I did check behind me as I went out onto the finish straight. I have a feeling that the leaders were just behind me. If I slowed and let them lap me then my race would be over, I wouldn't have to go out onto another lap. They were however only just at the beginning of the muddy straights so I'd have to wait a little while and I couldn't be sure it was them. I had no choice but to go out for a final lap. There was no one to chase and no one close behind now though so I could at least do it at my own pace. I didn't ease up but by now things were hard work. Getting out of the ditch felt harder than usual, the climbs were a struggle and the clawing mud had taken its toll.
I made it though and so did my bike. Although it was going to take some cleaning. I was caked in mud, my bike was barely recognisable. What a race! I rode over to Gethin who was pleased with his performance today. Chris was soon across the line as well and we were ready for a post-race photo.
Results
Gethin had come 14th, I was 16th and Chris was 18th. Richie, who is having a good season was up in 12th place. Lee Watts who I'm often racing against was one place down on me this week in 15th.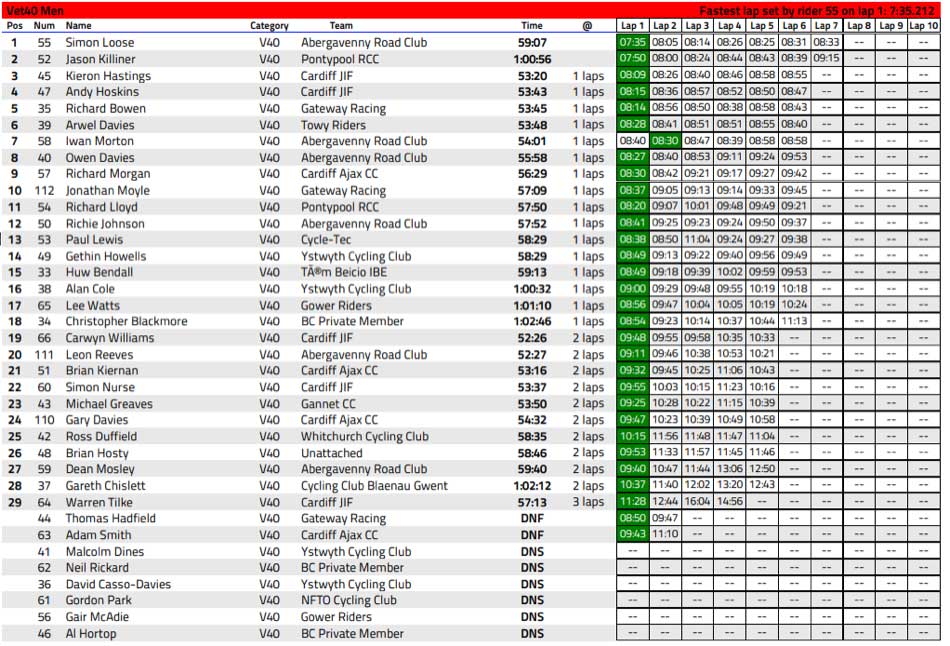 It's been a good race between the three of us so far this year. Not one of us has dominated. I started well in the dry of Newport finishing a few places ahead of Chris. I missed Round 2 but Gethin finished ahead of Chris there. In round 3 I struggled in the mud of Foxley and despite leading them for a while finished a few places back with Chris leading us and Gethin in the middle. Round 4 saw me take the win in team Scimitar with Chris 2nd and Gethin 3rd. Chris was the only one of us at Round 5. Round 6 was cancelled so we were back in Newport for Round 7. I didn't do so well here now that it was wet and muddy so Chris beat me this time time. Round 8 saw Gethin win convingly between us with me 2nd and Chris 3rd. Although there has been no clear winner throughout the season I still seem to be behind in the standings. It seems as though the races I've missed weren't so well attended across the board so had I been there I may have picked up more points. I've also had one or two pretty bad races where I lost more places than I should have.
With over a two hour drive home it would be dark by the time I got there, so Monday morning would be spent cleaning my bike! First I had to at least make myself look a little more respectable too.
Thanks as always to the organisers, commissaires, marshalls and everyone taking part. And to Szusza for the action photos.