Tewkesbury Hasler
As regular readers will know, I have felt as though my kayak speed in Quadrathlons has been a little hampered by the fact that I'm using a surf ski rather than a smaller, sleeker K1 kayak. I know that's just an excuse really, but I don't need much of an excuse for a new toy so when a likely looking candidate of a 2nd hand K1 came up for sale I thought it was time to try one out. It was being sold by someone else who races in Quadrathlons so I knew him a little bit and plans were soon made to meet up.
He lives right over the other side of the country, but as luck would have it he was racing in the Tewkesbury Hasler last weekend and I was on my way back from a holiday in Cyprus so wouldn't be far away from there. If I spent an extra night or two at my parents house on the way back from Cyprus, Russel and the K1 he had for sale would only be 45 minutes from where I was and if I went there on the way home it would only really be a 15 minute detour. Perfect, plans were made.
Initially, Russel was going to use the boat in the race and then I could have it straight off the finish line. As the date drew nearer though Russel decided he was using a different boat so I could actually collect it a little earlier. I then thought that if I was at the race and about to buy a new boat why not enter the race in this new boat. Plans were changed slightly and it look as though I might be racing in my first 'Hasler'.
What is a Hasler
That's a good question and one I wasn't sure about either so Google was called upon. According to Wikipedia,
"The Hasler Series is the British national club championship in the sport of marathon canoeing, a long distance form of canoe racing, governed by the British Canoeing (BC). Racing on flat water, canoeists and kayakers compete in nine divisions and over distances of 4, 8 or 12 miles (for beginners through to advanced paddlers respectively). Paddlers may compete solo or in doubles, in kayaks (K1s and K2s) or canoes (C1s and C2s)."
Basically it's a fancy name for a kayak race.
Tewkesbury Hasler
I turned up at the Cheltenham College Boathouse in Tewkesbury for the Hasler that was run by the Gloucester Canoe club…. Yep, that sentence seemed to mention most of the major towns in Gloucestershire!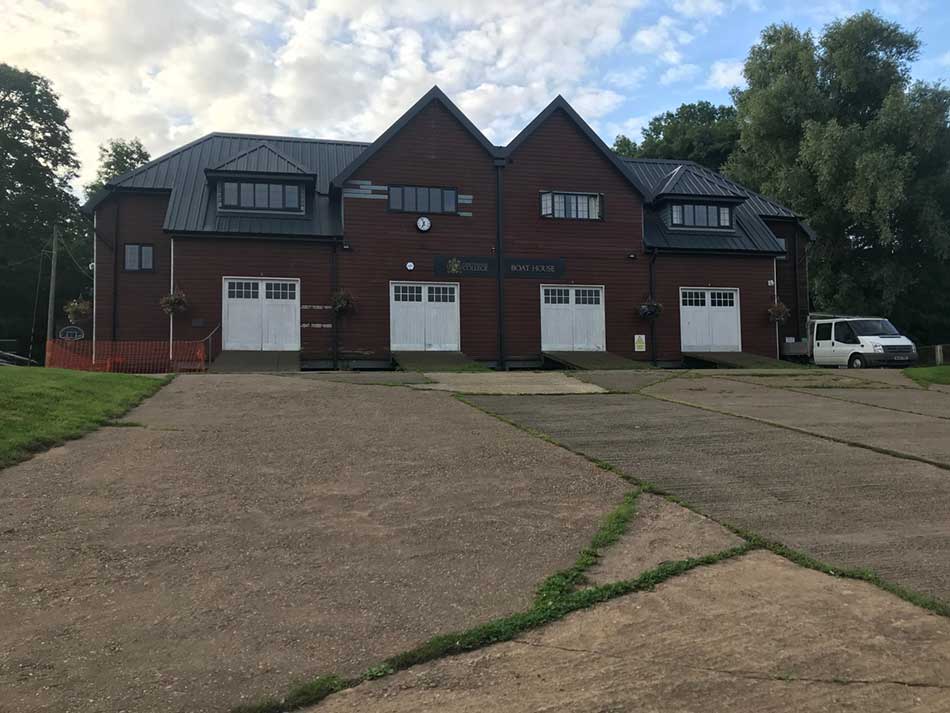 I was due to meet Russel, I was due to meet my first every K1 and I had to source a buoyancy aid, paddles and make sure I could actually stay in the boat before signing on for the race.
Meeting Russel was easy. He had ridden over from his campsite on the opposite bank of the River Severn and I soon spotted him.
He then rode back and a little later paddled over in the boat I was buying. Meeting my boat was easy too. Russel also had a buoyancy aid I could borrow and a set of flat paddles that didn't really suit me. I did at least have the equipment to compete even if some of it wasn't ideal.
Next was to see how I got on in the boat. This part wasn't quite so easy. It took me back to those first few wobbly attempts in my surf ski. I felt unstable, tense and unable to actually put any power into a paddle stroke for fear of falling out. I did manage to stay in though. Next I had a quick go with Russel's wing paddles. These were better as they had a more positive feel throughout the paddle stroke but as the feather wasn't set up for me still weren't ideal. I was still pretty wobbly as well so staying in the boat took a great deal of concentration.
I still wasn't sure if registering for the race was a good idea. Russel tried to convince me saying that I could use his wing paddles as his race didn't start until mine would have finished. Everyone else seemed to be encouraging me to give it a go as well – no doubt they were hoping for some form of entertainment from my attempts – so, in the end I decided to give it a go. What's the worst that could happen? Nothing really, I might end up swimming but that's not a problem and it would only be a little embarrassing, but the fact that it was my first Hasler, my first proper go in a K1 and I'd be using a boat that I'd only met that day there wasn't too much at stake. My parents then also decided to take the short drive up to Tewkesbury to watch me make a fool of myself!
I had hoped to have a bit more practise in the boat, but by the time I'd registered and got ready, the place was full of people and I decided that there were just too many people watching. The turnout was massive with around 200 competitors and lots of family and friends there too.
The race is divided up into division based on ability. As I was a complete newcomer I had no choice of division and was automatically placed in the lowest division 9. You can get promoted through the division based on the times you set in races. You can only compete in Div 7, 8 or 9 until you become a BCU member and these divisions only compete in 4 mile long races. Competitors in these divisions also need to wear a buoyancy aid. Divisions 4, 5 and 6 compete over 8 miles with a short portage involved as well. This is essentially an enforced dismount at the riverside a short carry along the bank of the river and then a remount into your kayak. I was quite pleased that I wouldn't need to do that as getting in and out was quite a challenge, let alone trying to do it under race conditions. Divisions 1, 2 and 3 are for the top competitors and are raced over 12 miles with a portage.
As the start time drew closer I gingerly got into my boat and wobbled my way out into the the river where I paddled around in circles for ten minutes or so waiting to be called up to the line. Even once we were called up I hung back a little as I didn't want to have to sit there stationary for too long. The shout to 'Go' went and we were off, I was 10m metres or so behind everyone else due to my fear of falling out at the start. I eased into a steady paddle stroke and started making my way around the course. Despite taking it really easily and concentrating on just staying upright I soon caught and overtook most people and settled into 3rd place for a while. As we made our way upstream to the first turn buoy I pulled up alongside a lad in 2nd place and moved out in front of him. I then came up alongside the girl in first place and as we approached the buoy overtook her to take the lead. I wobbled my way carefully around the buoy where she caught me back up a little but I once again pulled ahead and started to open out a gap.
I relaxed a little now as I made my way back downstream in clear water. It's surprising how much difference a little bit of wash from another K1 can make to your stability and now that I was in clear water things felt a little more stable. That's all relative though as falling out was still an ever present threat. The physical effort was minimal but the mental effort to stay upright and not lose concentration was quite sapping. To make matters worse I was now catching the Div 8 paddlers and entered back into choppier waters once again. I still didn't really have the hang of steering the boat either as I tried to weave my way through them. As well as concentrating on my balance I had to concentrate quite hard on the paddles too as I'm used to paddling with zero feather, not the feather that Russel had on his paddles. Any lapse of concentration here sent the paddles shooting through the water without any resistance where I was expecting some. This was likely to send me swimming.
I was now leading my division and about half way around the course though. All I had to do was keep my concentration and remain upright for the remainder of the race. I was steadily making my way through the Div 8 paddlers too and making good progress. Things were a little congested at the 2nd turn buoy so I took it wide and tried to stay out of harms way. There were a few wobbles but I was around it. Just a mile or so to go back to the finish line. I'd now caught and overtaken most of the Div 8 paddlers and once again had some clear water ahead of me. I did even catch a few Div 7 paddlers on the way back to the finish line. I also began to feel a little more comfortable in the boat but didn't dare think that as any lapse in concentration or misplaced confidence was still likely to end up with swim. That would be disastrous now that I was this close to the finish.
I knew that my parents would cheer me on as I approached the finish line. I told myself not to look up if they did as I've made that mistake before in a surf ski race only to find that a quick glance to my side had me swimming. I kept looking ahead and crossed the finish line still in one piece, still dry, still in the lead of my division and still i the boat. Everyone that I had chatted to before the race seemed pleased for me and were impressed with my performance. I'm sure they were all a little disappointed that I hadn't proved them with some amusement though!
Not a bad start to my Hasler career. 1st in my division, even if that was the bottom division. I did however also beat everyone in Division 8 and every one bar one person in Div 7. That person only beat me by 20 seconds as well so things may have been different is I'd been racing in that division.
I had been forced to take it really easy as well. I hadn't really put any physical effort into it as I was unable to do so without falling out. That will come I hope and once I have the balance and can put some effort in I think my performance will improve. As to whether or not it'll prove to be faster than my surf ski remains to be seen, but even with minimal effort and no practise my speed in the race wasn't far off what I can currently do in my ski. When (if) I get as comfortable in this new boat as I am in my ski it should prove to be quite a bit faster. Trying to get to that stage should be fun if nothing else. I guess I'd better add the Hasler series of races to my race calendar along with the Quadrathlons, Ocean Surf Ski races and Cyclocross races as well.