A PB for the Llyn Padarn Kayak TT
I know that A 2 hour drive to Llyn Padarn and a 2 hour drive home again is a terrible use of my time for a kayak time trial that takes less than 30 minutes. It's not particularly good for my bank balance or the environment either so I don't attend all of the Kayak TT's but I did 'pop' to North Wales at the weekend for the second race of the season. 
Nothing Nearby
The trouble is, there just aren't any such events any closer to home for me. I took a look recently for clubs that do kayak racing in the UK to see if there were any near to home that I could join so as to do some training with other people. If you take a look at the map of clubs in the UK you can see that I live pretty much further than anyone else in the UK from such a club.
The closest clubs are a two hour drive away so there's no chance of me attending evening sessions with them. Races tend to be organised by these clubs as well so any race that I want to do are quite a drive as well. It's the same story as the cyclocross races, there just aren't any races in West Wales, all of the 'Welsh Series' races are in South Wales and most are more than a 4 hour round trip for me. I guess that's the price I pay for living in the wilds of West Wales.
Llyn Padarn TT
The kayak club that you can see in North Wales is the Dyffryn Conwy Paddlers club. They are a fairly active club with regular weekly evening training sessions and weekend paddles too. They also organise a series of low-key races. Over the summer these take place on the Conwy estuary on a weekday evening, but once the nights draw in for the winter they have a monthly Time Trial series on Llyn Padarn in Llanberis instead. This is a little closer to me (a 2 hour drive rather than 2½) and as they are on a Sunday I can make a day of it. They do quite often clash with Cyclocross races that are 2 hours in the opposite direction though so I have to pick and choose which ones I can do.
Cyclocross was cancelled last weekend due to flooding of the course so I headed north instead and met up with familiar faces from the Dyffryn Conwy Paddlers for the Llyn Padarn Time Trial. Having done the time trial a few times now it's always a good test over a known course to see if I have made any improvements. My previous best time of 28:52 was there for the beating.
Handicapping
The first sign of improvement was the fact that I was seeded to start last. Start times and handicaps are based on your previous PB's – or what James considers to be your current ability. The fact that I beat James himself by about a minute last time I paddled with him in the Conwy Estuary meant that I was to start a minute after he did. The slower paddlers set off first, the faster paddlers set off last. The aim is that we hopefully all finish at around the same time ready for a mad dash to the finish line.
Time Trial Time
It was a nice day for it, chilly at around 8ºC with just a light breeze blowing along the lake. I opted to go with small amounts of clothing so as not to overheat in the race. This did mean that it was decidedly chilly on the paddle to the start line and down-right cold whilst waiting around for my start time that was some 12 minutes after the first person set off. Eventually James took his position on the start line so I lined up behind him ready to go. I started my watch as James set off and then waited a minute, slowly drifting into the trees as I did so. When my timer hit a minute I set off, battling through the branches for the first paddle stroke or two and then out into clearer water just as James disappeared around the corner by the quarry. I set off into the headwind in hot pursuit.
There was a little more wind on this side of the lake and a small amount of chop as we made our way along the course. It made sense to hug the shore as closely as possible to make the most of the calmer waters and what little shelter there was from the wind. I started to catch James fairly quickly but then about halfway down the lake the gap seemed to remain fairly consistent. I was gradually catching others as well and had a nice long line of 'carrots' to chase. It's quite nice being able to see your targets getting closer and closer. It spurs you on to keep pushing so as to catch and overtake them. That's the beauty of doing such a race rather than just trying to do a TT on your own. Saying that, the race itself is a very relaxed affair. I don't feel any nerves beforehand as it's just a bit of fun. Everyone is vying for a PB or a good time but really you are racing yourself rather than in an actual race.
A Race for the Line
Things were closing up at the turn around point. I'd closed the gap on James who in turn was right on the stern of Jeff. Most other people weren't that far ahead either. Once heading back we now had a tailwind and so the speeds increased a little. Hugging the shoreline too closely was no longer an advantage and with people to overtake now I had to take a slightly wider line anyway. The difference in speeds are so slow though that it takes longer than you might think to actually catch and pass people. It almost feels as though you are racing in slow motion as you gradually close up onto them, pull up alongside and then edge out in front. Soon I had done just that to everyone and pulled out into the front of the pack by the time we got to the quarry. We were all pretty much together so the handicapping had been calculated perfectly. I just had to keep going for another minute or so and then crossed the line. 
My watch read 28.40, so by the time I'd taken the minute sat on the start line off I'd posted a time of 27:40. The fastest of the day and a new PB for me. What's more, by the time it is added to the stats on the Performance Sea Kayak site it'll put me into fourth place (just ahead of James) in the overall list. See, it was worth the drive there.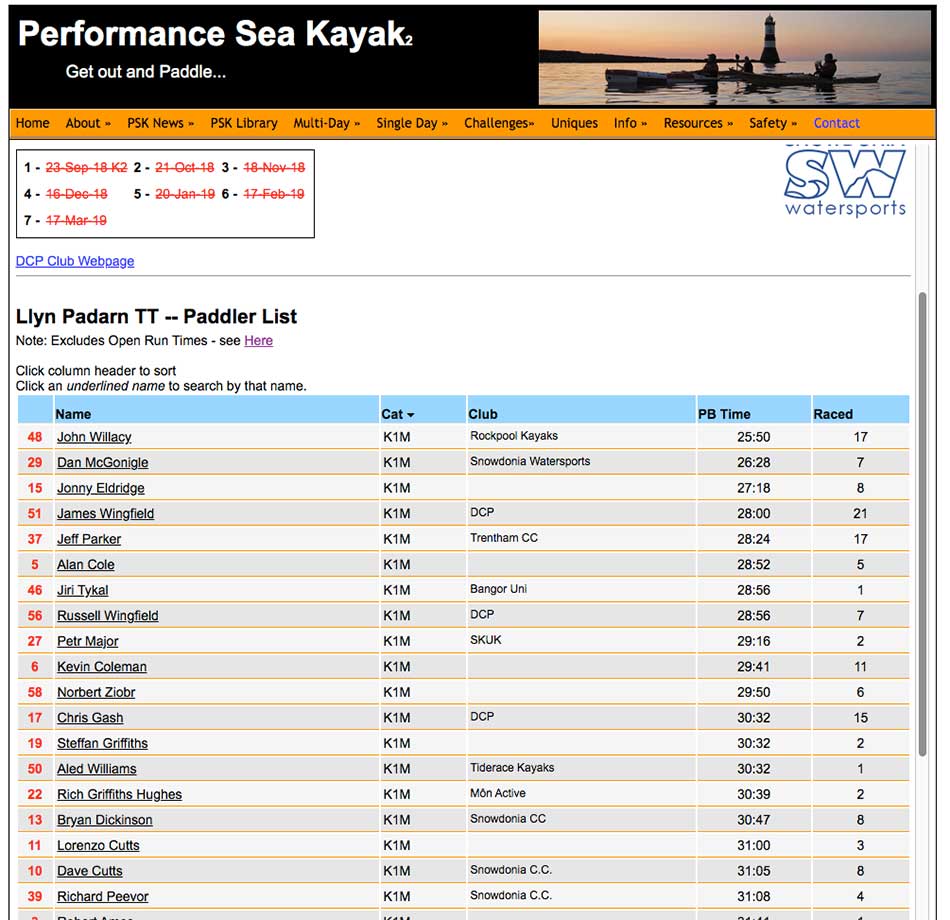 With the race done we all paddled back to Snowdonia Watersports and headed in for something to eat and drink. After some chatting it was time to start the 2 hour drive home. I maybe should have done something else whilst in North Wales such as a run or mountain bike ride but it had still been quite a long day.