Bees and Moths
Saturday morning was a lovely affair. Pretty chilly mind you with the temperature dropping overnight to 10ºC but the morning skies were huge with wispy clouds first thing.
We'd put the moth trap out so once Morgan was up we had a quick look through the catch. There was nothing unusual but we haven't had the trap out for ages so our identification skills were a little rusty. I knew what they all were, I just couldn't quite remember the names. Maybe it's an age thing.
Here's the list from the catch though
1x Purple Bar
1x Green Carpet
14x Flame Shoulder
5x Flounced Rustic
1x Bright-line Brown-eye
28x Small Square Spot
1x Lesser Yellow Underwing
5x Rosy Rustic
1x White-line Dart
1x Setaceous Hebrew Character
1x Great Dart
Geocaching Souvenirs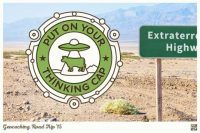 After releasing the moths it was time to head off, first to Capel bangor to find a Mystery Geocache. We did have a different one planned originally as the task for Mission GC this weekend was to find a mystery cache. The one in Capel Bangor was closer though so we found that instead.
It was a fairly easy puzzle to crack and we soon had the geocache box in our hands and the container signed. Better still it had earned us another Mission GC Souvenir, this time the 'Put Your Thinking Cap On ' Souvenir. I'm not sure if there are any more Mission GC souvenirs to get this year or if that means we've completed the challenge?
Beekeeping
After the quick geocaching trip we headed off to our out apiary to check on our bees. The first hive that had been housing a queenless nuc was empty. All the bees were gone and there was nothing there. Just empty frames and nothing else. Not a great start.
The second hive that was housing a swarm we had caught from under an upturned kayak was looking a little better. Only just though as there weren't very many bees in the colony and they had no stores whatsoever. The good news is that there was brood, there was larvae and there was eggs so there must be a queen. We spotted her in the end, so although very small it may just about be a useful colony. We fed them and left them as they were, with plans of maybe combining them with a recent split that we had at home.
Back at home and we took a look through the bees here too.
The first hive that houses a recently re-queened colony was looking good. We had just treated it with MAQS so we removed the strips from the hive and everything looked OK. It was once again quite a small colony but probably just about big enough to over-winter. As a newly re-queened colony from a split it didn't have any stores and we aren't planning on harvesting from it so we have started feeding it ready for the winter.
The second hive which houses an older colony that has now been split twice this year was looking good. Queen, eggs, larva, brood and plenty of stores all present. There was even half a super of honey so we've put a clearer board on ready to harvest the honey tomorrow (hopefully). As soon as we've taken the honey super off we will start feeding this colony too.
The third hive houses an artificial swarm from the original colony that we split a few weeks ago. All was looking OK in here but as one would expect there was no sign of any queen activity yet. The question is do we leave this in the hope that it requeens before winter, or do we merge it with the queenright but very small colony in our out apiary? I don't know the answer to that yet so I think I'll leave this colony for a couple more weeks to see what happens. In the meantime we have fed it.
Not a bad start to the Bank Holiday weekend though and plenty more to come.