Xmas Tree Hunting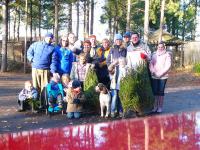 In case you hadn't noticed, Christmas is just around the corner, so last weekend was spent doing the now customary 'Cole Family Xmas Tree Hunt'.
We all meet up at the Fountain Forestry at Brockley Combe just outside Bristol, have the usualy argument about which way was the best to get there (mine is the best each year as it is by far the quickest and the most scenic too!) and then we set off into the forest to find ourselves a good looking Xmas tree. Of course with so many of us there this geneally takes an hour or two as finding the PERFECT tree out of all the trees in the forest is a demanding task .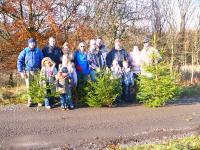 It is also clear from the photos that the family is growing each year. This year saw two new additions to the annual Xmas tree hunt, Morgan and Jack.
Once we had all cut down the perfect tree it was back to the other side of Bristol for a buffet dinner and then off home to decorate the trees. It is certainly a long way for us to go from Borth to South of Bristol (a round trip of about 8 hours) just to get a Xmas tree, especially as we drive through acres and acres of welsh forest full of 'perfect' trees to get there, but its always good fun, which after all is the whole point.