New Car Day
Yeah, New Car Day finally arrived! To be fair it was only a few days after the originally planned date and I think the car itself did land with Shukers Hyundai in Aberystwyth last week. They then had to do some checks and register it etc so we were able to collect it yesterday.
New Car in Dark Knight
We hadn't actually seen one (or any car for that matter) in the Dark Knight colour that we'd ordered. Thankfully it looks fine.
We would have liked a brighter, more distinctive colour really but they don't have much choice and the only colourful one that were available at the time was the Deju Blue colour. This is quite light and we thought that the lack of a front grill would mean that it would show lots of bug splats all over the front too easily. The Dark Knight is quite understated but quite refined too. Hopefully it won't show the dead bugs too much either.
Talking of colours and the front of the car, we were half hoping to get a little green bar on the number plate to show that it was an EV. There isn't one though and I don't think I'll get a green sharpie onto it! I'm sure we can live without it.
Hyundai Kona Electric
For the uninitiated, the car is a Hyundai Kona Electric in Premium trim with a 64Kwh battery. It's the first brand new car we've ever had and considering the fact that our other cars are 10 years old it's quite a step up in terms of features. It came with about 12 miles on the clock.
Anna will love the heated seats, heated steering wheel and pre-conditioning so that it's nice and cosy for her to get into on frosty mornings. There are plenty of other settings and features to play with too. No doubt we won't use half of them!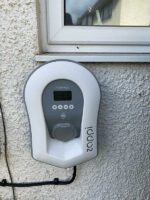 Zappi
It's also our first electric car. it was pretty much fully charged when we collected it – I bet the dealers don't fill new cars up with petrol for you when you buy them? However, we wanted to try out our Zappi charger to make sure it was working so we plugged it in for a while last night anyway. All seemed good and it meant I started the day with a full battery and close to 300 mile range this morning.
It might take us a while to work out the best charging schedule but I imagine that we'll charge overnight most of the time whilst on Economy 7 cheap rate tarriff. If we find we have lots of excess energy being generated by the solar panels (which are being fitted today) then we might trickle charge from that during the day as well – it'll be better to store the excess in the cars battery than to feed it back to the grid.
We'll have to go for a day out over the weekend to give it a bit of a run.