A Covid-Secure Christmas
2020 has been an odd year and for many a Covid-secure Christmas was going to be much quieter than usual. Not so for us as we usually spend it at home with just the three of us. So, the various coronavirus precautions, lock-downs and tiered restrictions didn't really change our Christmas plans.
Just the three of us
It would be the three of us at home as per usual. There would be far too much food, plenty to drink, snacks and treats galore. Presents under the tree, a stroll on the beach and snoozing on the sofa. Nothing has changed, a Covid-secure Christmas would be business as usual for us.
That said, it still didn't quite feel the same. Usually a few days at home over Christmas with just the three of us is something different. It's a change from the usual hectic life of work and school. This year though that wasn't the case. We've been at home with just the three of us pretty much all year. Lockdowns, working from home, social distancing and travel restrictions have meant that the entire year had been full of days at home. A Covid-secure Christmas almost felt like just another day in the midst of a pandemic.
Christmas Eve
Christmas Eve was at least a little less stressful than previous years. Dinner was a little different with a nice platter of charcuterie and a cheese fondue. It was nice an cosy with the fire on too.
There was also no need to go to bed with the plan of getting up again to put presents under the tree once Morgan was asleep . Instead we just put them under the tree before going to bed. I then planned to put his stocking in his room when I got up in the morning. As a teenager the last thing Morgan takes any notice of is what we're up to. There was also no chance of him being awake first thing in the morning, so popping his stocking in his room would be easy!
A Covid-secure Christmas Day
To Morgan's credit he did at least go to bed not long after midnight which is early for him. He did therefore get up once we woke him up at 8am as planned. I had of course been up for over 3 hours by then and Anna had been up for a while too. I got the fire roaring away and the present were waiting under the tree.
Breakfast was waffles and coffee and then it was time to open the presents.
There were plenty of them. Morgan didn't have quite as many as usual though. This was because he wanted a new gaming computer so everyone had chipped in to buy it. That was therefore his main present but he still had lots of other things. T-shirts, chocolates, books and even a zombie crafting set!
Anna had plenty of warm, cozy 'working from home' clothes, slippers and a mug warmer! She had quite a bit of gin too, maybe that's a 'WFH' essential as well? Along with this were books, mugs, jugs, various kitchen utensils, chocolates and a Sheila Fleet necklace.
I had various neoprene garments, an impact vest, chocolates, earphones, a bike-shaped pizza cutter and two brewing / fermentation kits. One for ginger beer, another for kombucha. They should keep me busy. As should the mechanical wooden puzzle to build. I too had chocolates as well of course.
Christmas Dinner
With the presents opened it was time for a couple of family phone calls and then to start on cooking. Anna had already cooked the turkey on Christmas Eve. There was still plenty to do. We had a Hello Fresh Christmas box again this year. Once again it worked well. The turkey was nice and it came with ALL the trimmings. Lovely crispy toast potatoes, pigs in blankets, sausage meat stuffing, red cabbage, roast parsnips and carrots, purple sprouting broccoli, a really nice bacon, hazelnut and sprout gratin. There was gravy too of course. We added to it as well with suede, cauliflower cheese, cranberry sauce and Yorkshire puddings – quite a feast!
The Hello Fresh box is supposed to feed four. Anna only cooked half of it and between the three of us we only ate half of that. The whole box would easily serve 8! We'll have leftovers as another roast on Boxing Day and then make a curry the day after that. No doubt we'll have another roast from the uncooked food later in the week as well. That's just the way it should be with a Christmas dinner so top marks for the Hello Fresh box again.
Anna did most of the work with just a bit of help here and there from Morgan and I.
Otherwise Morgan and I were in his room setting up his new computer.
The Rest of the Day
The rest of the day was fairly chilled. We pretty much lost Morgan to his computer.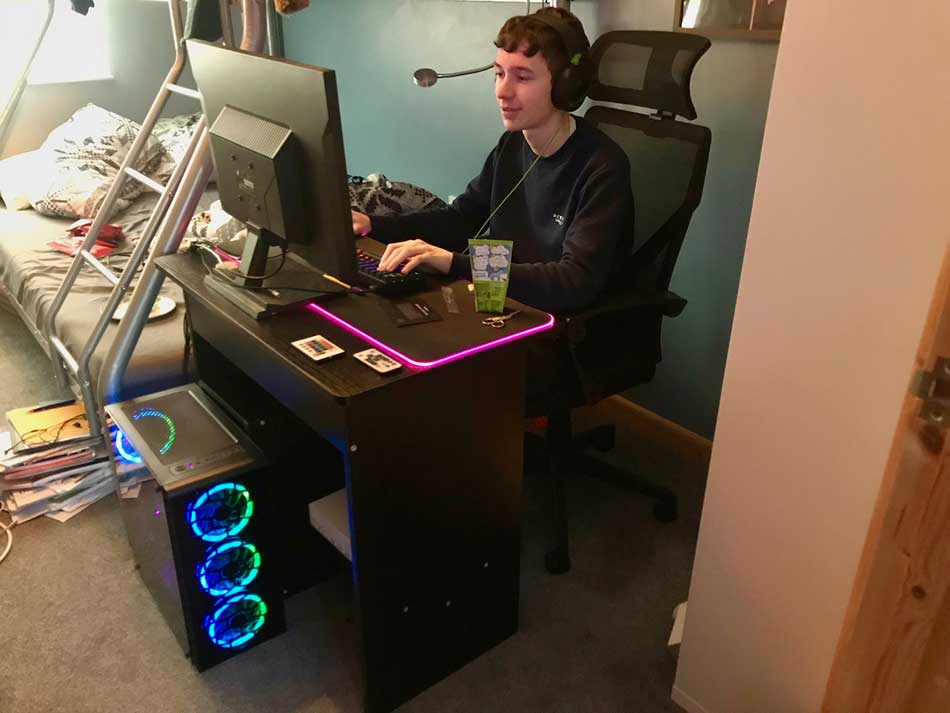 He did offer to help out here and there and did come in to watch a film as well. We also strolled over to the beach. Other than that we investigated various aspects of our new presents, spoke to family and of course ate far too many sweets and chocolates.
All on all a good old family Covid-secure Christmas Day.