Dragons in the Garden
It's been blowing a hoolie here for the last few days thanks to our local Katabatic wind known as Ivor. That doesn't seem to have stopped the dragonflies though and there have been quite a few in the garden. I've only ever had my phone with me when I've been out there so I haven't managed to get any good photos of them, but here's a quick iPhone snap of what I think is a Common Darter.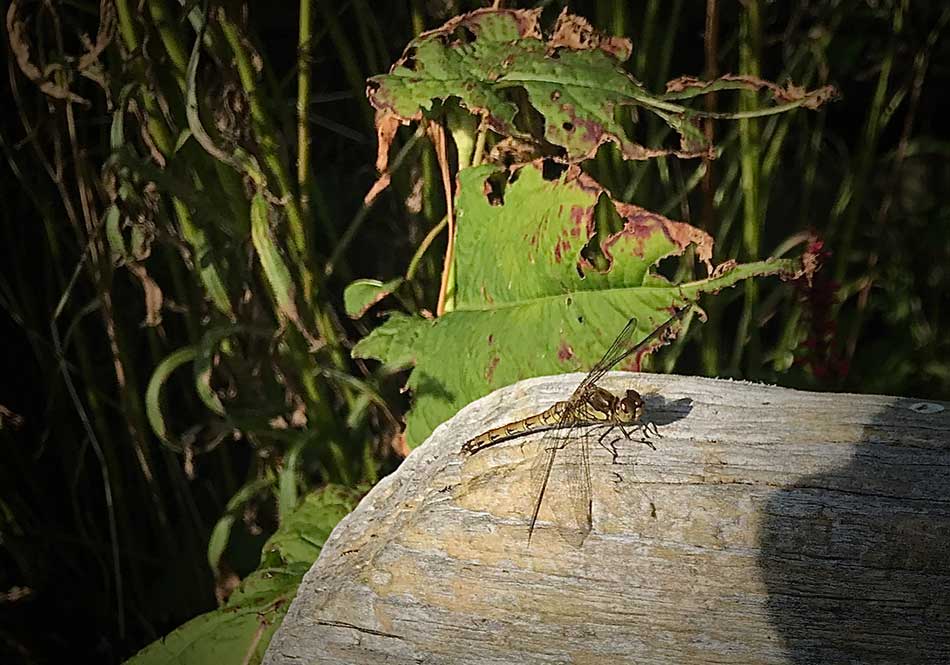 There were some red ones as well which I think were Large Red Damselflies and some bright blue ones too.
Making use of the Wind
I of course have been making the most of the wind. First with a sail on my speed kit from the seafront. Although I could get going once a little way from the beach it wasn't quite windy enough really. This made getting back upwind a little difficult – not ideal in offshore winds so I didn't stay out too long. Friday saw Alistair give my kit a lift to the estuary for a crazy day in the Ynyslas Superchop. Jon who was out on his kiteboard has posted a nice video of the session. It includes a few clips of me windsurfing along.
Saturday I loaded up Anna's car with my kit. Whilst doing so I discovered that I can fit less in the car than I can on my wheelbarrow. Saying that, it's a long walk to the estuary with my wheelbarrow so the car was still better. I started off on my 4.5m sail and little waveboard but soon changed down to my 4m. Even that was quite a handful at times. It did drop off a little later thanks to the fact that Alistair rigged his 3.5m sail. There wasn't enough for my 4m anymore and I couldn't be bothered to rig the 4.5m again.
Old Kit
I also noticed a little rip in a top panel of my 4.5m sail. I have now patched that up. It doesn't help that the mice attacked my 4m sail a couple of years ago so that's not in the best of condition either. They are both 14 year old sails so I guess it's not surprising really. What with that and the 18 year old board I was on I probably look like a crazy old man with old fashioned kit these days!
The trouble is, I need a new boom and a new harness as well and I can't afford it all. To tell the truth I can't afford any of it which is why it's all so old. The fact that I would like a carbon boom just makes matters worse as they don't come cheap. Plenty of things for my Christmas List though! Although with the way 2020 has been so far it wouldn't surprise me if Christmas was cancelled completely.