An Unexpected Broadband Upgrade
I had an email to say that our Line Rental 'Super Saver' was due for renewal soon. I therefore logged onto our account to renew it and while I was there thought I'd see what other Broadband offers were available.
The Joys of FTTP
Getting FTTP back in 2016 was a game changer for us. The painfully slow Broadband speeds that we had endured until then were suddenly brought into the fast lane. We were one of the first places to get FTTP so we leap-frogged those who were closer to exchanges and cabinets and rather than lagging behind with Internet speeds we had a faster service than most people. That has remained the case until now. With typical downoad speeds of just over 70Mbps and upload speeds of just over 20Mbps we have enjoyed useable Broadband ever since. Even if all three of us are streaming video to separate devices simultaneously there was no longer an issue and everything worked fine.
We were also living safe in the knowledge that should those speeds become limiting our FTTP line would support Gigabit Broadband and could therefore deliver speeds up to 1000Mbps!
A Better Broadband Deal
Because of this I wasn't necessarily looking for faster Broadband. I was just looking to see if I could save any money. However, the first deal that I saw once looking at our account was for a massive speed increase. This package would give us broadband speeds of up to 910Mbps. (910Mbps download, 110Mbps upload). Now, that's a little excessive and not really needed. It was quite tempting though, if only for the bragging rights. But it was going to cost an extra £12 a month which wasn't really what I was trying to do.
Next there was an offer that would double our download speeds to 150Mbps. Again, tempting and at an extra £7 per month almost worth it. Not really though as the 75Mbps service we already had was fine and I didn't really want to have to pay more than I already was. I therefore continued to scroll down the page and then came across an offer that I couldn't refuse!
The cost was exactly the same as we were currently paying but we would get an upgrade to BT Full Fibre 500 – That's download speeds of up to 510Mbps and upload speeds of up to 73Mbps. Quite an upgrade and at no extra cost. I'd be stupid not to go for that. So go for it I did.
Life in the Fast Lane
Our new Smart Hub 2 arrived the next day. In less than 24 hours of placing the order we were up and running with new Full Fibre 500! Speeds haven't quite hit the lofty heights of 500Mbps yet and for some reason different devices on the network seem to be reporting different download speeds. Some of them are reporting slower than they were before. Maybe the wi-fi protocol in some of them isn't fast enough and that is now the limiting factor?
My iMac is however consistently getting download speeds of over 300Mbps and the upload speeds do seem to have risen to those expected from the service at around 70Mbps.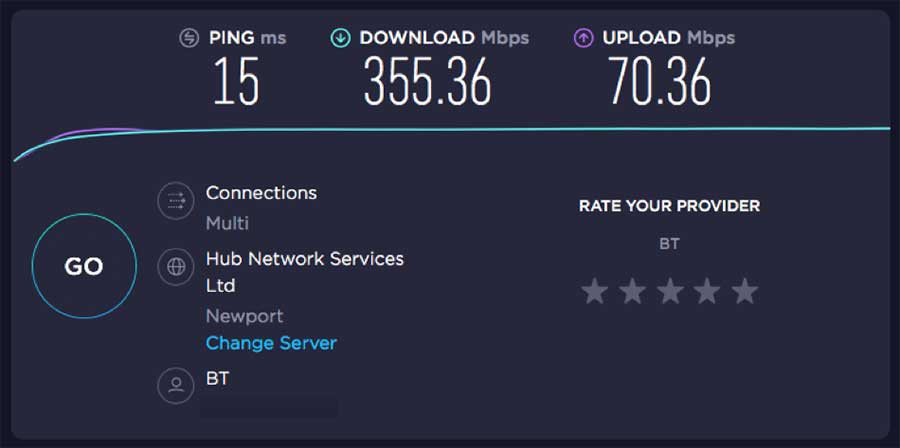 That's not too bad really, especially when you consider we live in the middle of nowhere! It would be nice to actually hit 500Mbps though!