Kilimanjaro Trek Day 1 – Machame Gate to Machame Huts
Kilimanjaro Trek Vital Stats
Machame Gate to Machame Huts
Distance: 7.7 miles
Starting Elevation: 1841m
Ending Elevation: 2981m
Total Climbing: 1150m
Total Descent: 8m
Highest Elevation: 2981m
Total Time: 5:12:38
Moving Time: 2:38:12
Calories: 1511
Oxygen Saturation at end of day: 88%
After the hassle of getting to Moshi [see 'Getting there 1' and 'Getting there 2'], I had a surprisingly good sleep. The bed was comfortable, the air conditioning was working well so things were nice and cool and with ear plugs in I couldn't hear it. I was soon asleep and stayed that way throughout the night. I never sleep that well but after the long days of travelling and lack of sleep, I was now here and on time to start the trek as scheduled so the stress of the travel had obviously subsided.
The following morning I had breakfast in the hotel and then met everyone else, and the Trek2Kili guides in the lobby. Bags were put on top of the minibus and we took up our seats. There was a bit of a pfaff in town to start with.
First stop was the Trek2Kili offices to meet Azizi (the big boss) and pick up some final bits of kit. We then stopped at a few shops for some essential supplies and picked up various guides and porters along the way. Eventually we left the busy streets of Moshi behind and headed out along the main road before turning right towards the Machame Gate. This road climbed steadily through coffee plantations and banana tree groves, passing little villages and market stalls as we went. It then started climbing more steeply as we passed school children in smart school uniforms. The minibus worked its way down through the gears as it struggled to climb the hill with it's cargo of people and kit. Occasionally we would cross a bridge were a mud-brown mountain stream tumbled over rocks below. Tanzanian women in colourful dresses walked purposefully along the roadside with huge bunches of bananas perfectly balanced on their heads. This was most definitely sub-saharan Africa. It was awash with vibrant life and I loved it.
Machame Gate
We arrived at the Machame gate where mayhem seemed to dominate. Luggage was being thrown from minibus roofs, Porters queued in a huge line having their bags weighed so as to make sure they were within the 20kg weight allowance. Trekkers were preparing for the journey ahead and guides were ushering them this way and that. We all had the obligatory gate photo taken, signed in at the office and then headed into a shelter where we were presented with a substantial packed lunch.
With lunch finished there was some more waiting around while our porters were organised and then we finally started to make a move. Rucksacks on and we were now about to start our trek. We stopped again within no time for a team photo at the official start of the trail.
Through the Rain Forest
The first part of todays walk took us 2 miles along a wide forest road with dense rainforest to either side.
Green moss hung from the countless species of trees and birdsong filled the air. After about 45 minutes the path ended at a clearing where there was a small toilet block. We stopped again here for a quick break and then headed onto a narrower, pedestrian only path that increased in steepness but was still easy going. The rain forest was already giving way to cloud forest. We stopped occasionally to look at some of the flora. The red and yellow Kilimanjaro impatiens was the star of the show but there were plenty of other species that are familiar to us as houseplants.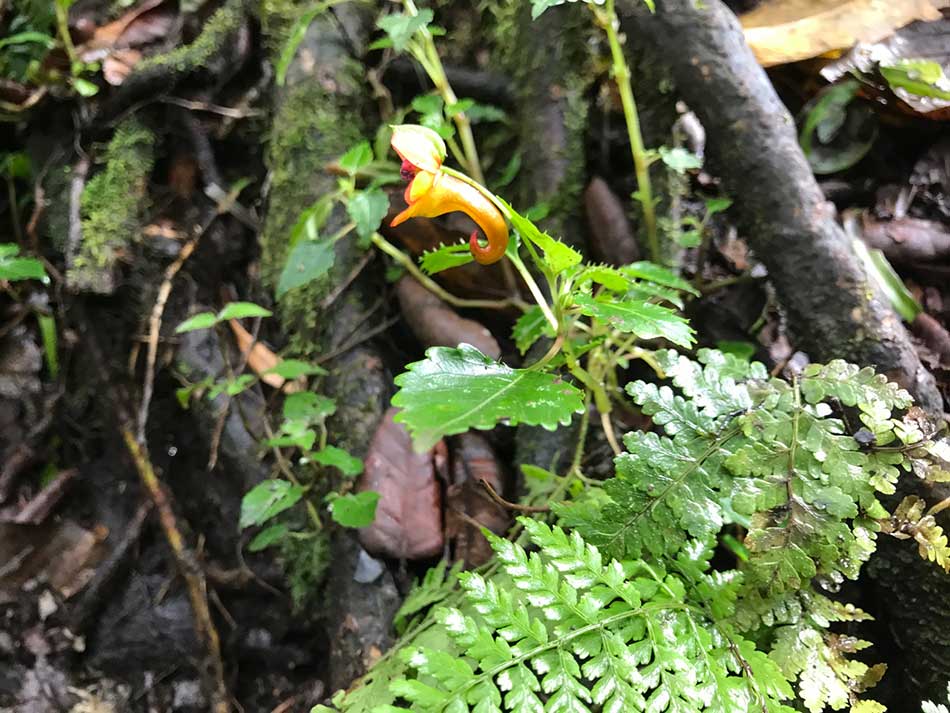 The guides stopped to tell us that the common houseplant Dracaena fragans is known as "masale" to the Chagga people of the region, who regard it as holy. They also explained the meaning of the name Kilimanjaro in various Chagga dialects and pointed out streams of Safari Ants going about their business on the forest floor.
Group Bonding
We chatted as we went, getting to know each other and getting to know the guides. As well as myself, our group of six hardy adventurers consisted of Camilla and Antonia, sisters from the SE of England. Camilla is an academic vet who had already been in the south of Tanzania for a week or so working on research into goat diseases. Antonia was a lawyer who had been trekking before in Patagonia so knew what to expect to a certain extent. The three boys who were with us all knew each other from their jobs working as bankers in the City of London. All were in the late 20's and didn't have much experience of trekking in the mountains although Simran had climbed Snowdon once and made sure that we knew so! Meanwhile Richard entertained us with his banile conversation and Hugh argued with almost every point he said!
Our guides were Nelson (head guide), Hussein and Conrad, I had sat next to Conrad on the minibus so had already got to know a fair bit of his life story on the journey there. Hussein and Nelson where less forthcoming with their personal stories but had plenty to share about the mountain, it's floral, fauna and it's people.
The forest was thick around us with tree-ferns commonplace and moss covering every available surface.
We passed the time with quiz questions and such like, although I did have to argue with the group at one point when they decided that a fish wasn't an animal. Even Camilla who is a vet disagreed with me and wouldn't be convinced that a fish was an animal. I quoted some taxonomy at them but still they wouldn't agree. It's fairly basic stuff really. The Animal Kingdom is divided into two phyla, the Invertebrates and Vertebrates. The invertebrates include animals such as arthropods, insects, worms, molluscs and others. The Vertebrates are divided into 5 classes, Mammal, Reptiles, Amphibians, Birds and Fish. A fish is therefore, without a shadow of a doubt, an animal!!! I did let it go eventually I promise!
As we progressed higher into the Forest, we heard the calls of the Black and Red Turaco which at first we thought were monkeys. We did spot a couple of them high in the treetops though and then caught a nice view of a group of Black and White Colobus monkeys feeding in canopy. I used to look after these when I was a zookeeper but seeing them in their natural habitat, wild and free was quite a treat.
Towards Camp
The path steepened as we climbed along a spine between two forested valleys with a stream that could be heard to the right of the trail. We transitioned fairly abruptly from cloud forest into heathland where spindly tree-sized giant heathers suddenly dominated the vegetation. Red Hot Pokers (Knipforia thomsonii) were also seen growing out from between rocks to the side of the path. We soon emerged out into the busy Machame Camp. The walk here had been fairly quiet, we had passed a few groups along the way, but the camp itself was full of life. Porters were busy setting up tents, chefs were cooking and trekkers were getting familiar with camplife.
Our Trek2kili camp was actually really nice, It was set up in its own private little grove away from the others so we felt as though we were the only ones there. It was a little cramped due to being set up within a confined little grove but that wasn't an issue.
We were shown our tents. I had a tent to myself as I had paid a single supplement to ensure I didn't have to share with anyone. I have a hard enough time as it is getting on with people when forced to spend extended periods of time with them so didn't want to have to share with a stranger for the whole trip. A tent to myself meant some space and 'me-time' now and then. The tents were good and I sorted things out for the light as the light faded.
We had the obligatory Camp Signpost photo and then got to meet David our waiter and sample the delights of the cuisine expertly prepared by 'King' our chef. Tonight it was a delicious soup followed by chicken and rice and then fruit for pudding.
The weather had been OK during the walk. A little hot and humid at times and quite misty by the time we got to camp, but the rain had held off. It did start raining once we were in camp though and views of the mountain that were supposed to be visible through the heathers wasn't possible.
The guides performed a health check on us all and briefed us on tomorrows plans. My oxygen saturation level was 88% and my pulse 65bpm. The altitude was already having an effect. My watch told me that we were at an altitude of 2981m, the official signpost said 2835m and the guidebook suggested 3021m. Whichever was correct we were close to 3000m which is pretty high, it is much higher than twice the height of Ben Nevis, the highest peak on the UK and higher than Mawson Peak, the highest peak in Australia at 2745m.
I settled into my sleeping bag in the dark but it was clear that I would be far too hot in that so I stripped down to my boxers and slept in my luxury, super-thin silk sleeping bag liner on top of my sleeping bag. When I say sleep, I mean I lay there not sleeping a single wink until it was time to get up in the morning. I guess that's the price I pay for such a good sleep in the hotel the night before.