Box End Quadrathlon – 2019 British Championships
With only a couple of weeks between races there was barely enough time to recover from Dearne Valley before I was off to the British Championships at Box End. Last year Anna and I had made a weekend of it and it was a gorgeous sunny weekend with really warm water temperatures and a good fun course.
This year it was looking like more of the same as I drove through the sunshine for 4 hours to get there. The course was the same as last year and the weather looked set to be good as well. I was on my own this year though as Anna had a band dinner to go to on Saturday evening. I arrived fairly early and was surprised to see an already busy campsite. I think camping may have been a fairly new thing here last year but this year we had proper forms to fill in and other non-quadrathlon people were camping on site too. It was a buzz of activity.
It was also very hot at 33ºC with the sun blazing. The Wake-boarding looked very inviting as did the water itself. Although I think they might be putting some blue dy in the water.
It wouldn't surprise me actually as blue dye cuts down the penetration of certain wavelengths of light and therefore prevents algae and weed growth. It makes the water look nice as well. The wake-board cable tow was up and running and the inflatables and obstacle course in the other lake were busy too. There were people sat on the banks watching, soaking up the sun and picnicking and a general feel of holidays filled the air. I searched for some shade and parked in the best I could find!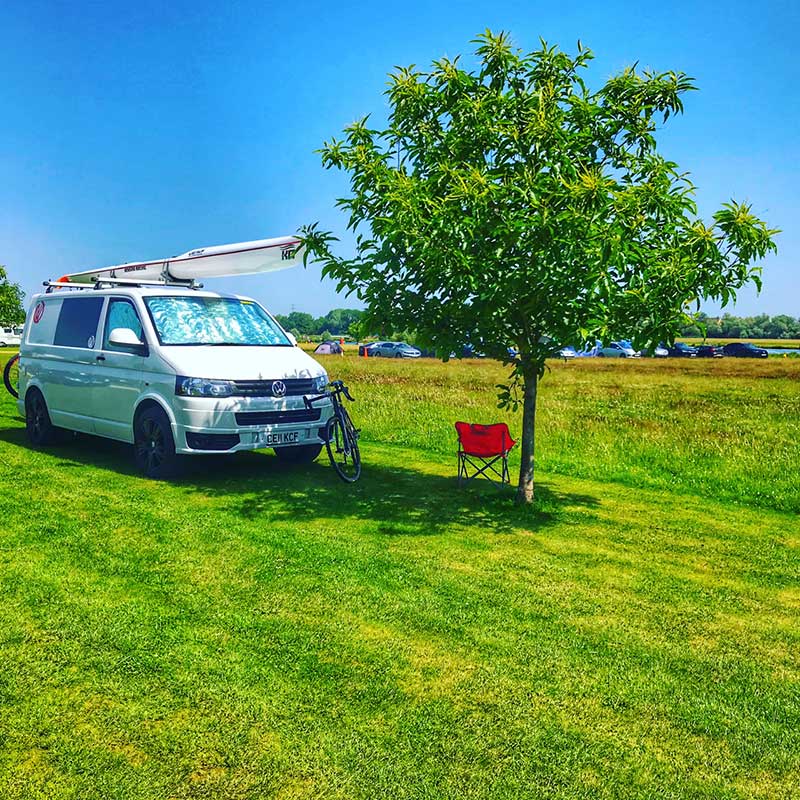 I then headed off to recce the bike course and start my dilemma of which bike to use. I was undecided until later in the evening but went for the Mountain Bike in the end.
The rest of the day was spent chilling in the shade, chatting to friends as they arrived, eating ice creams and taking life easy.
I did wander over and help Mark with some setting up for a while as well. I would of course liked to have gone for a wake-board but it wouldn't have been a good idea a day before a race. I actually wish this race (and probably some others) were on a Saturday. That way we could all camp over after the race, have a beer or two and then do some other activities on the Sunday. I think races are traditionally on a Sunday as the roads are quitier making the bike leg a little safer. That's not an issue here as the bike portion is off-road and all contained within the Box End Waterpark.
Race Day
I was up nice and early on race day, having had an OK few hours of sleep. With breakfast done it was time to start getting ready so I took an easy paddle across the lake to drop my surf ski off in the transition area and then wandered back around the lake to get my bike and running kit. With that in transition I then wandered back again to get changed.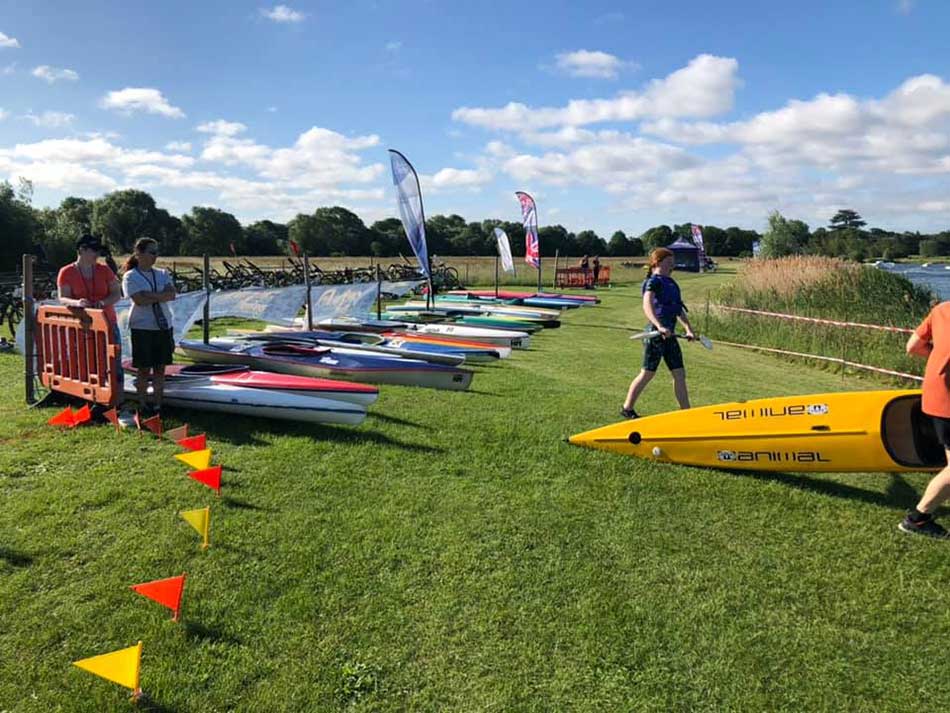 It takes quite a while to set everything up for a quadrathlon and even more so when you have to walk around the lake several times. I didn't therefore have much time for anything else before finally strolling back to the start area for the race briefing. Things were looking good.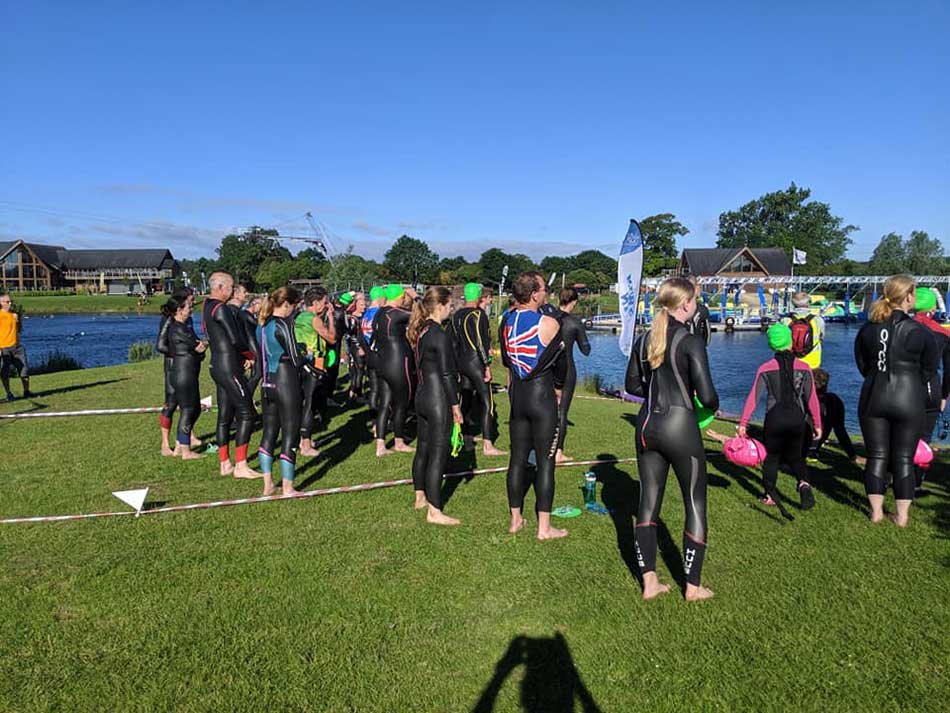 Temperatures were less than the previous day and fluffly white clouds were scuttling across the sky due to a stiff breeze. The water was looking lovely and I couldn't wait to get started. The competition was looking tasty too with Michael Mason and Billy Butler likely to beat me. Maybe that's the wrong attitude to have, but sometimes you have to admit when others are faster than you. There could of course be other people that I didn't know vying for the 3rd place spot as well.
The Swim
We were soon all in the warm waters of the lake. Apparently the water temperature was around 22-23ºC so wetsuits were optional but I think almost everyone was wearing one. The start sounded and we were off. The swim is a simple course up the lake, around a couple of buoys and back to the beach. I soon moved out into the lead and started sighting for the buoy. One side of my goggles filled with water though so I only had one eye to keep a look out with which made judging the distance a little difficult. I eased into a nice steady pace and was making good progress. Sometimes with swimming, easing up a bit is actually faster than trying to go too fast and I think that was the case today. I rounded the buoys with a bit of a lead and started my way back down the lake.
For some reason I kept veering off towards the bank on this stretch of the swim and would find myself in amongst the weeds. I made note of this though as it would be a good thing to avoid the weeds in the kayak now that I knew where they were. I continued to increase my lead and soon exited the water in first place with just over a minutes lead.
Behind me, Michael Mason was next out with Billy Butler alongside him. My time for the 750m swim was 10:20. Michael was out at 11:25 with Billy at 11:27. Next was Helen at 11:52 leading the womens field.
The Kayak
Out of my wetsuit and onto the lake for the kayak. T1 went smoothly in 26 seconds, but Billy and Michael also did sub 30 second transitions so were about to start chasing me down. I had to climb over one of the Quadkids who had done a shorter swim and was being assisted into her kayak as I man-handled my ski into the water for a beach start. I was off and paddling and probably about to be overtaken by Michael and Billy as they are both from a kayaking background. My big, heavy surf ski wasn't helping matters with the high bow catching the wind somewhat as I made my way around what would be 4 laps of the lake.
Sure enough, it wasn't long before first Billy and then Michael passed me. I was losing ground to them all the way but was soon weaving between people further down the field as I lapped them. The sun was shining everyone seemed to be having fun and I'm sure there were smiles all round behind the grimaces of effort.
My time for the kayak was 28.01 which wasn't great and was only good enough for 4th fastest split of the day. Up ahead Billy had smashed out a 23:51 kayak split and Michael a 24:55. Not only had they caught and passed me but they had opened out a lead of 2-3 minutes on me.
The Bike
T2 was a little slower than T1 as I struggled to get my cycling shoes onto wet feet. It still only took a minute though and I was off on the bike. I'd plumped for the mountain bike and soon decided that it was a mistake. The drag from the large tyres mean that it hits a maximum speed that is slower than that of a CX bike so the long flat grassy straights soon became a bit of a slog. The more upright position of a MTB didn't help in the wind either. I had my Garmin set to tell me my lap times and the first lap ticked by at 13:27. That was slow and had me on target for a bike time of around 40 minutes. Last year my bike split had been 37:22 and I felt a little fitter this year. At this rate I was going to be two and half minutes over that time. Yep, I was doing maths during the race yet again. I assumed that up ahead of me Billy and Michael were opening out even more of a lead.
By the end of lap 3 and the end of the bike, sure enough, my bike time was 39:50. There was no coming back from that. There was no sign of anyone else around me. Billy and Michael were now way ahead. They had 2-3 minutes on me going into the bike and I assumed that they had gained another 2-3 minutes on the the bike. There was no way I could catch them, especially as they were likely both faster on the run than me anyway. My gamble to use a MTB hadn't paid off.
The Run
With T3 out of the way I was off onto the run and had the luxury of nothing to do. There was no one within striking distance behind me and no hope of catching those in front of me. I therefore had the easiest run I've ever had in a race.
The run course follows the same route as the cycle course so there were cyclists still out on course passing me every now and then. I jogged around taking in the scenery, chatting to cyclists as they went past and just took it easy. My 5km run time of 23:45 may look terrible and it was, but I could have gone a lot faster had I needed or wanted to. As it was, it meant that I finished feeling great and won't have to put up with any DOMS over the next couple of days.
After the race I sat in the sun for a while chatting to Billy and Michael whilst waiting for the next competitors to finish. Billy had held Michael off to take the win but with only 20 seconds to spare so they had both had a tough race throughout with no let up. I was looking and feeling very fresh in comparison to them!
The Results
I had held onto 3rd place fairly easily and the wrong choice of bike didn't make any difference to the standings. If anything it meant I had a more enjoyable race as I was able to take it easy on the run. A faster bike section wouldn't have actually made any difference to the positions, it's the kayak where I still need to improve. In fact, having now seen the provisional results my bike split wasn't actually too bad despite being on a MTB. It was third fastest of the day at 39:50 and only about 30 seconds slower than Billy and Michaels splits at 39:19 and 39:27. Maybe I hadn't lost as much time as I'd thought on the bike after all. I still wouldn't have caught them on the run though even if I'd ran at full pace as I had still lost too much ground to them in the kayak. I guess that just fuels my need for a K1 and some proper paddling technique.
Still, 3rd place overall in the British Championships isn't too bad.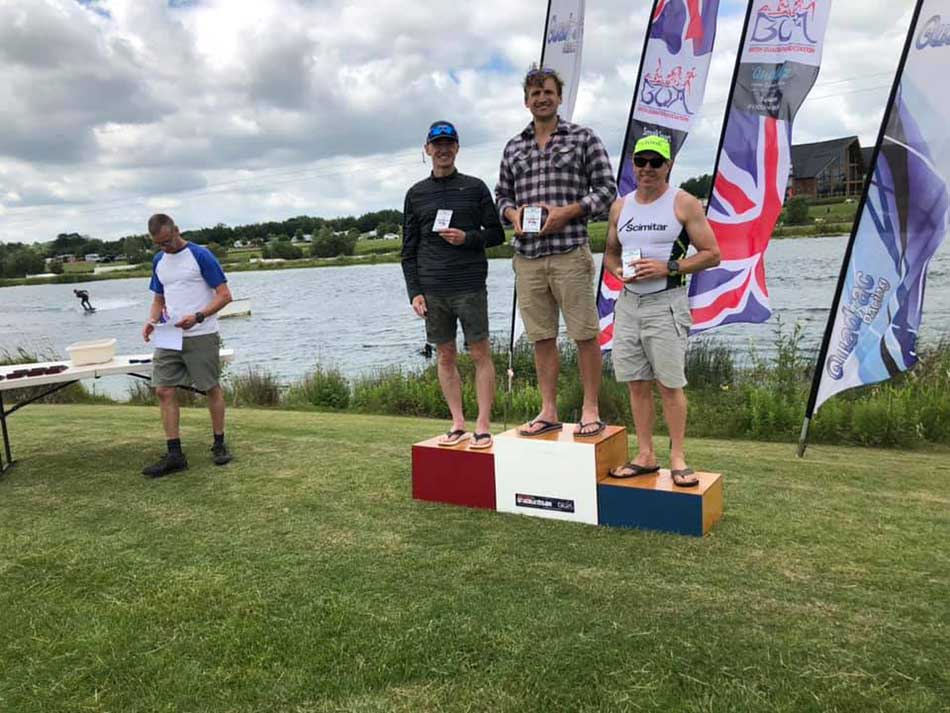 Once again it had been a glorious weekend at Box End and a good race on what is a great course. I think next year I'll have to have an extra day there afterwards so that I can have a go at wake-boarding too. Everyone seemed to enjoy themselves and the weather was amazing. Thanks as always to Mark for organising it and his helpers for helping. All seemed to go smoothly from where I saw it and the provisional results were out that evening which is always nice.
It was now time to pack everything up, load up the van, have a shower and strike camp. Goodbyes were exchanged and no doubt we'll all meet again at the next one as the Quadrathlon circus heads to Shrewsbury in September. I should really lose some weight and try to get closer to the likes of Billy and Michael, but instead I stopped halfway home for a Whopper Meal at Burger King and of course some chocolate and then had two and half puddings after dinner in the evening. It's just as much fun in the middle of the pack as it it at the front after all.