Isle of Man Coast Path – Derby Haven to The Sound
Hot on the heels of my first Coast Path run along the Raad ny Fooilan Coastal Path on the Isle of Man it was time for another go. The last one had been fairly short from Douglas to Derby Haven so I set off after breakfast to Derby Haven ready to continue on my way.
Derby Haven and Langness
I wasn't intending to go to far today. At first I was just going to do a faster, shortish run out around Langness and then see how I went from there. I therefore started off at a steady pace along the shore of Derby Haven and then out onto the low cliffs and Golf Course of Langness.
There was a stiff Easterly breeze blowing but it was already warming up and the sun was coming out.
Things were fairly quiet out around Langness and past Jeremy Clarksons house.
There were a few dog walkers here and there but no one else around. I did see a family of Choughs on the short grass of the gold course though. Always nice to see choughs, even if the camera on my phone wasn't up to capturing them.
Castletown at Port St Mary.
Once off Langness it was a run along the road between the airport and Hango Hill and then into the streets of Castletown. The sign posts were a little hit and miss from here on. It seemed as though all of the signposts for the coast path in a clockwise direction had been broken off. There were plenty pointing back where I'd came from but none in the direction I was going. It was really just a matter of hugging the coast though.
Out of Castletown I headed off towards Scarlett and past the flooded quarry which looked perfect for a little swim. It was then along the rocky coastline of Scarlett Headland and then off towards the roads I cycled along the day before towards Pool Vaaish. I was still feeling quite good so continued on along Shore Road and besides the beach of Gansey. I then headed into the town of Port St Mary and along the beaches and harbour.
I'd never really explored Port St Mary before so found some new places, including the Karran Quirk Walkway which was nice. It's also known locally as the Cat Walk and is an elevated path above the sea linking one part of the town with another. I think I'll have to take Anna and Morgan for a walk here one day. From here it was a short run around the harbour and up onto the little cliffs above the surf spot known as Drivers. There wasn't much in the way of surf today.
On to The Sound
I was making good progress and so far the going had been flat and easy. I had two options really. Option 1 was to end the day here, give Anna a call and head back. Option 2 was to head up onto the hills and cliffs and on towards The Sound. You can guess which one I opted for. It was still fairly early in the day, the sun was shining and I felt fine so why not carry on for a few more miles.
I headed steeply uphill, past Port St Mary golf course and onto the cliffs above Perwick Bay. The path became much more rugged from here on. Steep ascents and descent as it twisted this way and that high above the sea. Past the Chasms and out onto Spanish Head. The cliffs here are renowned for the impressives fissure cuts into huge cliffs.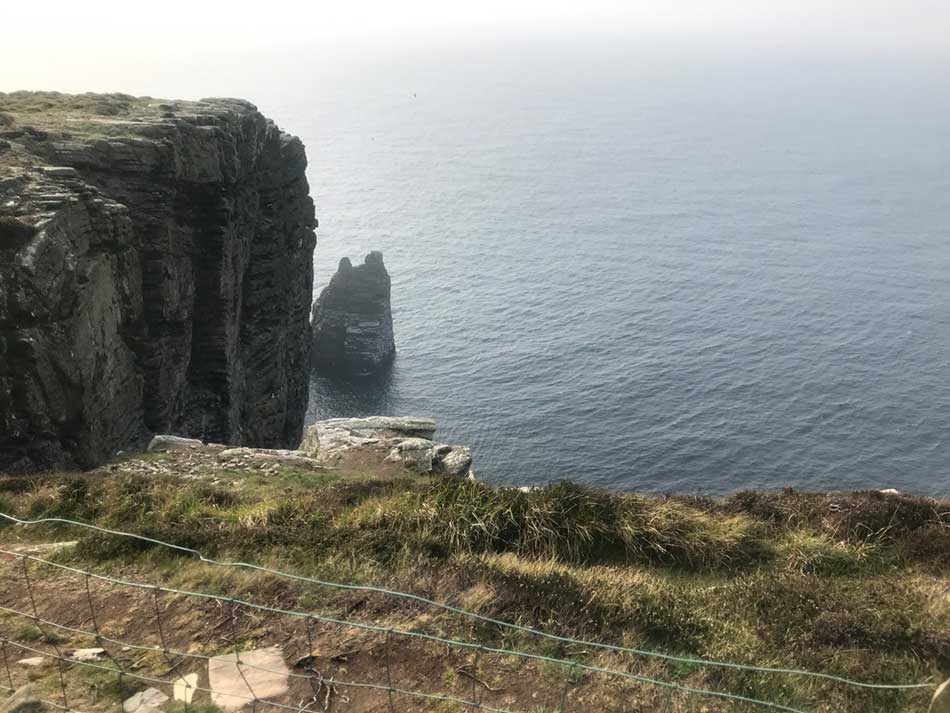 Eventually the Sound and the Calf of Man beyond it came into sight as I made my way across the windswept cliff tops.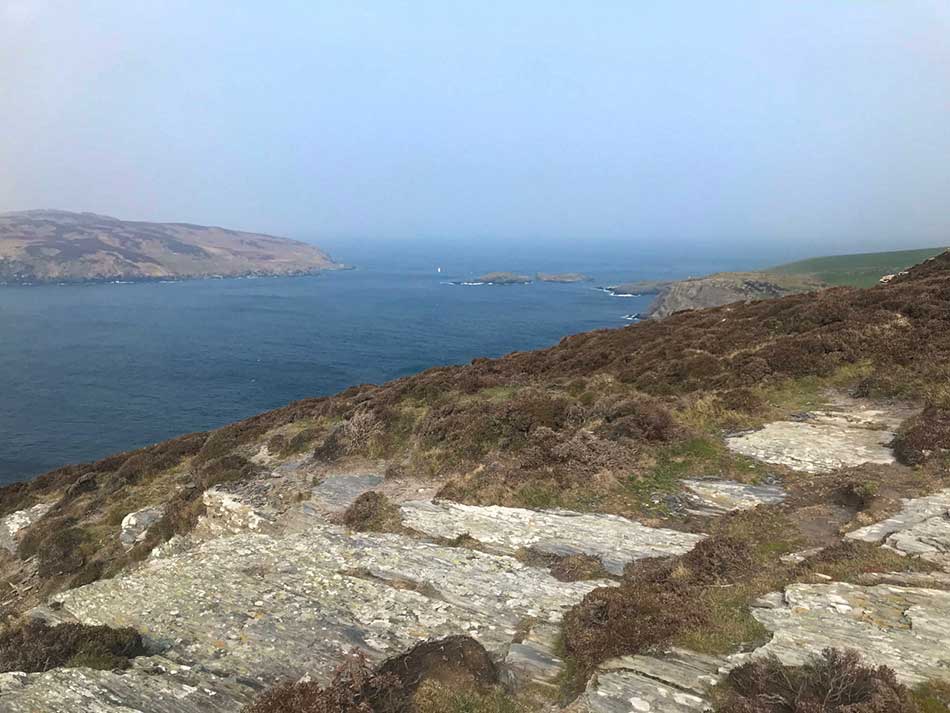 The path hugged the coastlione as well as it could around every little headland. Eventually after almost 15 miles of running I approached The Sound.
I thought this would be the ideal place to sit and wait collection by Anna. Out came my phone, only to realise that there was no signal. What could I do? My only option was to continue on for a few more miles into Port Erin where I knew there would be a phone signal. It was getting a little later now though and the morning was wearing away so I didn't want to stay out too long. Fortunately I managed to pick up some Wi-Fi from the Sound Café and was able to get a message to Anna. I sat in the sun to wait for her, half wishing I'd been forced to continue on to Port Erin.
The wind was still blowing and I soon started to get a little chilly so on went my jacket, then my buff and then a hat. Eventually I realised that there was a much better option than this so headed into the café where warmth and a chair awaited.
Anna arrived soon after so we had a quick coffee and a scone and then headed back to Derby Haven so that I could collect the van.
That's another 15 miles or so of the Isle of Man Coast Path completed. Still a long way to go, but in comparison to the Welsh Coast Path not far at all. Today's route was a nice one. The windswept Langness to start the day, a flat easy going section through Castletown and onto Port St. Mary followed by the dramatic cliffs of the southern tip of the island. A café finish is always a bonus too.