Isle of Man 2017 – Day 4
The last day of our trip to the Isle of Man already and as usual I was up before the others. I headed off into Castletown to see if it was windy enough to windsurf. It wasn't so I got into my cycling kit instead and went for a bike ride.
Cycling around South Barrule
I headed through Castletown and along the coast road to Gansey and then up towards Port Erin. Here I headed up the long climb past the Sloc and onto the Round Table. It's fairly steep in places but mainly just a long slow slog. It's worth it though not only for the views but for the roads around the top too. Nice smooth tarmac, virtually no traffic, views out across the island and a slight decline most of the way so some fast speeds too. I followed the road around past South Barrlue plantation and out onto the Ballmodha Straights road. From here it was downhill all the way into a cold headwind and back to the van at Castletown.
I then headed back to the others for breakfast.
Windsurfing in Castletown
By now the wind had of course picked up, so we all headed back to Castletown to see if I could go windsurfing.
We had a picnic with us too and when we got there the sun was trying to shine and the wind was filling in. I hadn;t brough much windsurfing kit with me as we haven;t quite worked out a suitable way of getting it into and off the roof  yet. I can manage it on a nice still day just about, but getting too many boards on top of each other on the van and tying them all down in a gale will be difficult. I therefore only had one board, my biggest board, a 104ltr Starboard S-Type. I went on on this with my 5.7m sail. I did manage to get going eventually but there wasn't enough wind for it and I ended up downwind and having to complete a walk of shame along the beach.
Back at the van I rigged my 6.7m sail and tried again. There was only just enough wind for this but I was able to get going properly and even make some ground upwind. I had a fun hour blasting around the bay as the wind gradually increased.
We picniced in the van, chilled in the sunshine and packed up.
A Walk with the Norbury's
Anna had planned to meet up with a friend and her family at 3pm so we headed off to meet Claire, Lucy, Alex, Holly and Fern the dog. We arrived at theirs just as they got back and so headed out for a walk. Anna had a little nose at the house that she lived in as a child which has just been sold and we found a geocache too. This was followed by cups of tea and a chat before we headed back to Pat's for dinner.
Pool at last
After dinner Morgan and I walked into the Colby Glen where we finally managed to have a few games of pool. We managed to keep up with a speed walker on the way there as well, which made the walk a little quicker! We had the pool room to ourselves as well which was good. None of us are any good at pool but we did seem to improve after a few games. I guess we just need more practise.
And that was that, the last day of our holiday and time to get ready to head home.
The Journey Home
The next day we packed the can and headed off. The ferry crossing was fine, a little rough in places but it was soon over with. We had booked into a campsite about 45 minutes from the ferry terminal. We thought it would break the drive home up a little, would extend the holiday a bit and would give us another night in Ramsey the Camper. We were soon parked up in a lovely little campsite just outside a town called Winsford. The campsite was super clean, friendly and very quiet. The toilet and shower blocks were lovely and warm too which is surprisingly nice when taking that 3am trip to them for a wee. They also had a little garden with a number of owls in it which we were allowed to wander around.
We headed into the Shrewsbury Arms for dinner – I huge 'Shrewsburger' for me which consisted of a massive and very nice burger complete with an equally huge slice of black pudding, bacon, chorizo, onion rings and a fried egg. Delicious.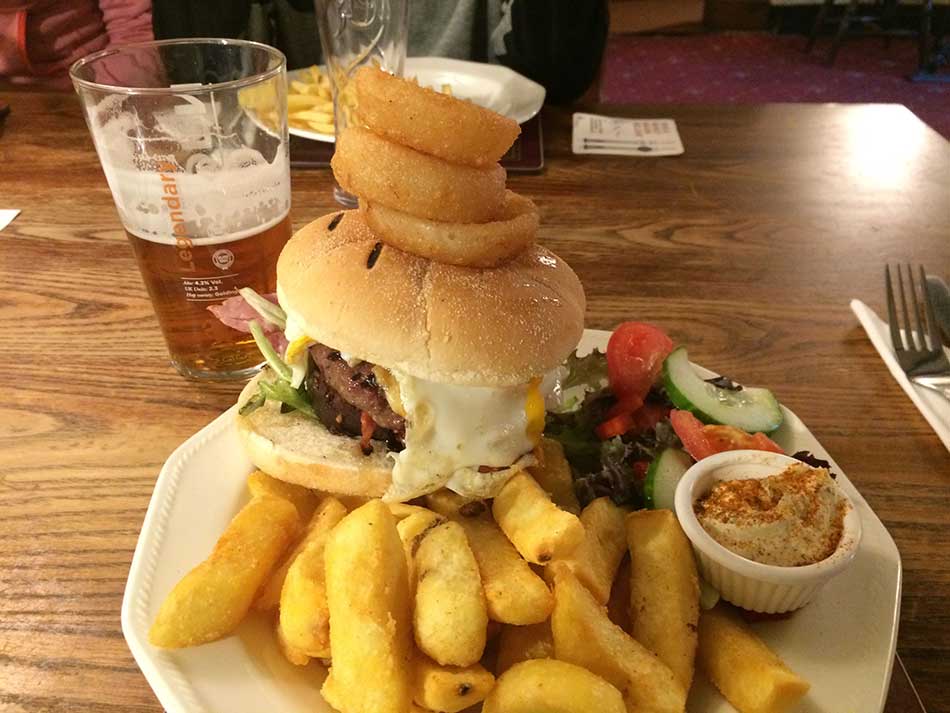 As we were about to leave we managed to get encouraged to stay not only for another drink but also for a pub quiz. It turned out to be a good fun night. The quiz was good with a wide variety of questions and some fun challenges and there were various rounds of 'Higher or Lower' style games too for raffle prizes and such like. We didn't win anything but we weren't last either. A good night out followed by a quick walk back to the van along the dark road.
The following morning I went out for a little run before the others got up. We then breakfasted in the van and headed home. It was a fairly slow drive home thanks to tractors and caravans on the roads but at least it was only a couple of hours.
Our holiday was over with, but with the Easter Weekend ahead of us we still had a few days before heading back to work.