Cyclo-cross 2016 Round Up
The final overall standing in the Welsh Cyclo-cross 2016 league have been published recently. It's therefore time for a little round-up of my first ever season racing Cyclo-cross.
Why Cyclo-cross?
Before I get into the results and how I fared against my competitors, a quick recap on why I chose to do Cyclo-cross in 2016. The main reason was simply "because I could". The Welsh Cyclo-cross 2016 league season ran from September to the end of the year. I didn't have much else on at that time and I thought it would be fun to give it a go. It was also attractive because it would be something that I wouldn't be too good at. As a triathlete if I had a weakness it was on the bike, and as a cyclist my weakness would have to be bike handling. Cyclo-cross would therefore be a perfect opportunity to work on this weakness.
I was also looking forward to being part of a race series without too much pressure. My success in triathlon meant that I had high expectations whenever I turned up to a race. However, I was no longer investing quite so much time and energy into proper training so my performances would have reflected this. It's all well and good winning races but you tend then to expect that to always be the case. Winning isn't likely if you don't prepare properly, and once you are used to winning, coming second (or as is more likely further down the field) just isn't the same. This added pressure, lack of proper preparation and some niggling injuries that prevented me from reaching my potential as a triathlete this year meant that my performances would have declined and this eroded the appeal of triathlon races somewhat.
There would be none of this with Cyclo-cross. I'd be somewhere near the back of the field. There would be no expectations. I'd hopefully see some improvement as I got more experienced at it. Each race would be unique so comparing times and speeds just wouldn't be possible. The competitive aspect would still be there but the expectations and decline in performance wouldn't.
On top of this, the nature of the league with 11 races over the course of a few months would provide a nice competitive focus. I'd have something to aim for, something to at least keep a little fitness for and something new to learn. What's more, it would be the perfect excuse for a new bike!
The Cyclo-cross 2016 Race Season
I wasn't  able to do all of the races but I did the majority of them. The Welsh Cyclo-cross 2016 season looked like this. The links are to the race reports from races I competed in.
I race in the V40's category which seems to be quite competitive. The format is the same each week. The V40's, V50's and Women all race at the same time (12:15pm). The V40's set off a minute or two ahead of the V50's and women though just to break up the field as little as there have been so many entrants each week. We then ride around a fairly short lap full of twists, turns, hurdles and other obstacles here and there. The laps are generally quite technical with lots of tight turns, off-camber slopes, steep short climbs, mud, gravel, soft sand and marshy grass. In general the laps take me around 6-7 minutes. We keep racing until the leaders have completed 40 minutes. Once they have, they do one more lap and everyone finishes the next time they cross the finish line.
The overall standings are based on points accrued in each race. The winner gets 70 points, 2nd 69 points, 3rd 68 points and so on down through the field. Your final overall points score is the cumulation of your best 6 races.
Learning the Ropes
As I've already suggested, I wasn't expecting to be too good at Cyclo-cross so the learning curve was steep.
My first race went well and I certainly tried hard. I surprised myself at being quite good at jumping on and off the bike and shouldering it over obstacles. My expectations were low, so just completing the race would have constituted a success. The fact that I finished it, didn't fall off, didn't break myself or my bike, didn't come last and enjoyed it meant that it was in fact a resounding success. There was plenty of room for improvement though. My start was terrible, my cornering was useless and I minced my way around the course rather than attacking it.
I came 37th out of 68 finishers which is c. 25% (taking last as 0% and 1st as 100%)
I gained 38 points from this race – I know that doesn't quite add up, but presumably some of those that finished before me weren't registered for the league or were ineligible for the overall standings. The bar had been set and I was hooked.
Race two and three were similar. The bends and technical bits were still a struggle for me in race two, but I made up ground when shouldering the bike. Round 3 suited me better as it was less technical, but my legs were suffering from the Tide to Tide race the day before.
I came 30th out of 47 (36%) in Round 2 – 43 points
I came 37th out of 67 (45%) in Round 3 – 38 points
Getting into the Swing of things
By now I had identified the fact that I needed to work on my start and be a little more assertive about holding my position. We are seeded on the start line by our overall standing at each race. This means that I should be surrounded by people of similar speed to me so should at least try to race them to the first corner. This became an aim in Round 4 and it payed off.
I came 29th out of 49 (41%) in Round 4 – 45 points
I still struggled really badly on the tight bends in this race though, so decided it was time for some new tyres.
Round 5 was missed. Round 6 was a busy one with lots of people crashing. I managed once again to stay upright.
I came 38th out of 58 (35%) in Round 6 – 38 points
Round 7 didn't feel the best as I had an upset stomach going into it and was struggling with some sort of lurgy. I went as hard as I could though and finished unscathed if a little nauseous. It wasn't my best performance but it was my highest scoring round so far.
I came 27th out of 59 (55%) in Round 7 – 46 points
Rounding out the Season
By now I was beginning to feel as though I was getting to grips with things. My new tyres felt better and I had the pressures set up to my liking. I was attacking the starts better and trying not to wimp out of holding my position into the first bend. I was still giving up more places than I should have here but it was better than it had been. My cornering still wasn't great but it was better and I was now beginning to race people rather than just ride the courses.
Round 8 was the muddiest so far and I fared OK. I did have my first little crash but it was nothing too bad and I jumped back up and continued on my way. I was determined to beat certain people and managed to do so. This coupled with quite a low turnout meant that I gained quite a few points here.
I came 13th out of 28 (54%) in Round 8 – 58 points
Round 9 was missed but Round 10 suited me well as it was fast and not too technical.
I came 20th out of 54 (63%) in Round 10 – 51 points
Round 11 was very technical and not to my liking but I still did pretty well and gained quite a few points once more.
I came 15th out of 32 (54%) in Round 11 – 57 points
Cyclo-cross 2016 Overall Standings
The improvement in the second half of the season saw me gaining points and gradually moving up the overall standings. At the beginning of the season I was finishing in the bottom quarter of the field. I worked my way up to the bottom third over the next few races and by round 7 I was actually in the top half of the finishers. Only just in the top half but I was there.
My top 6 results therefore came to a total of 300 points which put my in 24th place overall out of 76. Here's the first page of results of the overall standings.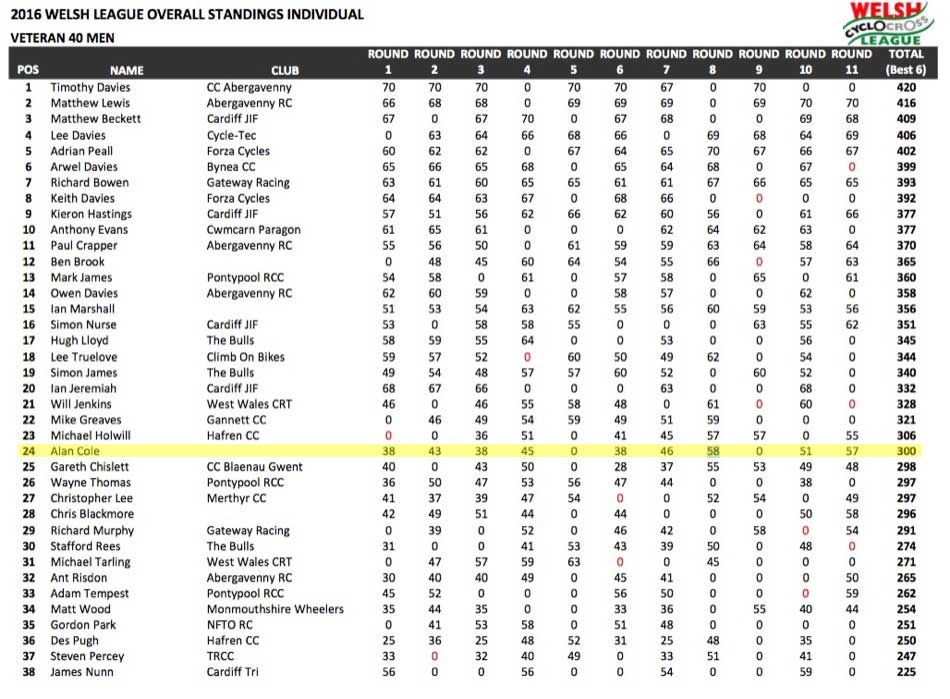 I'm quite pleased with that really. I think I was lucky this year with the weather as it was pretty much cool and sunny for every race. The expected mud-fest and freezing conditions never quite materialised. There was a lot to learn and lots to improve upon, and that is still the case. Despite this I don't think I made a fool of myself  and 24th place in my first season isn't too bad. The fact that I improved throughout the season is a good thing too and may bode well for next season. Who knows, I may even do some training for it next year!
All in all it was a really good series to be part of. The organisation on the day was always brilliant, the marshalls were friendly and helpful whatever the weather. The racing was clean, fair and competitive with a serious attitude but never overly so. I made some new friends, learnt some new skills, found a new sport and of course gained a new bike. The tea and cake stalls were quite a highlight too.
Here's looking forward to the 2017 Cyclo-cross season already!