The End of Summer – Fishing in Ynyslas
Yesterday was the end of summer! The last day of the school holidays and all of a sudden the little area of Borth and Ynyslas where we live has transformed. The holiday-makers have all gone, the place seems deserted, we have our sleepy little village back to ourselves and everything is lovely and peaceful.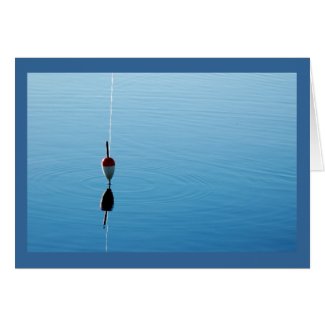 Card image from
Zazzle
Unfortunately they seem to have taken the sunshine with them and things are looking decidedly autumnal. The nights are drawing in, we need lights on in the morning whist getting ready for school and work and it's a little damp outside but it's still warm and we had a good final day of the holidays.
It was Anna's birthday, my parents were still here as was Anna's Mum, so we had a nice breakfast in the morning and Anna opened her presents. We then chilled for a bit whilst waiting for a visit from the FERA Bee Inspector. Next was lunch with a large chocolate birthday cake that I had baked for Anna – everyone seemed to enjoy it.
My parents then headed home, Anna and Morgan went into Borth and walked home along the beach, I went for a bike and run and Pat met Anna and Morgan on the beach. It was during these activities that we noticed the sudden lack of people. The beach was nearly deserted, as were the roads. I was able to cycle my usual loop without too much traffic and there was no one about.
Morgan and I then headed down to the estuary for a spot of fishing. Again, the estuary was deserted and seemed particularly peaceful. We were sheltered from any wind, the tide was rising but the waters were dead calm. We were spinning from the beach and beginning to get the hang of it. Morgan is getting quite good at casting now as we took turns with the rod that we bought the day before. I did think it would be nice for me to have a rod and reel too, but it was also nice to be sharing as it meant we were stood next to each other chatting too. Just me, Morgan and the scenery with the occasional whizz of the line as we cast out followed by a gentle plop as the spinner hit the water.
There was a Grey Heron fishing from the banks of the estuary too, but on this occasion, we and the heron had to leave the estuary empty-handed. We can't wait to catch our first fish though and have had plenty of tips from people via this blog and even the possible offer of some spare tackle which was particularly kind.
This fishing malarky is all new to us so we need all the help we can get in an offort to catch that elusive first fish.  Morgan has been wanting to go fishing for ages so I thought it was time to take him – I can learn about it as I go and can teach him along the way. Hopefully we'll both learn from each others mistakes!
Once again there seems to be a wealth of opportunities available to us in the local area so it just highlights yet again how fortunate / wise we are to have chosen to live here in West Wales. Readers of 'A Simple Life of Luxury' will no doubt soon be hearing about our first successful fishing trip (hopefully).