Turkey Day 3 – Run, Registration and Swim Recce
Day three started OK. When I first woke up I looked at the time on my iPod Nano and it said 2am so I forced myself back to sleep. Next time I checked it said 4:15am so I got up, and then realised that I hadn't yet changed the time on my iPod Nano to Turkish time – all my other gadgets are Internet or GPS connected so had changed the time themselves. The good news about this was that it was actually 6:30, it was time to go for a run and I must have had some sleep.
I got ready and went out for a run, heading north along the coast to a small harbour at the end of the bay. The run was only four miles, with a couple of three minute race pace intervals. Although it has to be said that they were race effort rather than race pace! Oh well, it was fairly warm I suppose even at this time in the morning.
Back at the hotel and it was once again time for far too much food at breakfast.
I then slapped on some sunscreen met the others from INTRtri – Frank, Andrea, Karen, Alison and Hazel and headed into Alanya and the event centre. First stop was the Culture Centre for race registration which was surprisingly efficient. We collected our race packs had them scanned to make sure our details were correct and that was that. The race packs contained:
A timing chip and strap,
A race number for our bikes and cable ties,
Stickers for our helmet,
An athletes pass and lanyard,
A t-shirt,
A race info pack,
Some leaflets,
A pen with some tree seeds!
With registration completed we headed to the harbour, past the fleet of pirate ships and on to transition.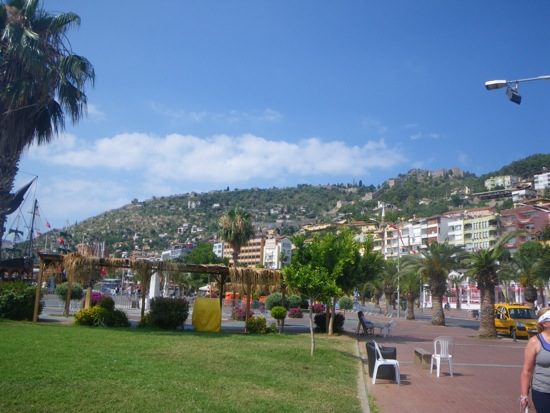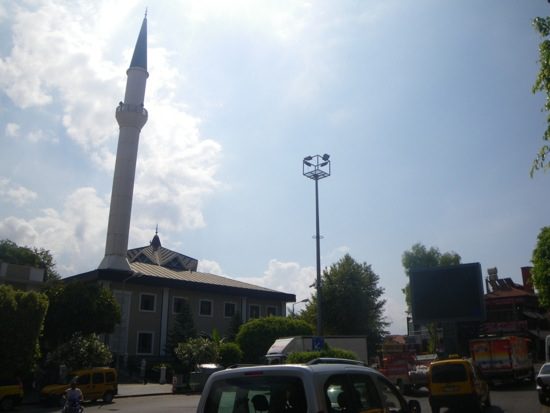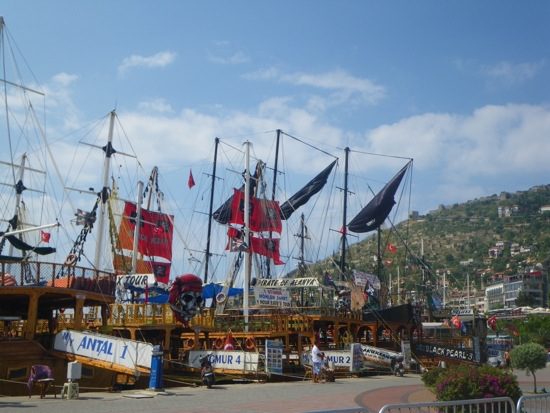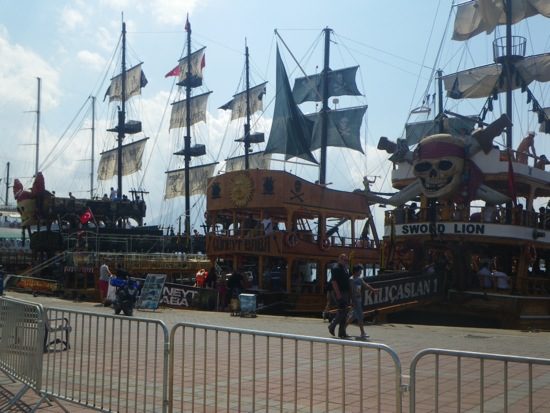 There was nothing happening at the expo where I was hoping to get a CO2 cartridge so instead we sat in the shade at a cafe and had a coffee whilst waiting for the swim familiarisation at 11:30. The swim familiarisation went well, a nice easy swim from the pontoon out around two buoys and back to the beach. It took me just over 12 minutes today and was 750m as it should be.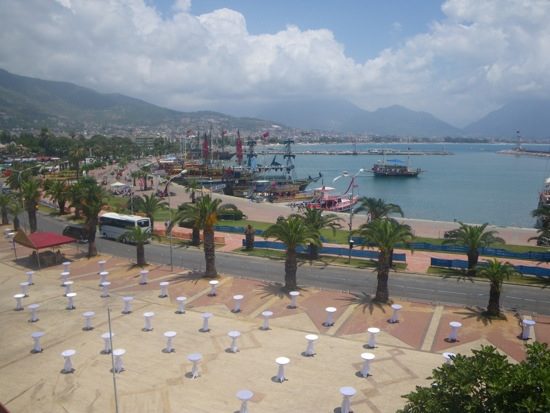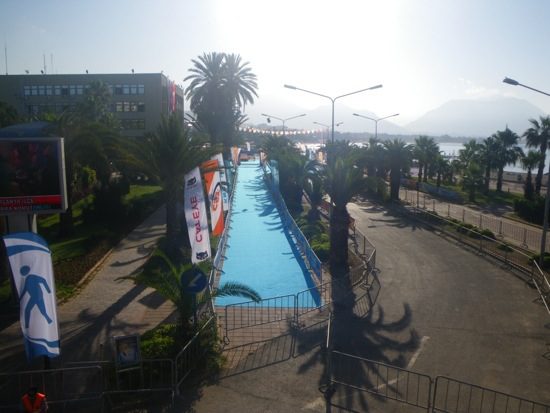 We then all wandered back through Alanya stopping at a cafe for lunch before heading back to the culture centre to try to swap our t-shirts for more suitable sizes. I managed to swap my large for a small. Andrea then had to head off for a race briefing whilst the rest of us headed back to our hotels. It was now very hot outside so I was glad to just be able to sit inside where it was cool and relax for a while.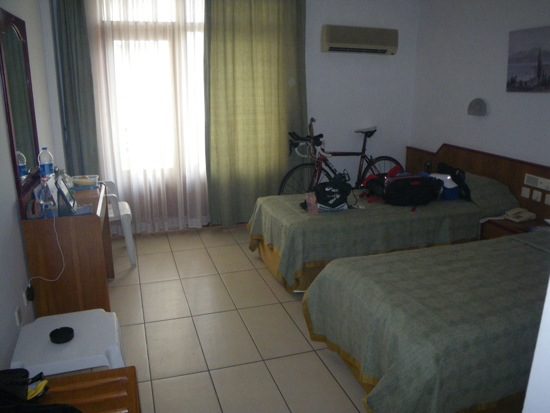 Although it wasn't long before I was off on a mission to find a CO2 cartridge in case of puncture on race day. I was getting paranoid about it now as whilst typing on my iPad the predictive text had come up with 'DNF' despite the fact that I had typed no such thing! I was unsuccessful in my search but Andrea has promised me the use of her pit stop foam as long as she doesn't use it tomorrow.
At least that is sorted, as is the loan of a kettle thanks to Roger, another athlete staying in our hotel. I got hold of a mug as well so I'm almost sorted for my race day morning routine.
I had decided to miss out on the parade of nations and pasta party as it would have meant more wandering back and forth with a lot of hanging around. I would also have missed out on dinner at the hotel which was the usual fare and quite tasty. As per usual with a buffet though I once again ate too much.
So, a busy day and race day looms. I don't feel ready, I don't feel fast and seeing all the other athletes around makes me feel out of my depth as usual. I hope it all goes well.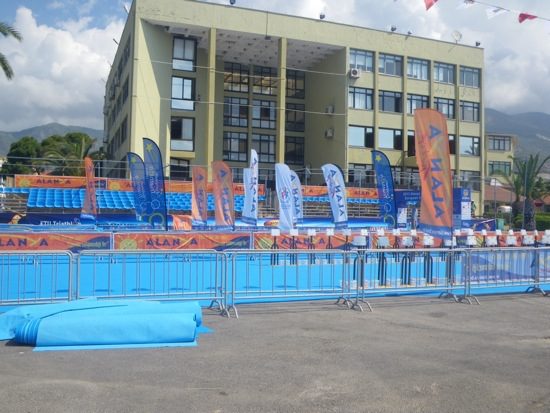 Sponsors.
If you would like to sponsor me and get some positive exposure for your business at the same time, please
get in touch
or use the donate button below. I'll do my best to make it worth your while.
I'm currently racing for Scimitar Sports Racing Team and Beet-it Sport