Busy day in Wales
We've had quite a busy day here in Wales….well, certainly this morning has been hectic.
We were up at 5am to cheer Alan on in the European Triathlon Championships in Alanya in Turkey. Morgan and I weren't able to go due to work and school so have been supporting from home.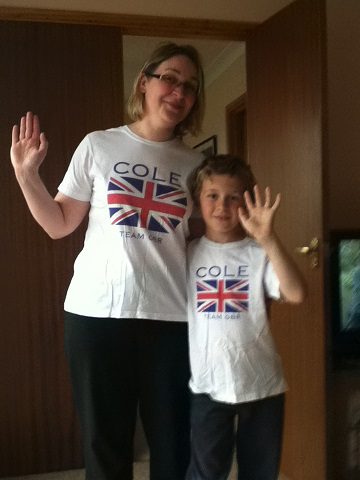 We had to make do with webcams and a live feed of the results but that was pretty exciting as it was. Al's mum and dad were also following the race and we were sending messages to each other on facebook while keeping an eye on the timings our end from bed. Me, Morgan my mum and the cat all piled in bed together to see what we could. I'm not sure that cat was actually all that impressed! We could see that Alan was first out of the water following the swim but the bike is his weaker element so we had our fingers crossed he'd manage to stay up near the front.
Halfway through the race the live feed of race splits went down and we had no information on where Alan was and it was impossible to make him out on the webcams. All we could see were blurry figures running past with no idea which age groups they were in or which country they represented.
We had no idea what was happening on the bike and we just had to hope he was doing OK. The live feed did come back up for the start of the run but by then I was starting to keep an eye on the time. The race started at 5.25am our time and usually Alan takes around an hour to complete the distance (give or take a few minutes depending on the course). We had to be up and out of the house by 6.45am to get Morgan off to the All Wales Cub Fun day being held at Builth Wells.


We needed to pack lunch, swimming kit, change of clothes and chinese fancy dress before meeting the coach in Aberystwyth. We did manage to watch the end of the race but I'll let Alan fill you in on all the details once he has had time to recover. We quickly got up and dressed, made sure we had everything and headed off to fine the rest of 2nd Borth Cubs and the coach. Morgan had decided to go as a Ninja!
although I'm not sure how 'chinese' this actually is, but it was fairly easy to sort out which is a big plus if you are rubbish at doing fancy dress like I am.
By 8am Morgan was safely on his way and I was back home and time for breakfast. it feels like I've done a whole days worth of stuff and I would normally just be getting up.
I hope it stays dry for all the cubs but I'm sure they will have loads of fun what ever the weather. Alan doesn't need to worry about the weather in Turkey, it looks lovely and hot and sunny and now the race is over he can relax and enjoy the rest of his holiday. I can't wait until he is home next week though.